Tourism Growth Boosts Handicrafts Business
"We can see the happiness in the colours and it's very special. I think it's essential that westerners come over, embrace the culture, take the products, show it to others and get them excited."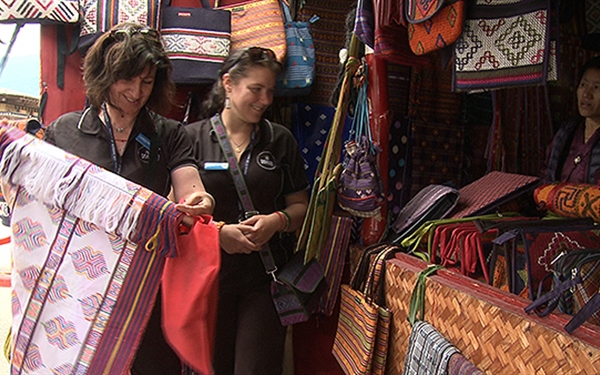 (Source: http://www.bbs.bt)
The rise in the number of tourists visiting the country in recent years has boosted profits for the handicrafts shops along Thimphu's main street, Norzin Lam.
Stall owners says their income has risen steadily over the years. Twenty six-year-old Kuenzang Tobgay runs one of the stalls. He sells the traditional boots, Tshoglham and has been in the business for seven years now. "My monthly income comes to around Nu 60,000 to Nu 70,000 and sometimes, I earn a profit of Nu 300,000 a month especially during occasions like the Thimphu Tsechu."
Deki, another handicraft shop owner earns about Nu 50,000 during the peak tourist season.
For some visitors, the local handicrafts represent happiness. "It's handmade and beautiful," said Carolyn, a tourist.
"We can see the happiness in the colours and it's very special. I think it's essential that westerners come over, embrace the culture, take the products, show it to others and get them excited."
Echoing the same view, Sarah, another visitor, said that the products are beautiful and that she would like to support the craftsmen by buying their products.
The number of tourists visiting Bhutan has seen a rapid growth in recent years. Last year alone, 62,733 international tourists visited Bhutan contributing a total revenue of over Nu 4bn.
By Sonam Choden (This article has been edited for the Daily Bhutan)
This article first appeared on BBS.
---