Yathra weaving, the uniquely Bumthang culture
Unlike other places in Bhutan, the people of Bumthang don't do agricultural work. Instead, they weave yathra products. Traditionally, every household owns a backstrap loom and girls are taught to weave from as young as 8 years old. The more women who weave in the family, the greater the source of pride.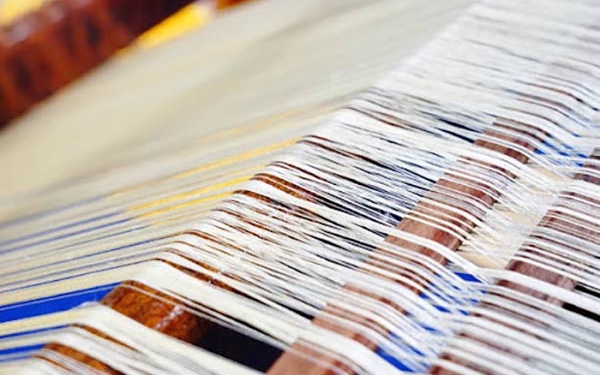 Visit the Chumey valley in Bumthang and you'll see women of all ages hard at work, weaving balls of yarn into colourful, intricate patterns.
These designs are called yathra (woolen) weaves, and they are a unique speciality that is found only in Bumthang, a legacy that spans back many generations.
Bumthang has long, cold winters. Thus, the thick yathra fabric keeps them warm and toasty. The people of Bumthang use yathra to make coats, raincoats, bedding material, furniture covers, and accessories. Sometimes, they create bags of specific designs with yathra weaves at the request of the customer, mostly tourists. It is no surprise that tourists are eager for this uniquely Bumthang souvenir.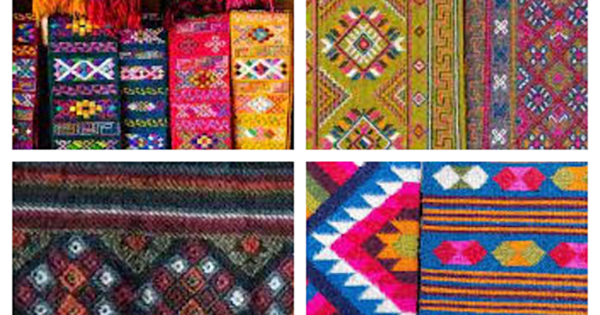 The women in Chumey weave throughout the year as it is their main source of income
The yathra weaving culture is prevalent in all the four gewogs of Bumthang. 
Unlike other places in Bhutan, the people here don't do agriculture work. Apart from some wheat that they use to make wheat flour and ara, their farmlands lie fallow. (Although they briefly turned to agriculture when the Covid-19 pandemic hit and borders closed as they could not get imported yarns. On top of that, tourists make up most of their customer base.)
Traditionally, every household in Chumey owns a backstrap loom and girls are taught to weave at as young as 8 years old. Some girls even drop out of school to weave. To the people of Bumthang, the more women who weave in a family, the greater the source of pride. Even female teachers, government employees, and those of other vocations take up weaving, as they can use the yathra weaves to barter for basic necessities.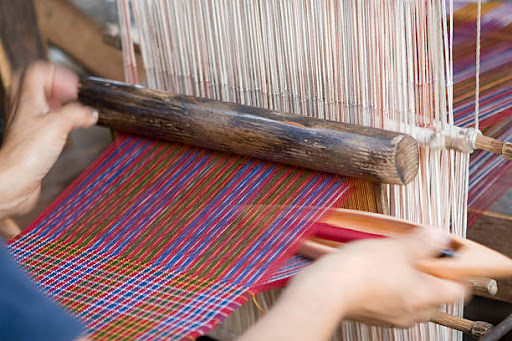 Often, the women weave together in a hut. Typically, four to six women weave facing each other. They sing or listen to the radio as they work. This collaboration helps them pool their resources and diversify their weaving. 
They guide each other and become a support system. 
During the winter, the weavers employ school students for an extra hand. They provide the students with three meals a day and pay them between Nu 160 and Nu 340, depending on the quality of the weaving. 
Simple weaves earn the weaver Nu 160 and take a few days to complete, whereas more intricate patterns take them a week, but puts Nu 340 into their pocket.
Chumey is the central market of yathra
240 households from 13 different villages in Bumthang all depend on the sale of yathra for their livelihood, and Chumey is their main marketing outlet. 
Once a month, people from as far as Zhungri, the farthest village, walk for about a day to Chumey to sell their products. Some prefer to exchange their yathra designs for groceries and garments, whereas some appreciate the cash. 
The yarn used for yathra products are usually from Switzerland or India. Of course, Bhutanese wool is of excellent quality, and the people of Bumthang would love to use local yarn as a staple, but it comes at a steep price. 
Sadly, imported wool is more economical, so it makes business sense to keep the cost down.
Traditionally, yathra wool was sourced from sheep raised locally in Chumey. But the increased dependency on imported wool meant the decrease in sheep-rearing for wool. In turn, the decreasing number of sheep has led to the need to import raw materials. Present-day, almost all the raw materials come from India.
Nevertheless, thanks to technological advancement in the production of woolen yarn in Bhutan, the cost of local wool should go down. Following that, yathra weavers wouldn't have to depend on imported wool anymore. Furthermore, customers prefer locally produced wool due to its superior quality. 
Yathra Weaving Centre
If you wish to watch the weaving in action, consider visiting a yathra weaving centre. There you will see women skilfully weave delicate patterns on their backstrap loom. You'll also see them colour wools with natural dyes.
There are three yathra weaving centres in Chhumig gewog. 
Gakid Yathra Weaving Centre is found in Umsang village 

Thokmed Yeshey Handicraft and Yathra Production Centre in Chumey  

Sonam Lhaden Tshongkhang in Zhung Ngae Chiwog in Chumey
If you happen to commute past Chumey, you'll also get your pick of yathra products from traders by the road. 
May it be from the weaving centre or from traders, don't forget to pick up a couple of designs for yourself, and another dozen or so for your friends and family back home. You deserve the bragging rights.
---
---