4 reasons that make Bhutanese school life unique
Aside from free education, there are certain practices in schools that are uniquely Bhutanese.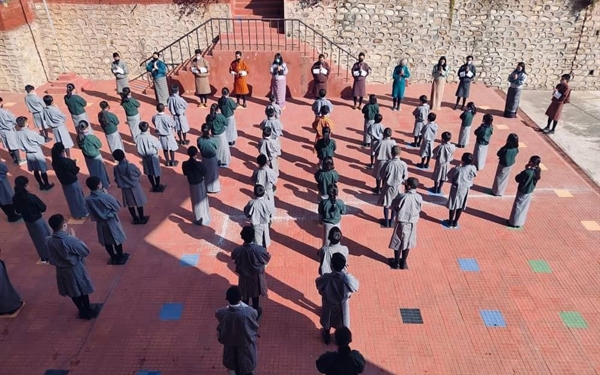 Children in Bhutan start going to school (pre-primary) at the age of 6. From 2022, as part of the Gyalsung (National Service), a new royal initiative by His Majesty, the entry age will be reduced to 5 years old. Bhutanese are 7 years old when they enter primary school and 11 years old when they graduate from it. Subsequently, they move on to middle secondary school at 12 or 13 years old, and by the time they are in their sophomore year, they will be 15 years old. As they turn 18 years old after graduation, they will be ready to begin the Gyalsung training.
Juxtaposing schools abroad and in Bhutan, school rules and regulations have become an integral part of every student's daily life. Personally, my school days etched galore of fond memories; both academic and curricular activities that I wouldn't trade for anything.
These experiences are a result of following certain characteristics that cut Bhutanese school life unique, inculcating a sense of pride in every Bhutanese student:
1. National Dress as School Uniform
Bhutanese takes pride in wearing the national dress and school uniform. Children as young as 5 years drape their petite frame in the national dress in honour and dignity — gho for men and kira for women — right from pre-primary school without any qualms. I vividly remember the ecstatic sense of euphoria of having my first kira stitched to my little size, and flaunting it with flamboyance on my first day at school. 
It still is a common sight in the morning to spot little boys and girls looking chic in their little gho and kira cling to their parents' hands, swinging their colourful lunch boxes, making their way to school.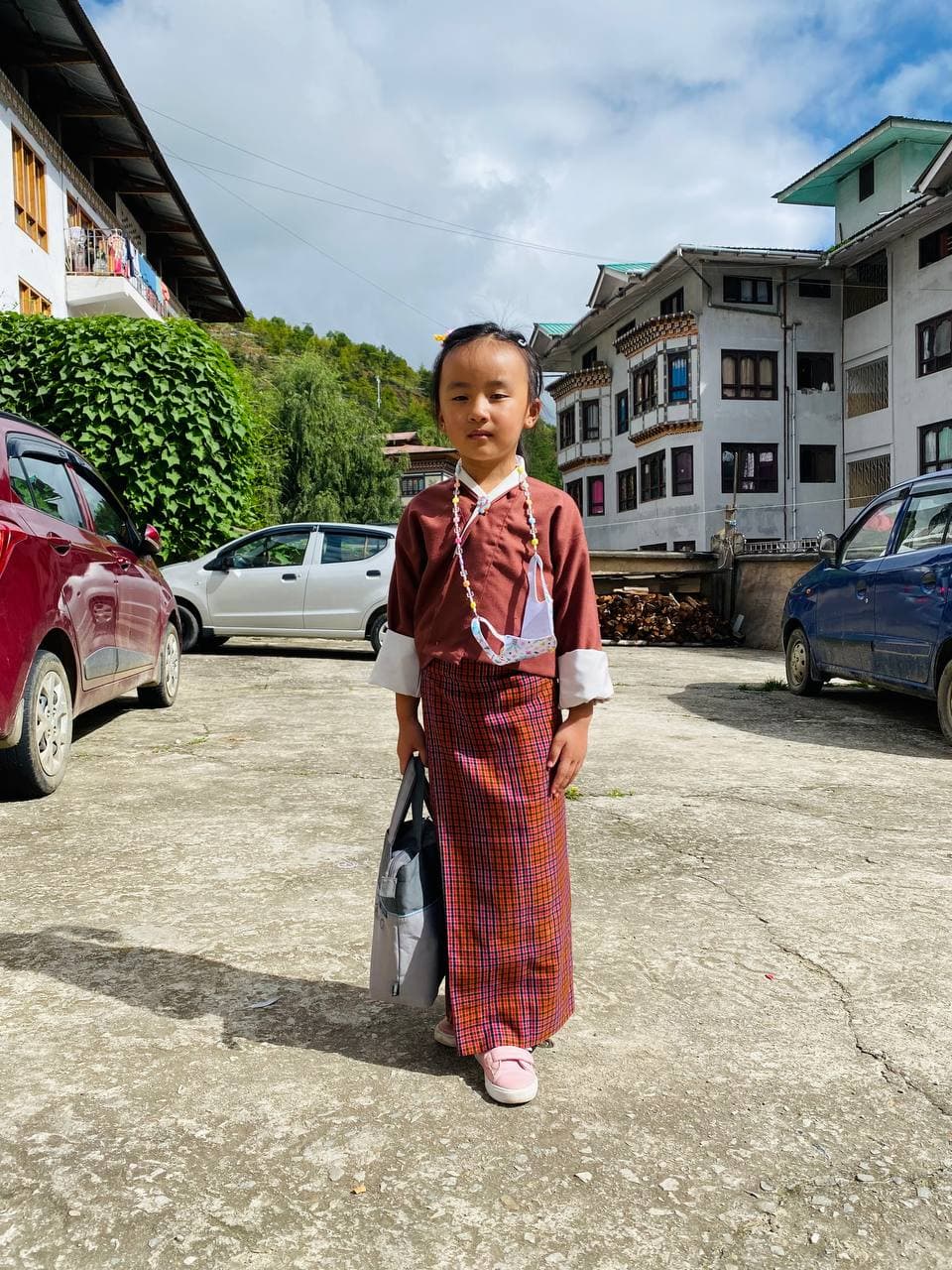 2. School Assembly & Morning Prayers
Morning assembly is an integral part of a school's schedule. Assembly helps students to develop a sense of unity, learn valuable lessons and provide a platform to reward achievers to encourage them to perform better.
However, the most important aspect of the morning assembly in Bhutanese schools is praying to Jampelyang or Manjushree – the Buddha of Wisdom. The prayer is ingrained in Buddhism value. There is no documentation of when this particular prayer was instituted in schools, but teachers who have been teaching since 1975 say that the practice has been around since then. 
Jampelyang is often depicted to be holding a flaming sword in his right hand, which symbolizes his ability to cut through delusion, ignorance, and duality. In his left hand, by his heart, he holds the stem of a lotus flower, which bears a book - the Perfection of Wisdom teaching.
At times, even before we start schooling, we are taught that praying to Jampelyang early in the morning will help us learn and retain the day's lesson. So every morning, during assembly, we recite prayer or mantra to appease and seek Jampelyang's help in gaining wisdom.
It's said that if you are a staunch believer, you will even dream of Jampelyang and that he shall speak to you. That's the highest form of blessing — helping you learn and grasp everything even if you have little knowledge or intelligence to begin with. Thus, in a Bhutanese school, the assembly always starts with the recitation of mantras, followed by speeches. 
From kindergartens to universities, our mornings start with this prayer instilling in us a sense of discipline and worship that most of us continue to practice even after our school life is over.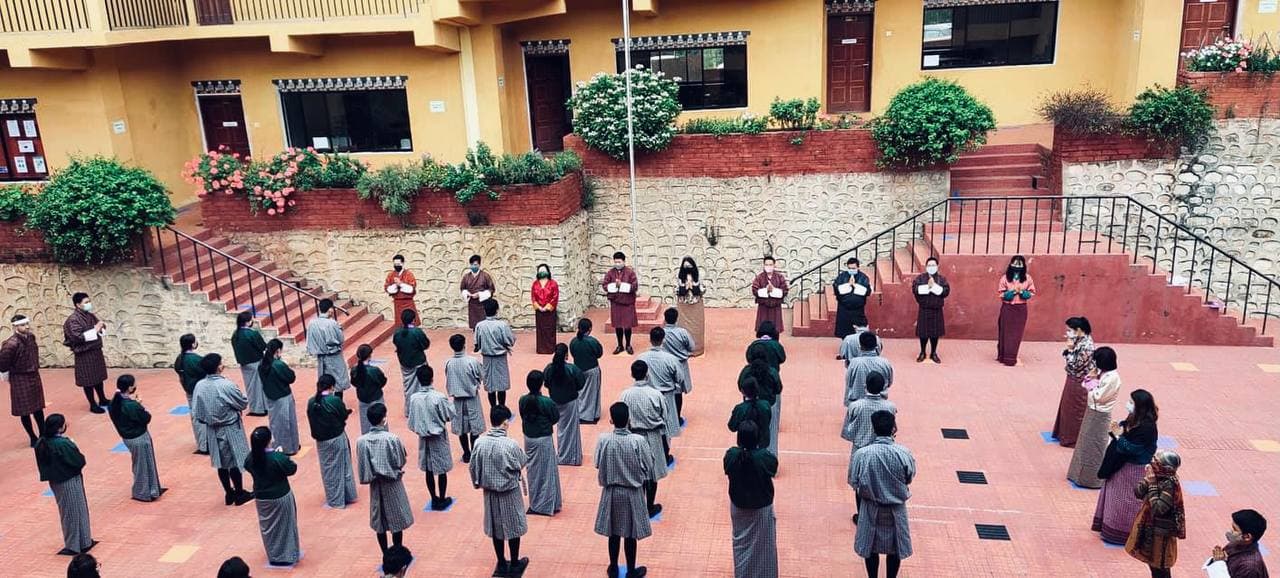 3. Social Responsibilities 
Activities in Bhutanese schools are often socially driven – from having Cultural Club that promotes culture conservation to Nature Club that drives environmental preservation initiatives. 
For example, students are encouraged to plant trees on 2nd June – a day celebrated as Social Forestry Day in Bhutan. Students not only have to plant a tree on the day but also continually care for it. And they get marked on it. 
Studying in such an environment instils in the young a conscious choice to give back to the community. Those values also help the young become more aware and responsible for the environment when they grow up.
4. Free Education 
Considered one of the fundamental needs required to achieve Gross National Happiness or GNH, all Bhutanese children of school-going age have equitable access and opportunity to free quality education. That means all of us can spend minimal on uniforms, books and a minimum annual school fee and have access to education till the 12th standard.
In some countries, parents struggle to get a quality education for their children unless they pay a premium to send them to good private schools. However, in Bhutan, the quality of education in public/government schools is not compromised in the name of the free education system. 
The teaching profession is one of the most well-paying jobs in Bhutan. This recognition helps bring qualified teachers into the field, and most importantly, retain and motivate the teachers. 
Education may be free in Bhutan, but many still have to walk miles to reach a school, given the treacherous terrain of the Kingdom. This shows the determination and spirit of the young who are hungry to learn and acquire knowledge.
With the right values, opportunities and environment, students will grow and thrive. 
---
---