Are Local Vendors Earning More Money Than the Civil Servant?
A Farmer from Lango, Paro gave up farming to be vendor while office goers are switching into agriculture as the remedy to curb their financial gap in Bhutan.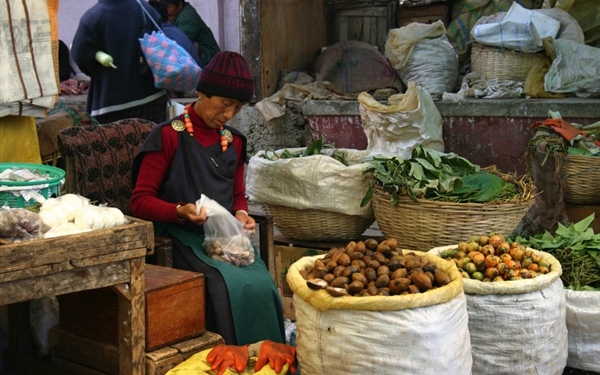 Thimphu Centennial Farmers Market (CFM) is one of the busiest arenas in the capital city of Bhutan. Thousands of people are seen at the market amid pandemics. Every day hundreds of merchants from across the country trade in the vicinity. Centenary Farmer's Market is a two-story building with about 400 stalls that provides farmers from around the country the opportunity to display their products and people a chance to support local agriculture.
The place is also one of the top listed landmarks to visit in the itinerary of tourists exploring the capital city. There is always an interesting place to visit for tourists wanting to see a slice of local life in Bhutan. A vast market selling a huge range of food products. If the stall owners speak English, they are happy to tell you what they are selling and where it comes from. A great place to people watch and look for things you have never seen before. A tourist who has travelled to over 100 countries said that she had never seen such a clean farmer's market in all of her travels.
During times such as the apparent COVID era, Bhutanese vendors have boosted their income due to locals consuming more local products. The situation has increased demands for local products. Though local vendors and farmers in the field are working relentlessly to meet the demand, every day the demand seems to only staggeringly increase.
Thus to meet the demand of all the customers, the price of some products has also hiked up. Some vendors are touring the whole village in search of the products to be sold at the market. Some vendors are working so hard to supply more in times of need and satisfy both their customers and increase their financial accounts.
DailyBhutan interviewed Mrs Tandin Wangmo, the vendor who sells puff rice, local rice and buckwheat flour about the revenue she was making in a month. She shared that she earns an average income of Nu. 20000 in a week. She was proud that she was making more money than some of the civil servants and spending less on the necessary utilities compared to the urbanites.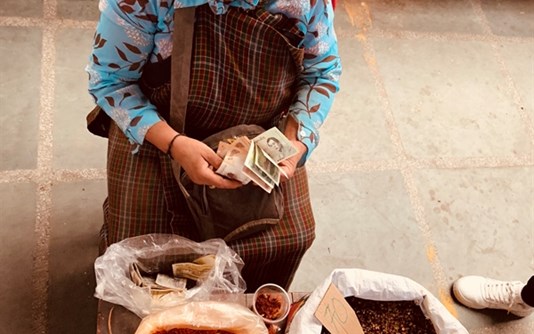 When we traced Tandin Wangmo to her native village in Lango, Paro, back in the village she was being supported by her husband, ageing mother and in-laws. She shared that had it not been for her parents and children's education she would not have ventured into a local business. She said selling local products has increased her monthly income than simply working in the field as a farmer.
On the other hand, while living with Coronavirus in 'new normal' times, many Bhutanese who are affected by the pandemic has switched into farming. Young youths are encouraged to take up agricultural initiatives supported by various stakeholders through the Loden-UNDP COVID-19 Response Fund support, to make a difference in this moment of crisis and gain food stability in Bhutan.
Numerous tour operators have employed their staff in vegetable cultivation on their private land. Few teams have built a greenhouse and a nursery and the good news after hardship is that some has even started to harvest the vegetable and is sold at the Centennial Farmers Market.
---