Losar Tashi Delek - How The Bhutanese Celebrate The Year Of The Male Iron Rat
According to the Bhutanese calendar, Losar falls on 25-26 January this year.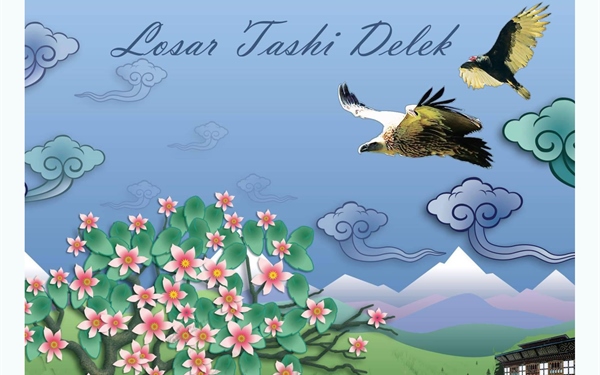 (Source: Facebook/Friends of Bhutan Travel)
By Zann Huizhen Huang | Daily Bhutan
Losar or 'New Year' in Bhutan falls on 25-26 January this year, based on the Bhutanese calendar. It is also the year of the Male Iron Rat.
Celebrations actually begin on the eve of Losar, known as the 'Nyi Shu Gu' and the duration of Losar is two weeks. However, most of the festivities take place on the first three days.
Brief origins of Losar in Bhutan
Losar predates the arrival of Buddhism in Bhutan and has its roots in a winter incense burning custom of the Bon religion.
However, during the reign of Pude Gungyal (617-698), the 9th Tibetan King, it was believed that Losar originated from a harvest festival.
Today, Losar is not only a time of family reunion but also a great opportunity for tourists visiting Bhutan, as they get to witness one of the most fascinating culture and tradition in the Land of the Thunder Dragon.
Source: Youtube/Paaaw 
Like many other countries in Asia, such as China, South Korea and Vietnam, the Bhutanese start preparing for the upcoming Losar by spring cleaning their homes, and replacing some old furnishings with new ones.
Delicious Losar goodies
It is also that time of the year to try delectable Bhutanese staple dishes such as stews, ema datshi (chilli cheese), Bhutanese red rice and sweets such as fried biscuits and 'shudre'.
Fruits are also eaten as according to the locals, sugarcane and green bananas symbolise good fortune for the rest of the year.
A must-try during Losar is 'paneer thukpa', a creamy soup made using cheese.
Source: Youtube/The Druk Girl
Another interesting snack to try is dough balls with a little surprise hidden inside.
If one finds chilli pepper, it signifies that one is talkative but if salt or rice is found in the dough ball, it means that one is kind-hearted.
However, if one finds coal inside, it suggests that one is hopeless like a black hole.
Other activities to look forward to during Losar
Besides preparing these special dishes, the Bhutanese also make offerings called 'Lama Losar' at the llakhangs (temples).
The temples and monasteries will be lavishly decorated and rituals called 'puja' are conducted for Losar.
If the weather permits, Bhutanese families will head outdoors for picnics where they will feast, dance and sing together.
A popular place to head to is the Punakha Dzong (Monastery) during Losar, which sits majestically at the confluence of two pristine rivers – the Mo Chhu and Pho Chhu.
Photo: Druk Asia
One can also catch the Bhutanese playing their favourite games such as darts and archery, the national sport.
Greetings of 'Losar Tashi Delek' which means 'good luck for the New Year' will be exchanged amongst friends and families and if any foreign visitors could arrange their trip to Bhutan during this special occasion, it will indeed be a memorable experience.
---