Off To Russia: 2 Young Ambassadors Gearing Up For Football For Friendship Event In Moscow
Young footballer Rigzin Tenzin and young journalist Kinley Deki Yangzom, both 12, will be on their way to Moscow this Friday.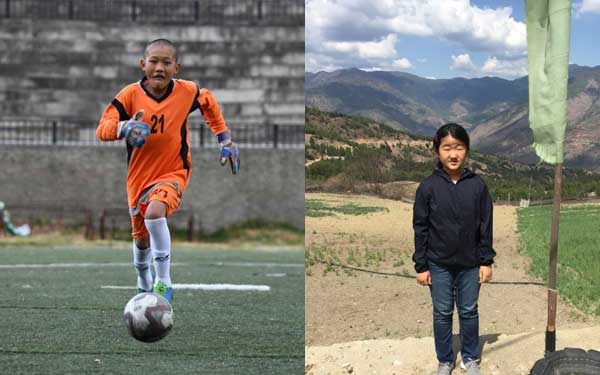 (Source: Gazprom Football For Friendship)
By Kinley Yangden | Bhutan Times
 The two young students from Bhutan who were selected in June to attend a Football For Friendship (F4F) event in Russia, are now gearing up for the trip of their lifetime.
Young footballer Rigzin Tenzin and young journalist Kinley Deki Yangzom, both 12, will be on their way to Moscow this Friday (June 8), joining kids from over 210 countries around the world. The duo will be there for 10 days.
The F4F programme is supported by energy company Gazprom and FIFA, and aims at developing youth football, as well as promoting respect and open-mindedness of different cultures and nationalities.
Rigzin, who hails from Gelephu, will be part of the 32 International Teams of Friendship that play against each other in the Gazprom Football for Friendship International Championship. He will undergo a three-day training camp in Moscow and participate in workshops conducted by renowned personalities.
As for Kinley, she will be playing a role of a journalist during her time in Moscow, where she will cover local and global activities as part of the International Children's Press Center.
The student at Lobesa Lower Secondary School in Punakha is a football enthusiast and believes that the sport helps to unite people from different regions and countries. The FC Barcelona fan considers Lionel Messi as her favorite player.
Looking forward to meeting parents from other countries
Rigzin and Kinley told Bhutan Times that they have been preparing for the trip with media activities and coaching activities in the field.
The two said they are most excited about the flight itself and also meeting the parents of other kids from the various countries.
For Rigzin, who started playing football when he was eight and has participated in tournaments across Bhutan, heading to a foreign land far away from his parents isn't an unfamiliar experience. Here in Bhutan, he is currently situated at the football academy, where plays for Bhutan National Under 13 Football Team.
Kinley said she will be accompanied by her aunt, but expressed that she will miss her parents and school friends during her stay in Russia.
Brazil for the win
As part of the F4F programme, Rigzin and Kinley will get to attend the opening ceremony of FIFA World Cup 2018 on June 14.
While the two will be very much involved in plenty of football related activities leading up to the World Cup, they are definitely looking forward to the matches.
When asked who they think will win the World Cup this year, both agreed that Brazil will win the coveted title.
---
---