Red Rice Is Bhutan's Staple Food And This Brewery Has Turned It Into Its Flagship Beer
Namgay Artisanal Brewery is the new kid on the block and it's got everyone talking about its red rice lager.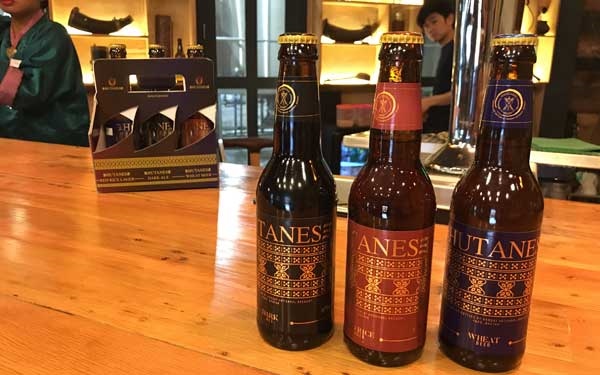 (Source: Bhutan Times)
By Kinley Yangden | Bhutan Times
In a land where the national sport of archery is usually alcohol-infused, it's no wonder that more local beers are being introduced, because drinking is, after all, a favourite pastime of the Bhutanese.
While mainstream wheat beers are mostly popular here, such as Druk 11000 and Druk Lager, craft beers that give a different, quality taste to the palate are making inroads to Bhutan. And one such beer is the red rice lager from Namgay Artisanal Brewery.
Branded as the flagship beer, the red rice lager is creating a buzz within Bhutan and outside of it. Although reviews vary - some Bhutanese still prefer to stick to their wheat beers - the red rice lager is the favourite child that's getting all the attention.
And why not: it's unique and it's Bhutanese. Brewed from locally farmed red rice, the brown-coloured lager is fragrant, less bitter and slightly sweet, appealing to drinkers who prefer a unique craft brew to traditional beer.
According to the owner of Namgay Artisanal Brewery, Dorji Gyeltshen, the red rice lager is a favourite among expats and locals too. Another beer that is popular among expats, he said, is the wheat beer, which is also brewed at their premises in Paro.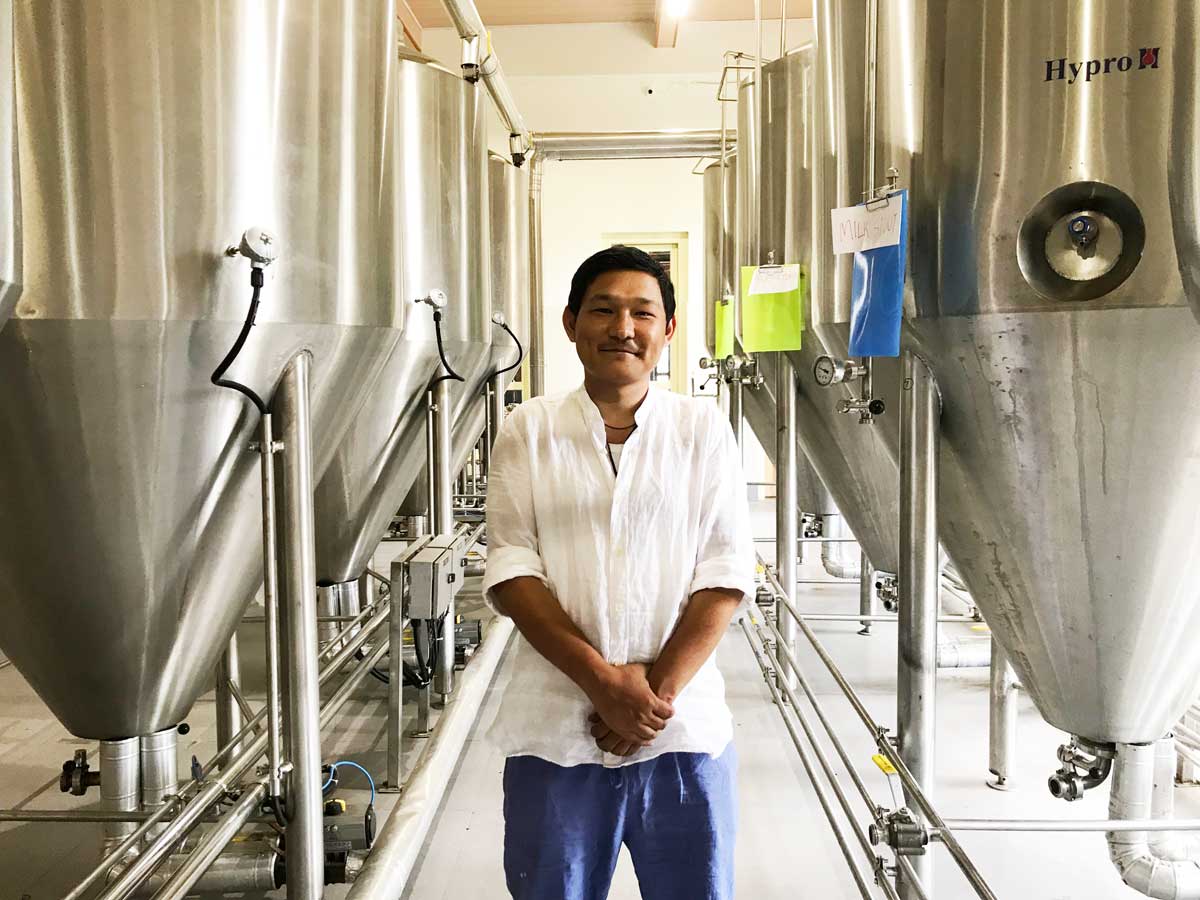 Dorji Gyeltshen, 33, is the owner of Namgay Artisanal Brewery in Paro. (Photo: Bhutan Times)
In fact, a total of six types of beers are produced at the brewery: red rice lager, wheat, dark ale, Indian pale ale, milk stout, and apple cider.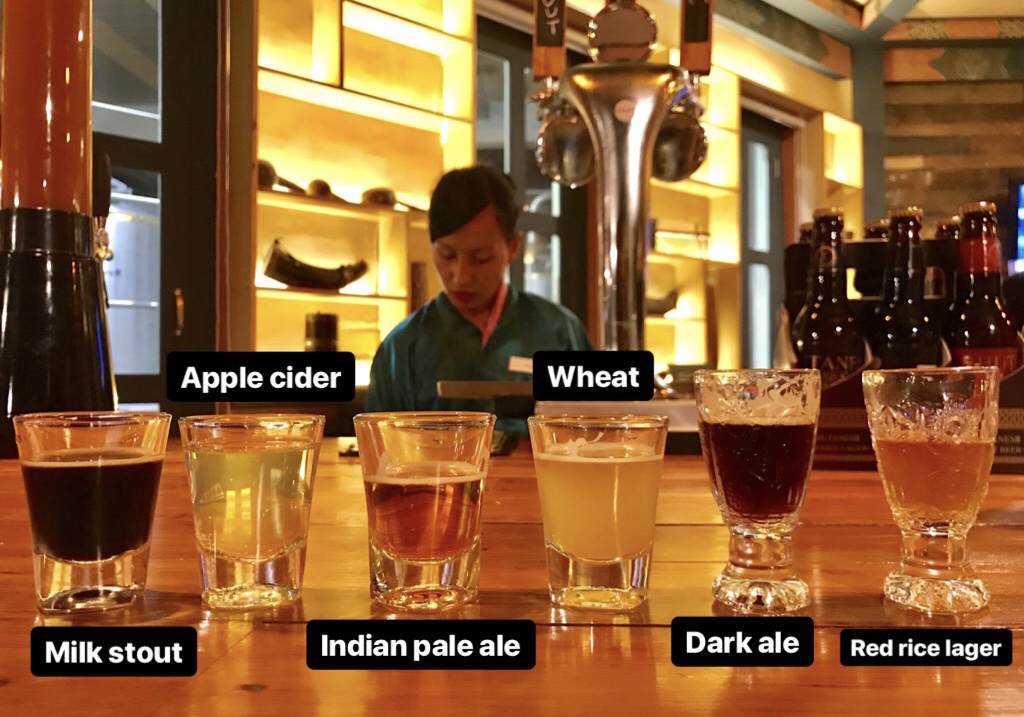 The six types of beers available at Namgay Artisanal Brewery. (Photo: Bhutan Times)
With a total capacity of 13 fermenters at the brewery, Dorji says he's able to produce 2,000 litres a day over eight hours. Early this year, Dorji has managed to bottle three of his beers - red rice lager, wheat and dark ale - and is now being sold at stores and marts across the country.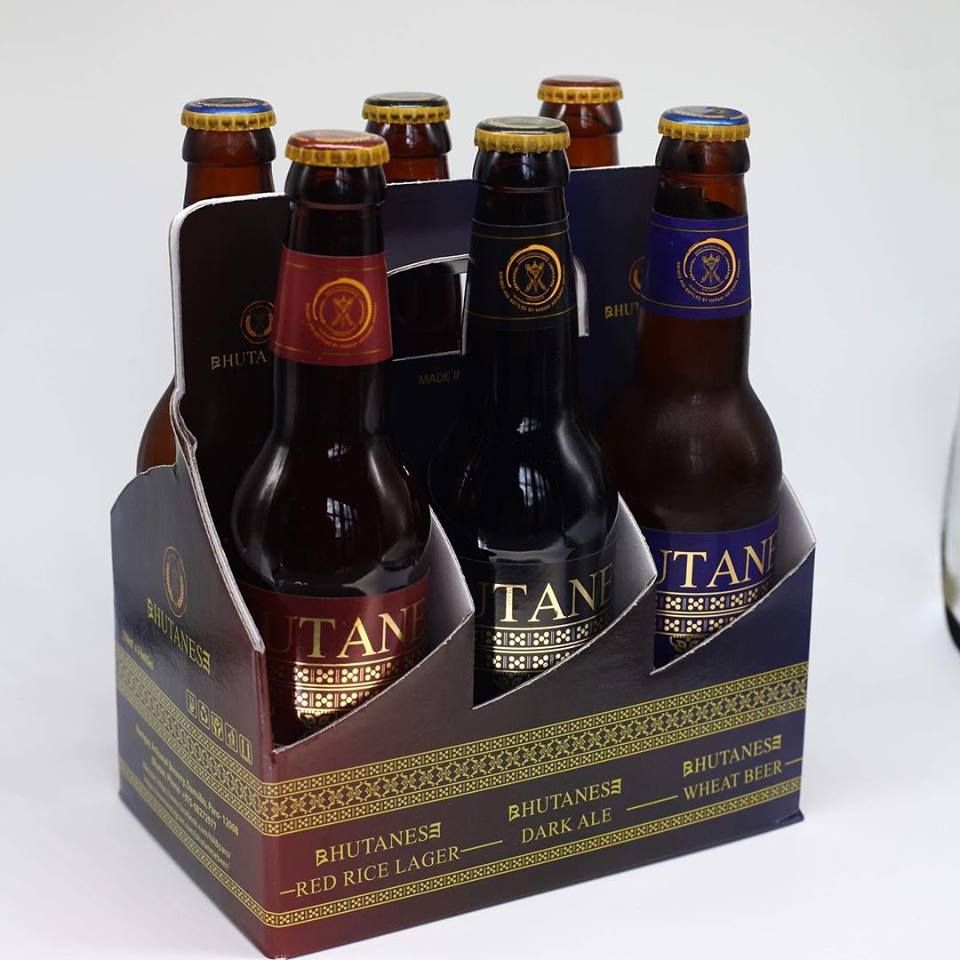 The three bottled beers: Red rice lager, dark ale and wheat beer. (Photo: Facebook/Namgay Artisanal Brewery)
"Let's just roll with it"
The idea of using red rice was brewing inside Dorji for awhile before he went ahead with production.
The 33-year-old entrepreneur told Bhutan Times: "I always knew I wanted to do something with red rice. Being from Paro myself, my family had red rice fields, so I was thinking 'how can I use red rice in beer?'".
A chance encounter with the co-founder of Brooklyn Brewery Steve Hindy while he was in Bhutan fueled the idea of using red rice even more for Dorji, so he thought to himself: "Let's just roll with it".
He then started to experiment and made changes until he reckoned the brew was ready to be put out into the market. By then, the project had been delayed by months.
Having studied hotel management at Les Roches in Switzerland in 2003, Dorji said he had always liked the idea of having food along with his beer. Now, Namgay Artisanal Brewery serves food and snacks, such as burgers, fish and chips, and so on, at their restaurant.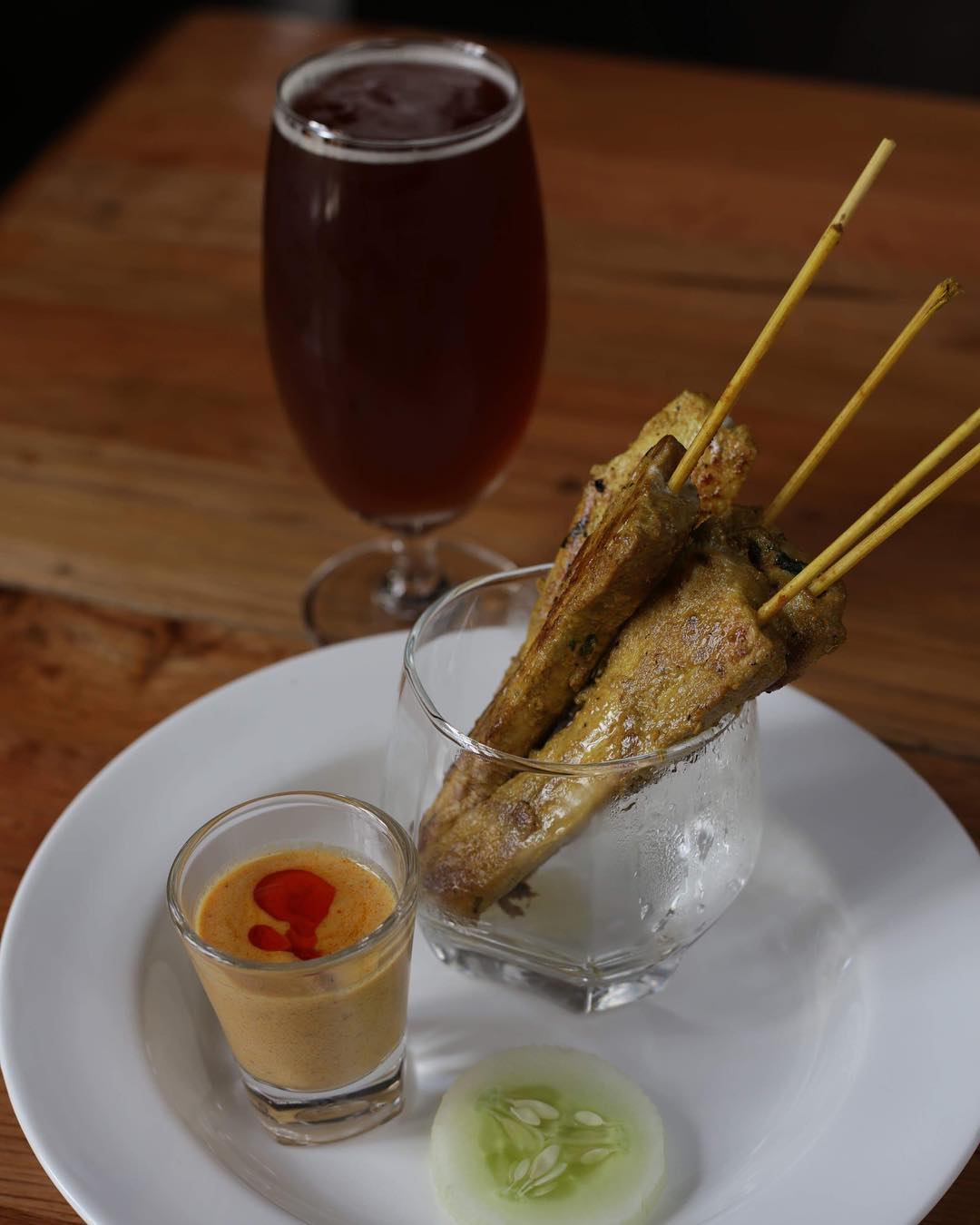 Chicken satay with red rice lager. (Photo: Facebook/Namgay Artisanal Brewery)
Dorji said some challenges they faced when building the brewery from the ground up from the family's land was being on a slope. In terms of financial help, he managed to secure 60 per cent of his funds from a bank and the rest from investors.
While the operations have been running smoothly since their opening, Dorji said the biggest challenge so far is getting experienced technical staff to help with the brewing process. Maintenance, he says, has also been a "nightmare" as they have to rely on technicians from India or Europe to help fix equipment within the brewery.
Gaining international interest
The red rice lager has helped Dorji open his doors beyond Bhutan. So far, there have been interested parties from Singapore, Thailand and Hong Kong.
The three bottled beers are currently available in Singapore. Bhutan Naturals is one of the first few international parties that have exported their beers to the country and are currently being sold online.
Bhutan tour operator DrukAsia has also listed Namgay Artisanal Brewery as a landmark to visit in Paro, raising greater awareness among international tourists.
But for Dorji, his main goal now is to develop within the country.
"I would like to see my beer do well locally and in the Indian market. It would be nice to see if there's interest in my beer outside of India. Let's see how it goes.
"We might also be getting some people from Denmark to help with a collaborative brew," added Dorji.
He also expressed interest in potentially starting Bhutan's first craft beer festival or participating in international ones outside the country.
So, does the passionate beer brewer always enjoyed the alcoholic beverage?
"I enjoy a drink every now and then, but my favourite drinks are whisky and bourbon," laughed Dorji.
---
---