Ride Up Bhutan's Legendary Tiger's Nest Monastery And Enjoy The Scenic Trail On Horseback
Pony services to the Tiger's Nest Monastery is expected to be more organised come next month.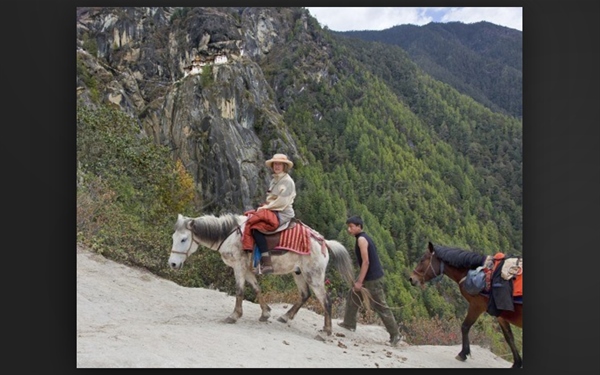 (Source: Photo.cuboimages.it)
By Dechen Tshomo | Kuensel
It is 8 am and Kelden Tshering Dorji, 13, is already at the base of the legendary Taktsang (Tiger's Nest Monastery), eagerly waiting for the horse contractors to ask him to be their syce for the day.
Like him are several other students who spend their vacation escorting tourists on ponies to the Tiger's Nest.
For students like Kelden in Tsento, district of Paro, vacation is a time to earn some money. The students make about two trips and earn Nu 600 a day. 
Why are some students attracted to this job?
"I first came with one of my friends here last year and that is how I started coming here during my vacation and make some money," he said.
"Sometimes, when I am lucky, the tourist also gives us some tips and I make more than Nu 1000," he said.
"I give half of what I earn to my mother and use the rest to buy snacks and stationary."
Instead of playing at home, the class VI student said he enjoys escorting the tourists on horses to the Taktsang.
"I like the job because I like interacting with tourists and at the same time earn some money for myself and my family."
Another student, who has completed class 12, said that he has been working with the horses at the Taktsang base since he was in class VII.
Source: Youtube/WildFilmsIndia
"I make about Nu 900 a day. I want to make some money so that I can help lighten the financial burden on my parents when I go to college," he said.
A horse contractor, Gyem, 37, who has been providing porter pony services for tourists to reach Taktsang for the last seven years said having the children to help them makes the work much easier.
"We only have to look for the tourists who want to avail the service. They take three horses and we pay Nu 100 each for a horse," she said.
"They also earn some money so it's a win-win situation for everyone."
Pony services to be streamlined next month
Pony services to Taktshang in Paro is expected to be more organised come next month. With tour operators who wants to avail pony services requiring to make bookings only through the Horse Contractors' Association.
The Tourism Council of Bhutan (TCB) recently issued a notification requesting tour operators to the make bookings through the recently formed association.
The operators were asked to discontinue any past and existing contracts entered with horse contractors.
TCB's Director General, Dorji Dradhul, said the TCB was working together with the association to streamline the pony services to Taktsang.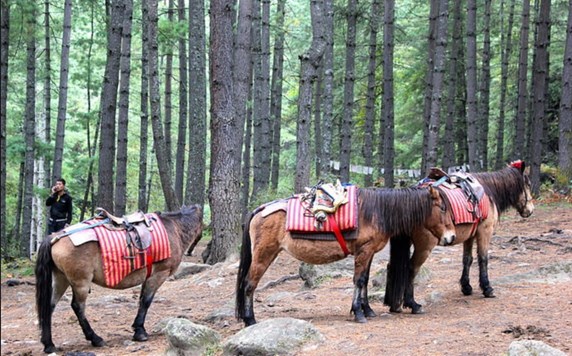 Photo: Parotaktsang.org
"We wanted to have one person with a horse but they said this would not be possible with limited human recourses, so we agreed on three horses at the maximum with a person," said the TCB's Director General. 
However, this measure will be revisited depending on the performance.
"If a person can handle three horses without any accidents then we may keep it the same." Gyem said that the initially formed association did not work because some of the horse contractors refused to become a member and continued the business on their own.
"They hired more horses and put them on the job and then everyone started to do the same." With the new association in place now, it is mandatory for everyone to be a member and to follow the rules and abide by it.
There are about 30 horse contractors with more than 300 horses doing businesses at the Taktsang base every day. Horse contractors have a minimum of two horses and some own as many as 16.
Why is it necessary to streamline pony services?
"There were problems and incidences of disagreement and fights among the horse owners and the guests would watch - shocked," Gyem revealed.
"The issues were discussed in the gewog meetings but nothing much could be done." 
Availing the service through the association is expected to bring some order to the business. "Only those who are extrovert and those who can go ahead and pursue the tourists get the business, as of now."
The disadvantage, according to Gyem, would be that when there are less tourists, some horse contractors may not get guests for days.
"With the association, what we earn would be reduced but it will be more organised, including the rates and dress code, which is important for everyone including those who want to pursue the business in future," she explained.
Today, the rate ranges from Nu 400 to Nu 1,500 a horse.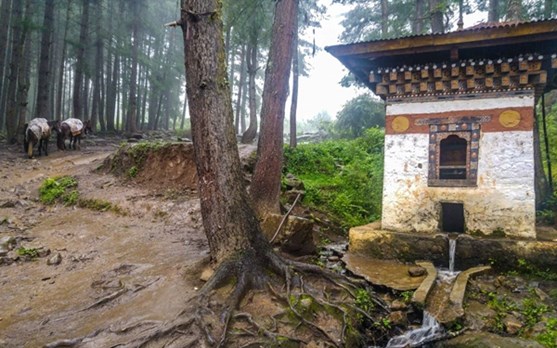 On the scenic route to the Tiger's Nest Monastery.
Photo: Unusual Traveler
"When we assign a person with a horse each, we have to hire the person and pay him for his service. That is why we charge higher for those who want a person each for a horse," she added. 
Coping with the high and low tourist seasons
During peak tourist season, it is possible to make about Nu 60,000 to 70,000 a month and during the off-season, one can manage to make about Nu 30,000 a month. 
"We spend almost half the amount of what we earn on the horse feeds that is Karma feed and maize," she said.
Chencho, 25, who has been in the business for the last 13 years said he has been accompanying his brother, a horse contractor since he was 10.
"That was how I learned about the business and got into it. As soon as a vehicle arrives, everyone rushes and quote their price. At times, we get scolding from the guides and drivers," he said.
Another horse contractor, Tshencho Tshering said that providing pony services to the tourist is a lucrative business.
"We earn at least Nu 1,000 a day with just two horses; so earning is good here."
A majority of the horse contractors are illiterate but they managed to learn some English, Hindi and some can even speak Chinese. 
"We just know how to ask whether they require pony services, teach them how to sit and let them know the rates for the services,"  said Tshencho Tshering, a horse contractor.
This article first appeared in Kuensel and has been edited for Daily Bhutan.
---