Significant pilgrimage sites of Guru Rinpochoe in Bhutan
Discover sacred pilgrim sites of Guru Rinpochoe in Bhutan and the reasons why every buddhist must travel to these most venerated places of pilgrimage in the Himalaya.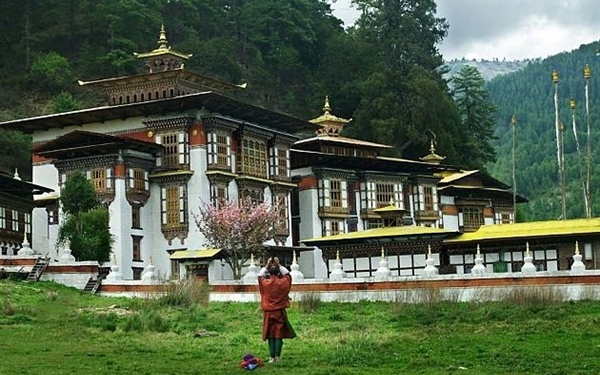 Who is Guru Rinpochoe ?
Guru Rinpochoe or Padmasambhava is the lotus born buddhist master who journeyed around teaching buddhism to all the sentient being. 
Guru Rinpoche's Exclusive Sacred Places in Bhutan
According to the Bhutanese calendar, he said, Guru Rinpoche first visited Bhutan in 810AD, the year of the Iron Tiger at the invitation of king Sindhu Raja of Bumthang. The local deity, Shelgin Karpo, snatched the king's life-soul making the king ill. Guru Rinpoche came from Nepal and entered Bhutan via Nabji Korphug in Zhemgang.
He came to Bumthang, subdued the local deity, and the king recovered. He visited 10 sacred places in Trashiyangtse, Mongar and Lhuntse. From Singye Dzong, Guru Rinpoche and Khadro Yeshey Tshogyel flew to Taktshang (Tiger's Nest) in Paro. He continued to visit Drakarpo, Dzongdrak, Ragoed, Chumphu, Beyul Rinchenshong and went further  southwest till Sangbekha in Haa.  
Lopen Gembo Dorji said the Pure Land, Dewachen is also in Bhutan where many practitioners had achieved enlightenment. He said the sacred sites in Bhutan are not only historically significant but are also places of hidden blessings. "Bhutan is like a giant dialysis machine where one can avail free treatment and purification," he said.
Guru Rinpoche's sacred places in Bhutan- Paro Taktshang is Guru's first sacred place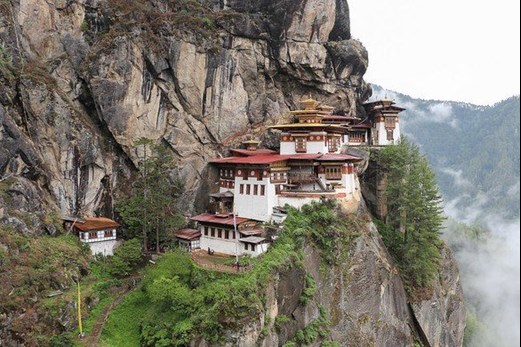 Paro Taksang is one of the most iconic landmark in history of tourism. The monastery is perched magnificently on the cliff in Paro is known in the world and has been listed in the bucklist landmark. Paro Taktshang is a very special sacred place and most venerated places of pilgrimage in the Himalayan where Guru Rinpoche spent four months, concealed many dharma and wealth treasures, and granted his blessings.
Bumthang Kurje Lhakhang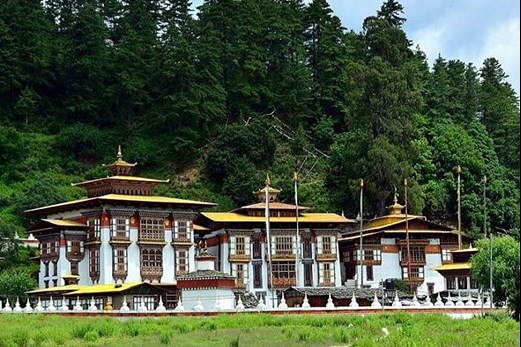 About 15 minutes drive from Chamkhar town, Kurje Temple is built against a rock cave where in the 8thcentury , Guru Padmasambava subdued evil spirits which had king Sindhu Raja and his family stricken with ailments. There are three main temples the oldest built in 1652 on the site where the Guru Meditated the second temple where he left his body imprints, the third added in the 1990s.
The cypress tree near the entrance is said to be the offshoot of Gurus Walking stick. The Drupchu (holly water)is also considered very sacred.
Senge Dzong/Singye Dzong is the sacred place of Guru Rinpoche's enlightened activity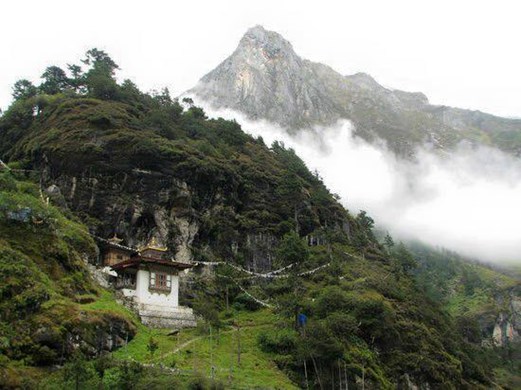 Senge Dzong/Singye Dzong is located under Lhuntse Distrct. The pilgrimage to Senge Dzong/Singye Dzong is considered one of the most arduous and sacred trek in eastern part of Bhutan. 
According to the description of the sacred places, a visit to Singye Dzong shall liberate oneself from being born in lower realms and fulfill whatever one wishes and prays for his life. There are five main sacred places associated with Guru Rinpoche who brought Buddhism to Bhutan. It is called sacred place of the body, speech, mind, qualities and activity.
Singye Dzong is considered the most sacred place associated with activity while other four main sacred places are in Tibet. There are eight sacred places in Singye Dzong– all described as Dzongs.
Aja Nye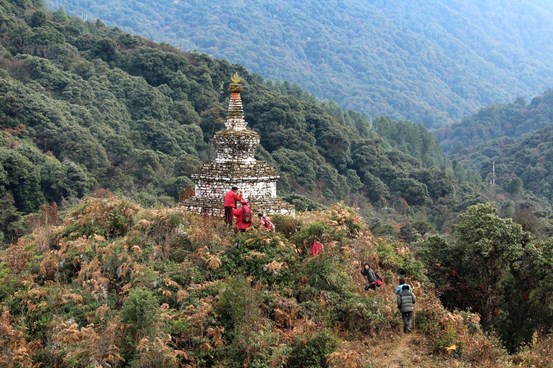 The Guru came to Aja following the trail of an evil Tibetan King, Khikharatoe who was trying to destroy Buddhism by establishing his empire at Aja. The place hosts Gurus footprints , body prints, the prints of his seat, orints indicating the subjugation of evil khando  Dowa Zangmos footprints and 108 retreat caves of the Guru. They are located in mountains, bamboo groves , meadows, gorges and dense forests. Legends has it that Aja was discovered by a renoened Buddhist master with a tiger acting as his gudie.
Why Visit these pilgrimage sites? 
Pilgrimage is a sacred journey. According to buddhist beliefs , it is said that making trip or paying homage to all these pilgrimage site can bring devotee closer to the path of enlightenment by removing defilement  and obstacles in ones life.