The best way to experience Bhutan is to spend a night at a Bhutanese farmhouse
Farmhouses in Bhutan are an architectural feat, made with only mud, stone, and no nails.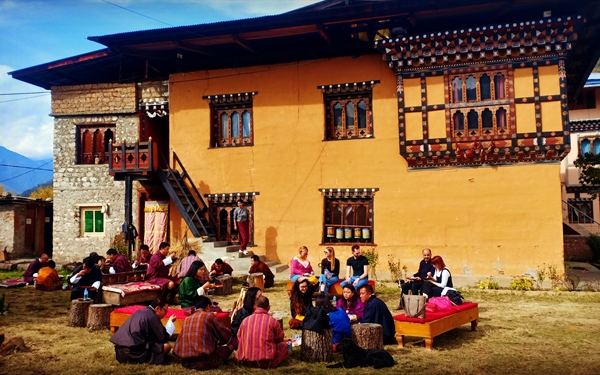 When in Bhutan, do as the Bhutanese do. And there is no better way to immerse yourself in indigenous Bhutanese culture than spending a night at a Bhutanese farmhouse, where Bhutanese culture of the past and present blend together. 
Bhutanese farmhouses are an architectural marvel on their own—built with only mud, stone, and no nails. But the uniqueness does not end there.
Just like many things in Bhutan, farmhouses have both religious and secular functions. Farmhouses are generally decorated like religious buildings, with added phallic symbols to promote fertility and scare off evil spirits.
They are constructed to be rectangular in shape. The walls, which are made of dried mud, are usually white in colour. Lively and colourful motifs adorn these walls, along with a few sliding panels that make up small, plain windows. Occasionally, you see structures that look like chortens, offered as worship to the deity who owns the land. 
Each farmhouse has the same basic architectural design. It has three floors. The bottom floor was traditionally used as a shelter for cattle, but nowadays, it is used as storage. This change was made for hygiene and sanitation reasons. Some people use it as a shelter where they clean vegetables. Others use it as toilet space.
The first floor is the living space with a huge kitchen that doubles as a living room. There is also a shrine (prayer room), a bedroom, and a storeroom. 
The top floor is reached by a narrow ladder that resembles a single piece of wood. One might say that the top floor is the most important part of the house. This is where the making and drying of hay for the livestock take place. Here, you will usually find a choeseum, a shrine room with a decorated altar. 
Wooden shingles that have been stacked neatly and weighted down by stones make the roof. You can reach outside the roof by simply pushing the shingles away from below. A prayer flag flutters in the wind above the house; it is usually replaced once every year.
Bhutanese farmhouses typically do not have a chimney so as to conserve heat during the winter. The mud stove where cooking is done is the only source of heat during the cold months. Although there is no chimney, smoke is channelled via a wooden shaft to the attic where it darkens the underside of the roof.
In terms of furniture, there is rarely any in a Bhutanese farmhouse, save for the tables. For beddings, the Bhutanese lay out the clothes of the day on the wooden floor to sleep on.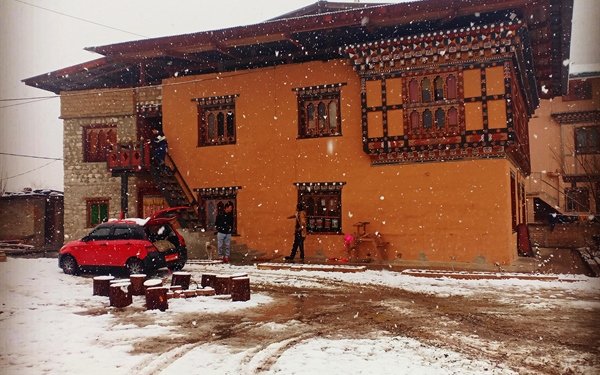 Over the years, buildings in Bhutan have modernised. The new buildings are built with cement, bricks, stone, and sand. The roofs use galvanised iron sheets. Thus, the farmhouses remain a precious, rustic remnant of Bhutan's yesteryears.
Common farmhouse activities to enjoy during your stay
Expect your time in the farmhouse to be fun-filled and packed. You may:
Take a

hot stone bath

in a traditional bathtub

Enjoy authentic Bhutanese food prepared by the host

Milk a cow

Take a tour and admire the authentic three-storey architecture of the traditional Bhutanese farmhouse 

Take a stroll through the rice fields and orchards surrounding the farmhouse

Get an insight into the indigenous Bhutanese lifestyle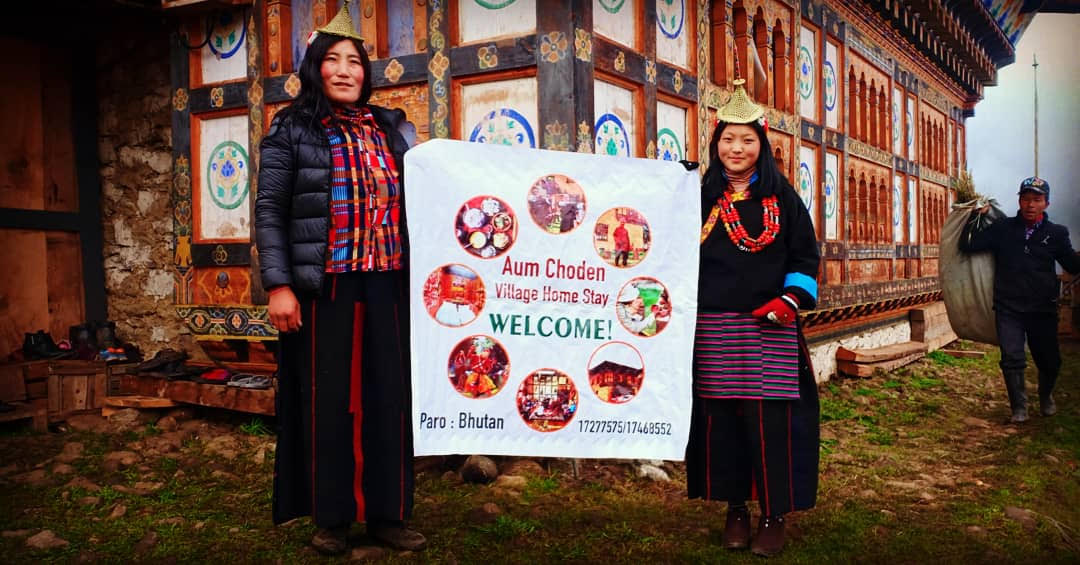 Farmhouses to visit 
Convinced? Here are some farmhouses to visit:
1. Paro Penlop Dawa Penjor Heritage Farmhouse
Location: Gaptey, Paro 12001, Bhutan
The then Governor of Paro built this farmhouse in the 18th century. The location now doubles as a farmstay. The building (as usual) is three storeys high and has 5 spacious rooms available for visitors. Expect all the basic facilities like room service, car parking, meal provisions, etc. The farmhouse even has a lounge service.
Location: Lango Village, Paro 12001, Bhutan
This house was built in the 19th century; the interior and objects in the house reflect the age. There are even secret passageways in this farmhouse—shhh. The farm that sits just outside the house adds to its charm. 
Guests at Ama's Farmstay have reported that the family that hosts the place is warm and friendly, and the kids are especially nice to talk to.
As with traditional Bhutanese houses, the rooms do not have an attached bathroom. However, you do get a private bathroom that even comes with a geyser.
Location: Damjee, Paro
Tshering Farmhouse was established in 2002. Surrounded by sprawling lush fields, the farmhouse offers the standard experience, from the serving of authentic Bhutanese cuisine to hot stone baths, with an extra touch of Bhutanese hospitality to complete the homely feel.
Location: Nemjo, Paro
A humble century-old two-storey traditional Bhutanese house located in Paro. You'll get to experience a traditional setting with a Bhutanese family and experience the local customs. The rustic charm of Aum Choden Homestay will leave you feeling in awe of their hospitality and sense of community vitality. Aside from a hot stone bath, you can also try out some traditional sports and witness traditional Bhutanese cooking.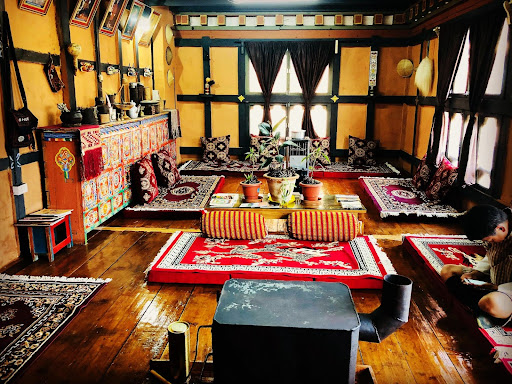 Come to think about it, that's what Bhutanese farmhouses will make you think of: home.
If you want to include a homestay in your Bhutan itinerary, just let your Bhutan tour operator know.
BHUTAN TRAVEL GUIDEBOOK
If you're planning to visit Bhutan or curious about the adventures that await you, grab a copy of Bhutan Travelog from Amazon.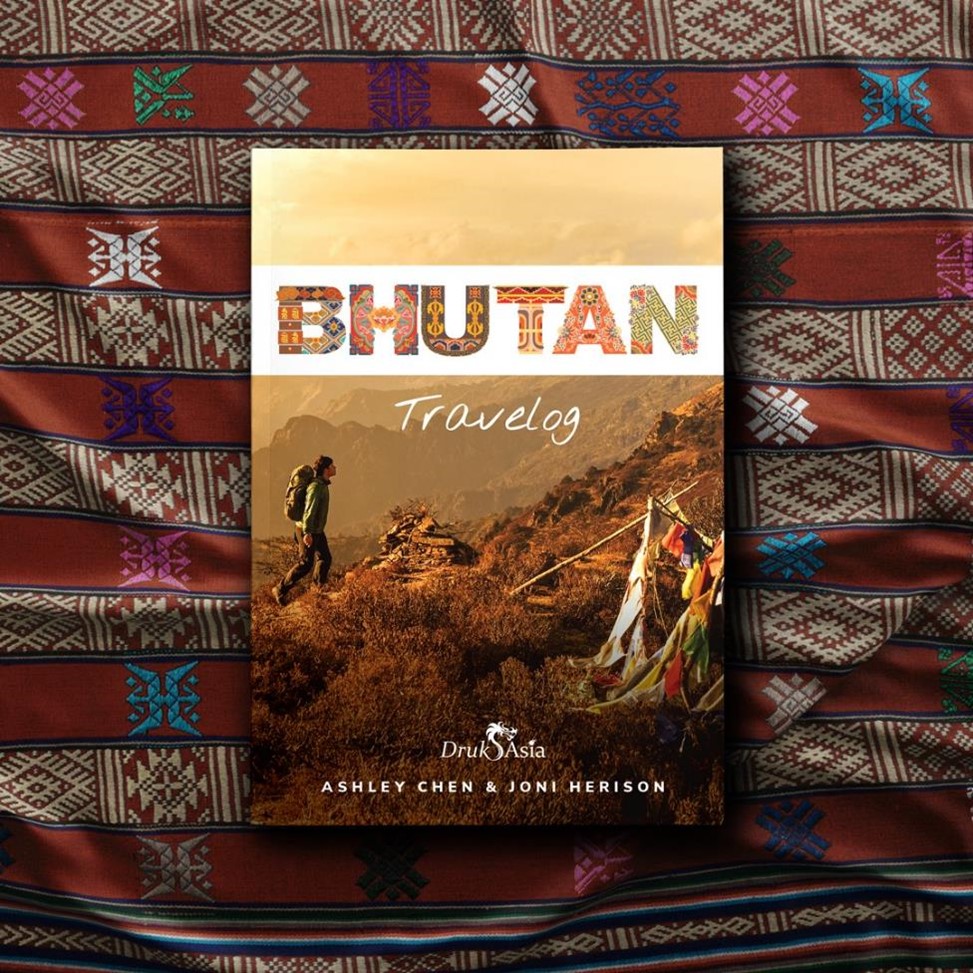 ---
---