What are the traditional sports of Bhutan?
The Bhutanese have a variety of traditional sports. Some test your aim and skills, whereas with others, it's about pure brute strength.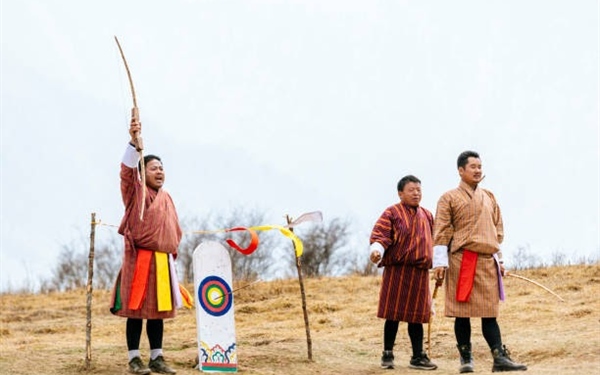 For the Bhutanese, their culture is their identity, and one undeniable element of their rich culture is their traditional sports. When we think of Bhutanese traditional sports, we might think of the popular ones like archery and khuru. Nonetheless, there are lesser-known ones too.
1. Archery
Mentions of archery can be found throughout Bhutanese folklore. Legends tell of Jigme Naygyal during the Duar War against the British in the 19th century. After offering prayers to the Bhutanese guardian deity, he fired an arrow from the mountain. The arrow lurched through the air, off the mountain, and landed on the British general's forehead. The general died instantly.
Present-day, you find archery ranges all over the country, even in small villages. Every weekend, the archery ranges in Thimphu and Paro teems with activity. But not everybody is there to shoot arrows; some just watch by the sidelines. As you can see, archery in Bhutan transcends the sporting world. It is also a symbol of festivity. 
This can be seen at archery tournaments. As teams of archers shoot at a target 145 metres away, cheerleaders cheer their teams and boo their opponents. If the archer hits the target, there is a celebration with dance and song. Throughout the event, there is plenty of drinking too. According to the archers, drinking gives them courage and a better aim.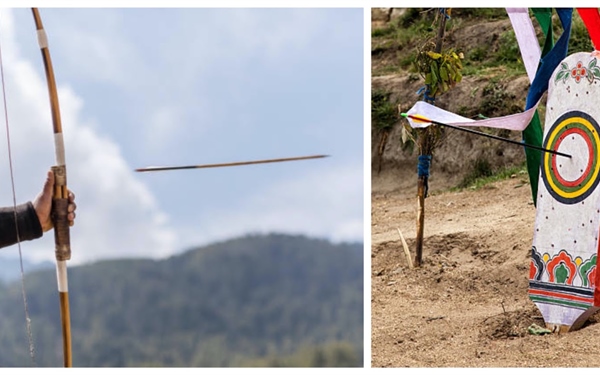 2. Khuru
Similar to archery, khuru (darts) is also wildly popular in Bhutan.
Playing khuru requires lots of concentration and a strong arm. Although khuru is now played purely for fun, some believe that it was once used for training the troops to defend the country against invaders. 
Teams of 8 to 12 throw large darts at a target that is roughly 20 metres away. Each time the player hits the target, he scores one point for his team. Wearing large white cuffs around their wrists, other players position themselves near the target, supposedly to guide the players by hinting at the position of the target.
Like archery, when someone hits a target, dancing and singing follow.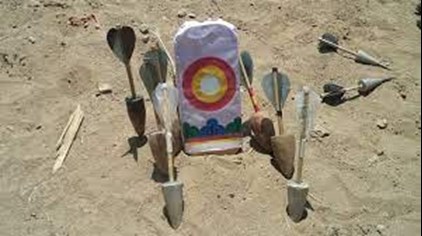 3. Soksom

Think of the javelin event of track and field — that is the semblance of soksom, where a javelin is hurled across a distance of 20 metres. The game was popular in the olden days among cow herders. They passed their time throwing spears while their cows grazed.
However, unlike the Olympic javelin event, the objective of soksom is to hit a target at the end of the range, and not to cover the furthest distance. Once again, when the target is hit, they burst out into song.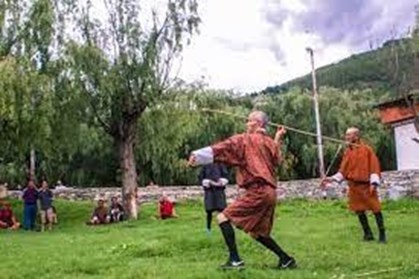 4. Degor
Some sources claim that degor is the father of traditional sports. Similar to khuru and soksom, the target is 20 metres away. Taking turns, two teams of six throw flat stones at a wooden target buried in the ground. After each player has finished their turn and the points are recorded, they switch sides and the players throw from the other end. 
Also similar to archery, khuru, and soksom, there is a festive mood — with much song and dance. There are different songs, one for scoring bullseye, and one for scoring daya, which is when the rock hits close to the target.
Furthermore, you need more than a good aim and a strong arm to master degor. You must also be good at...distracting the opponent. 
Another interesting point is that although all the stones look similar, there is seldom any disagreement on who had hit closest to the target. This is because all the players know their stones. 
Nowadays, degor has lost its popularity in the big towns, but the villagers still find it enjoyable and a great opportunity to socialise. They usually play degor at annual village festivals.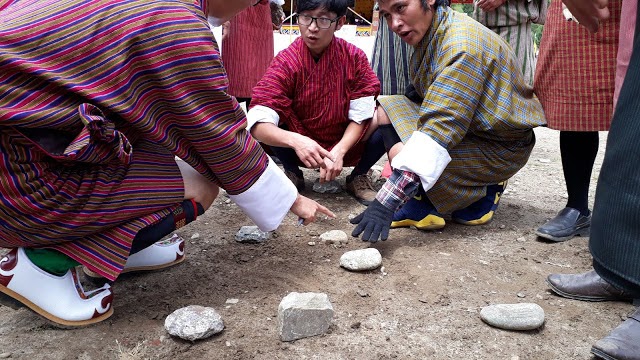 Source: PaSsu Diary
5. Pungdo
Pungdo is Bhutanese shot-put. Players hold the stone flat in their hand, then throw it as far as possible from shoulder-level. 
6. Jigdum
In jigdum, players use a sharp-ended foot-long piece of wood and hurl it at the target. There are two types of jigdum: one uses a straight piece of wood, and another uses two-pronged wood.
7. Keshey
Keshey means "to hold the waist", and is an apt description of the sport. Keshey is greatly similar to sumo wrestling. Spectators form a circle, and two men stand at the centre. Next, they attempt to toss their opponent onto the ground. 
Usually, the winner is awarded a baetrum (an old copper coin) whereas the face of the loser is covered in ash — all in good fun.
8. Sheray paray
Sheray paray is simple. Player 1 grips Player 2's wrist, and Player 2 tries to break free. If Player 2 is successful, Player 1 loses, and vice versa.
9. Langthab
Langthab is a bullfight. The two players use brute force to head butt each other into submission. The sport requires a stone-hard head. Some players report that they would feel dizzy afterwards. Honestly, it sounds painful. Ouch!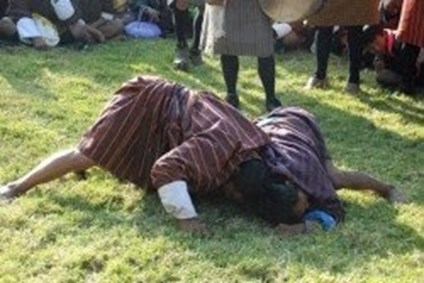 Source: Bhutan News
Unfortunately, some of these traditional Bhutanese sports have become less-known, especially among the urban Bhutanese youth. While archery and khuru will probably endure for many generations to come, other sports like sheray paray and langthab are slowly tiptoeing out of the Bhutanese periphery. 
Thankfully, there are bloggers and old-timers determined to keep these traditions alive. We wish them luck. May this Bhutanese heritage of traditional sports live on for years to come — with singing and dancing, of course.
---
---