The fascinating Brokpas of Bhutan
According to legend, they fled to Bhutan after they beheaded an evil king in Tibet.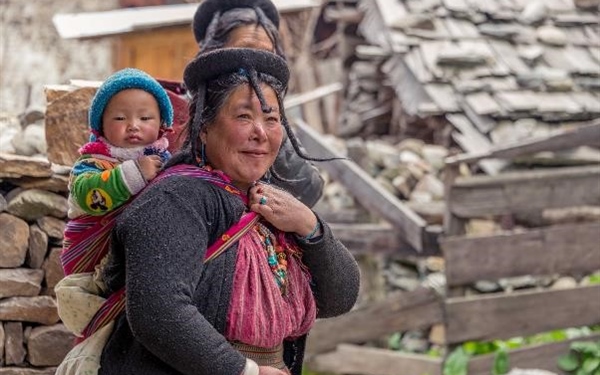 They tell a thrilling tale about their origins. According to legends, the Brokpa people travelled to Bhutan from southern Tibet after they beheaded a tyrannical king in their ancestral village. 
According to folklore, the story began in 640 AD, in Tsona in Tibet. One day, the King ordered his people to tear down the mountain peak so that the sun could shine onto his fort. The people worked in vain under his order for a long time. Finally, after many years of suffering, the people murdered the King and fled Tsona, led by a woman named Jhomo.
The deity Aum Jomo and guru Lam Jarepa led the Brokpas through the mountains and valleys until they arrived in Bhutan. They fled in three different groups. The first group settled in Sakteng. "Sakteng" means "Plains of Bamboos", named after the bamboo vegetation there.
Meanwhile, the second and third groups spent many years in Lung Zempo, where the ruins of their stone houses remain.
Much later on, the second and third groups made it to Sakteng, and then later on to Merak. Unfortunately, the journey was harsh, and only a few survived till Merak. When they reached Merak, the area was full of trees and they had to burn them down to build their settlement. This is how the place got its name: Methra, which means "to set fire to" in Dzongkha. The name eventually evolved to present-day Merak.
Today, the Brokpas remain in Sakteng and Merak in eastern Bhutan. Merak and Sakteng are situated in Trashigang dzongkhag, bordering the Himalayan glaciers and the Indian state of Arunachal Pradesh. 
The area sits at an elevation of 3,500 m. The altitude led the Brokpas to be known as 'highlanders'. Even in the summer, the Brokpas' homeland is covered in glaciers.
The Brokpas are semi-nomadic yak-herders who have mostly lived in isolation since their arrival in Bhutan. In the summer, they tend their yaks and sheep in the pastures. In the winter, they return to their houses, which are usually single-storey, made of stone, and have small windows.
The weather in Sakteng and Merak is not conducive for crops to grow, thus for a living, the Brokpas trade or sell their produce—butter, cheese, and yak meat—with neighbouring communities for daily necessities to sustain themselves.
The distinct culture of Brokpas
Although they are Bhutanese, they have a distinct culture.
For one, they speak a different dialect, a southern Tibetic language. The language is officially known to the outside world as the Brokpa language, also called the Merak-Sakteng language.
For another, they dress differently. Instead of the regular Kira and Gho, they have their own traditional dress. The men wear tshokan chuba, a thick, red wool coat, while the women wear shingkha, a red and white striped dress that is adorned with Tibetan amber, silver, and gold. 
Both men and women wear black felted yak wool they call shamo.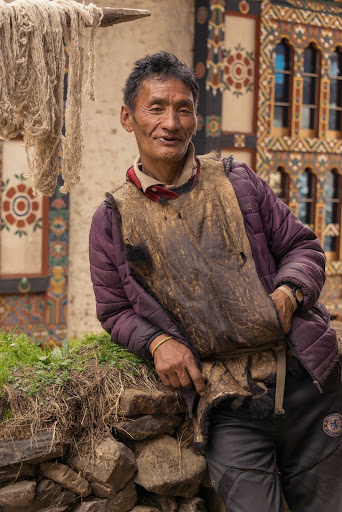 When the Brokpas came to Bhutan, they brought with them religious texts and their version of Mahayana Buddhism. 
The unique hat of Brokpas
One distinct feature of the Brokpas is their hat. It has five dreadlocks that look like spider legs. 
The hat is referred to as a tsipee cham and is made of yak felt. The tough material when twisted into tufts sticks out and is meant to keep water out of the wearer's face.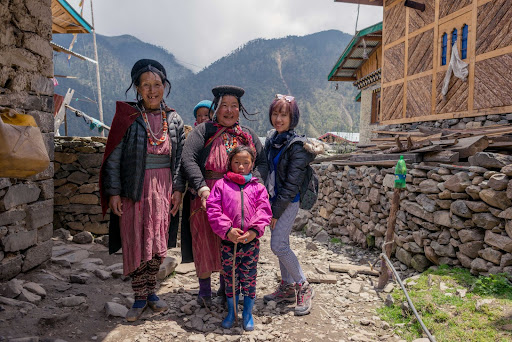 Meet the Brokpas
If you wish to meet the Brokpas and experience their lifestyle, consider taking a hike on the Merak-Sakteng Trek. However, bear in mind that this trek requires a high level of fitness to complete. But it would be worth it. You'll get to see Brokpas in their element, dressed in their distinct attires and living in homes made out of yak hair.
The trail starts at Chaling and finishes at Phongmey and takes you as high as 4,100 m. The best time to embark on this trail is between March to May, or between September to November.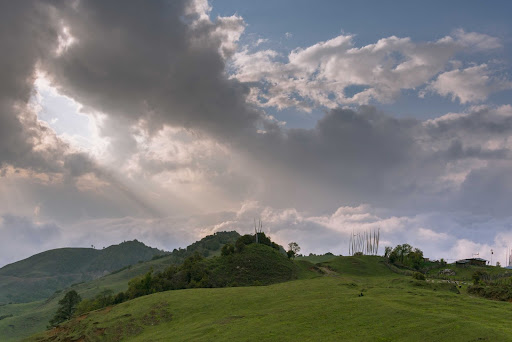 Hiking this track is rewarding for many reasons. You'll get to explore the Sakteng Wildlife Sanctuary, which is home to many endangered animals, and even houses a yeti preserve!
Up until 2010, outsiders were not allowed to visit Merak and Sakteng. The Bhutanese government set up the rules to protect the area from outside influence. But now, visitors are permitted to visit the Brokpas—respectfully, of course.
Once upon a time, you had to hike for two days if you wished to visit Merak. However, thanks to road construction in 2012, it only takes a two- to four-hour car journey from Trashigang Town to reach Merak Village.
At the village, you'll find Brokpa settlements scattered all around. And there is nothing like experiencing their lifestyle for yourself. Maybe they'll even tell you about the time their ancestors fled Tibet after beheading the evil king.
#MYBHUTANMEMORIES CAMPAIGN
If you've visited Bhutan previously, simply share your Bhutan experience and share your story with the world. You might just win return flight tickets back to Bhutan! Time to check out eastern Bhutan next, perhaps? 
---
---