2023 Bhutan National Council Election
Historic Turnout for 2023 National Council Election & the Surprising unpredictability of the Bhutanese electorate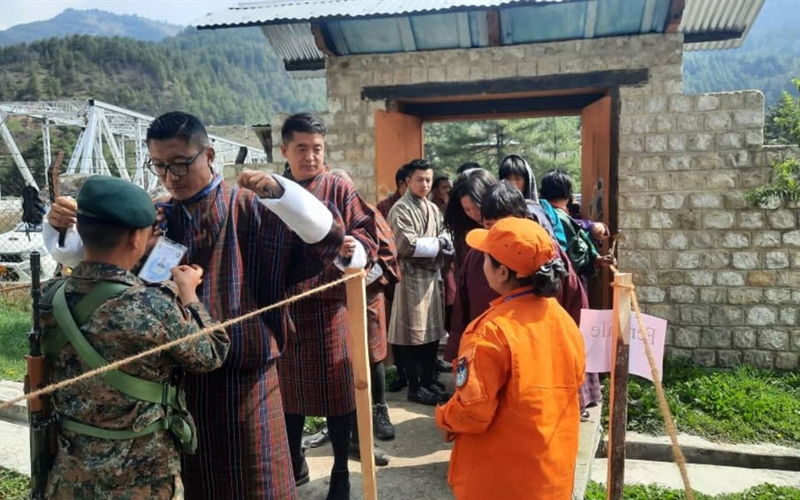 (Source: Kuensel)
The lackluster showings at the various election forums, coupled with the heavy outflow of emigrates to Australia and curtailing of postal ballot facilitation by the Election Commission, had many predicting that the voter turnout for this 2023 National Council election might be the lowest in history. The populace, however, showed their unpredictability by showing up at the ballot boxes. At the end of the day, 55% of the 485,811 eligible voters casted their votes to elect their representative at the National Council, an historic high since the beginning of democratic elections in Bhutan in 2018, just 15 years ago.

A total of 168,869 electronic voting machine votes were cast and 96,72 postal votes were cast.
The role of the National Council in Bhutan
The National Council is the upper house of Bhutan's bicameral Parliament, where there's a total of 20 elected councilors representing each Dzongkha, while five members are nominated by the Druk Gyalpo (The King of Bhutan). The members cannot belong to any political party and must have a minimal degree. The role of the National Council, like that of the upper houses of the Westminster-style parliaments, acts as the house of review on matters affecting the security, sovereignty, or interests of Bhutan but has no executive power in the government.
Fewest councilors get re-elected
Of the 10 Councilors seeking re-elections from the constituencies, only 2 of them got reelected while the other eight lost to candidates of various backgrounds with some losing heavily despite their active participation in the National Council debates and active community outreach in their constituencies.  
Only Sangay Dorji from Chukha and Ugyen Tshering from Paro won their re-elections and are expected to take leading roles in the 4th National Council.
Surprises from the voters
Of the 20 elected councilors, 10 of them accumulated their experiences in the education sector, as teachers or principals in all level of education both in public, private and also sports federations.
Four of the elected councilors were contesting in their third election and pulled through on their third try, meaning they would have waited 10 years and the Bhutanese voters rewarded their grit and perseverance with a win.
Tshering Tshomo from Zhemgang will be the lone female councilor in the Fourth National Council, continuing the scenario of under-representation of women in Bhutan's politics.
---
---