Archery Helps Paraplegic Move
30-year-old Pema Rigsel from Thimphu is one of the recurve archers at Bhutan Archery Federation. He is the first paralysed recurve archer of the federation.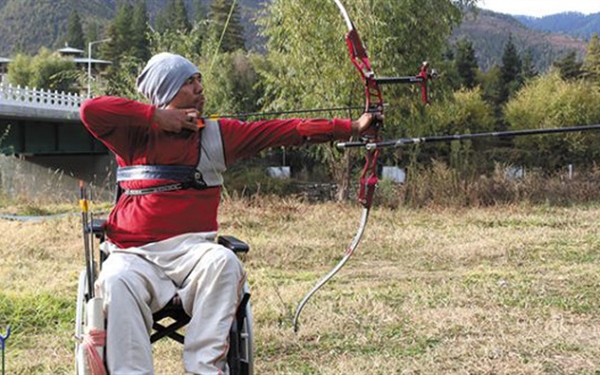 (Source: http://www.kuenselonline.com)
Seated half a metre above the rest, wearing a yellow polo shirt, he rubs the joints of the bow handle with a piece of cloth. He tightens the nut on handle. The bowstring, spare limbs, bow stands, stabiliser and screwdrivers are spread out on a chair near him.
With the inspection and cleaning done, Pema Rigsel wears a satisfied look. He calls for help to string his bow. He cannot do this alone because he suffers from paraplegia which refers to the paralysis of the legs and lower body caused by spinal injuries or diseases.
The 30-year-old from Thimphu is one of the recurve archers at Bhutan Archery Federation. He is the first paralysed recurve archer of the federation.
Pema hopes to win gold for Bhutan
"I want to represent my country at the international competitions. Winning gold for my country is my dream," said Pema Rigsel.
Pema Rigsel was recruited as an archer in January this year. He has been training with other archers for the past 11 months. His longest shot record is 60 metres. He has to aim for 10 more meters in order to be selected for international competitions.
Pema Rigsel's coach Karma Tshering said: "He has the equal potential with good upper body strength like other archers. He has a good shooting style and often hits the yellow rings in the training. I am confident that he will make it to international competitions."
Pema Rigsel follows the same training schedule and timing as other archers. He undergoes regular exercises and stretching before going for the shootings and draws the equally strong bowstring. The shooting range, however, differs. While other archer practise on the standard range, he is a few months away from reaching the same range.
Pema Rigsel earns Nu 15,000 as salary from the federation and is provided with equipment, diet and other kits. He has plans to hire a taxi for a pick up  and drop off service between home and training ground.
"My brother helps me get to the ground and picks me up in the evening. Hiring a taxi would make things more convenient for him. I want to be independent," he said.
Pema Rigsel was a taxi driver before. It was in 2015 that he underwent a spinal surgery because of a prolonged pain in his knee. Since then, it has left him paralysed permanently.
"I was left alone in the cabin and then I continued my solitary stay at home. I was not able to wash my face or eat," said Pema Rigsel.
However, he was fortunate to have a supportive family. "I was dependent on them. I could do nothing on my own."
Archery helped Pema to regain some mobility
After three years, an opportunity came knocking at the door. He got selected for archery, which he says helped him improve his movements.
"Archery is very important in my life. This helps me to live an independent and normal life," he said. He is today largely independent and confident.
"I can cook and wear clothes on my own. I think archery training made this possible. I can move around and go to the washroom on my own," said Pema Rigsel.
By Nima (This article has been edited for the Daily Bhutan)
This article first appeared on Kuensel.
---