Bhutan Observes World Day To Combat Desertification, Advocates Sustainable Land Management
In Bhutan, this day is considered important as it focuses only on land.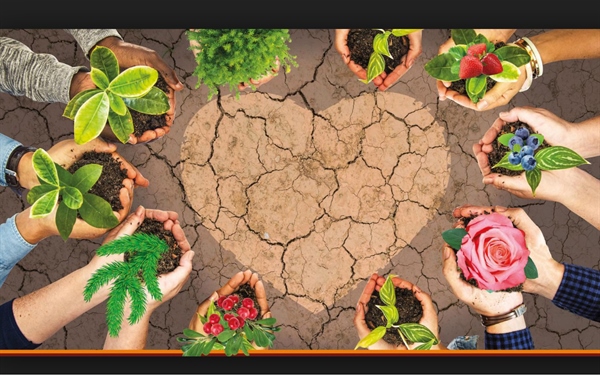 (Source: UNITED NATIONS Convention to Combat Desertification)
By Staff Reporter | Kuensel
17 June, the World Day to Combat Desertification 2019 (WDCD) is celebrated under the theme - 25 years of implementation of the Convention and beyond.
The celebration which was established 25 years ago, aims to raise awareness of international efforts to combat desertification.
Running under the slogan "Let's grow the future together", the 2019 World Day focuses on three key issues related to land: drought, human security and climate.
According to the UN, by 2025, two-thirds of the world will be living under "water-stressed" conditions – when demand outstrips supply during certain periods.
Source: United Nations News
About 1.8 billion people will experience absolute water scarcity, when a region's natural water resources are inadequate to supply the demand.
Migration is likely to increase as a result of desertification, with the UN estimating that, by 2045, it will be responsible for the displacement of some 135 million people.
Preparation done to celebrate the World Day to Combat Desertification in Bhutan
In Bhutan, this day is considered important as it focuses only on land. It is also a day to remind the general public on how necessary it is to take care of the country's limited land resources.
Owing to its rugged terrain, good land is limited and ecosystem is fragile in Bhutan. Each year, the World Day to Combat Desertification is celebrated with land management campaigns and related activities in different Dzongkhags (districts) organised by the National Soil Services Centre (NSSC) of the Department of Agriculture, in close collaboration with the different Dzongkhags and Gewog Agriculture Sectors.
The celebration is open to everyone who wants to be sensitised on the importance of combating land degradation and the benefits of Sustainable Land Management (SLM).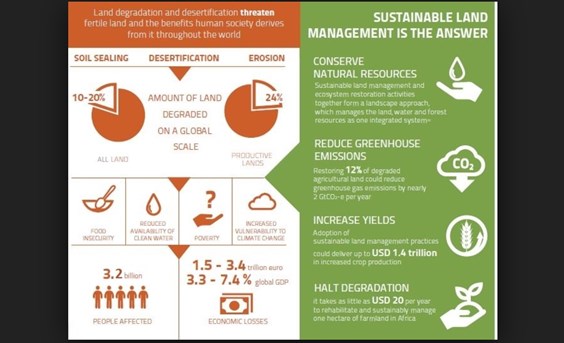 Graphic: UNITED NATIONS Convention to Combat Desertification 
In preparation for 17 June, a minimum of 50 acres of land is prepared for over a period of two to three weeks to demonstrate various SLM technologies and approaches that have proven to be effective in combating land degradation and improving land productivity.
The WDCD 2019 is celebrated at Wangphu under the Samdrupjongkhar Dzongkhag with funding support from the Bhutan Trust Fund for Environment Conservation (BTFEC) and at Saling under the Mongar Dzongkhag with the support of GEF/LDCF Project.
About 50 acres of land in Wangphu and 54 acres of land in Saling will be put under various SLM practices in observation of this day.
Aims of establishing the Sustainable Land Management Technology Park
The establishment of the Sustainable Land Management Technology Park (SLM-TP) at the ARDC Yusipang is dedicated to WDCD 2019 while the EU-Rural Development Climate Change Response Program provided funds to develop the SLM-TP.
The Technology Park established on 23 acres of land showcases various SLM technologies such as Hedgerows, Brush Layering, Check Dams, Stone Bunds, Terraces (Bench and Orchard Terraces), Erosion Plots, Soil Profiles, Conservation Pond, Protection of Marshy Area, Sokshing Collection Area and Compost Sheds.
The SLMP-TP will serve as a learning site for farmers, students and others who would like to know more about SLM and their functions in combating land degradation.  
Efforts towards preventing and combating land degradation
Focus on SLM in the country intensified from the time of the GEF/World Bank and GEF/UNDP Sustainable Land Management Projects in 2006.
Source: UNITED NATIONS Convention to Combat Desertification
As per NSSC's record, till date, about 10,550 acres of vulnerable land have been brought under various SLM practices such as land terracing, hedgerow establishment, stone bunding and check dams.
About 200 check dams have been constructed across Bhutan. In addition, about 25,000 people including farmers, local leaders and the RNR staff have been trained and sensitised on sustainable land management.
All these efforts should and must lead to the protection of our limited soil and land resources and contribute to the development goals and objectives of Bhutan. 
Land Degradation Neutrality (LDN)-Target 15.3 of Sustainable Development Goals (SDG) 15
SDG 15 promotes 'Life on Land' and the SDG target 15.3 states that by 2030, we should be able to combat desertification, restore degraded land and soil, including land affected by desertification, drought and floods, and strive to achieve a land degradation neutral world.
The implementation and adoption of SLM technologies and approaches in agriculture system can also help to achieve LDN targets.
Among the 122 Land Degradation Neutrality (LDN) countries, Bhutan volunteered to join in 2014.
Moreover, 80 countries have already set LDN targets to be achieved by 2030 and Bhutan is one of them.
This article first appeared in Kuensel and has been edited for Daily Bhutan.
---