Bhutan's U-15 Women's Football Team Scored A Stunning 6-0 Against Sri Lanka
On August 11, Bhutan's under-15 women's football team faced Sri Lanka and won 6-0.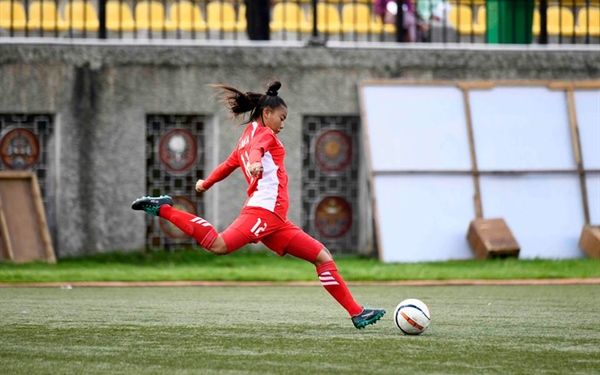 (Source: Facebook/BhutaneseGalsFootball)
By Nima | Kuensel 
More than 2,500 spectators gathered at the Changlingmithang Stadium in Thimphu on Saturday, August 11. It was the day when Bhutan's under-15 women's football team faced Sri Lanka and won 6-0.
The National women's team entered the stadium with an advantage of having seen Sri Lanka play beforehand.
Bhutan's team had the upperhand right from the beginning
Right from the start, Bhutan controlled the game, pressuring the girls from the island nation after the first whistle.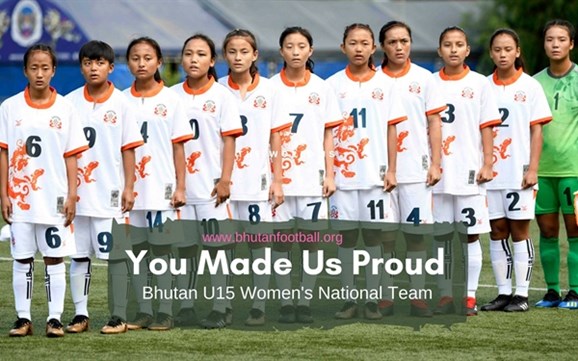 Source: Facebook/Bhutanese Gals Football
Bhutan's Sonam Lhamo proved her worth of wearing jersey number 10 by scoring a hat trick. Her teammate Yeshi Bidha who was in the attacking front, scored a brace. Another player, Deki Yangdon scored one goal as well.
It took only eight minutes for Bhutan to find the opener. Sonam Lhamo's shot from outside the 16-yard box found the back of the net that gave Bhutan the lead.
Towards the end of the first half of the game, Sonam Lhamo scored another goal to put Bhutan 2-0 against Sri Lanka.
What the coach from the Sri Lanka team said
Sri Lanka's coach Abbas Khan Mohamed Ajwad said that his team failed to capitalise on the chances.
"The climate did not favour us and the girls were physically down in the later half of the game. As we went down 4-0, the girls were mentally down to fight back. It was an unexpected scoreline," said the coach.
Sri Lanka's best chance to score came in the 65th minute when the winger, Bandara dribbled past three Bhutanese defenders from the centre. However, Bhutan's skipper, Kinzang Dema denied the chance by stopping the striker from inside the 16-yard box.
Bhutan's coach Sung Jea Lee and his aspirations for the team
Bhutan's coach Sung Jea Lee said that the team performed well in the second half.
"They did not start well as they have never played in front of such huge crowds. However, they managed to cope with the atmosphere in the later half. It was a good result for the girls."
"With only 18 players in the squad, Bhutan does not have enough choice of players. However, the match against India was Bhutan's focus since the beginning," said Sung Jea lee. "We will give our best and expect to get good results."
This article first appeared in Kuensel and has been edited for the Daily Bhutan.
---