Cordyceps Collection Enables Highlanders To Build Homes In Warmer Districts Of Bhutan
Every winter, to escape the harsh cold and to stock up on rations, the Layaps and Lunaps move down to warmer places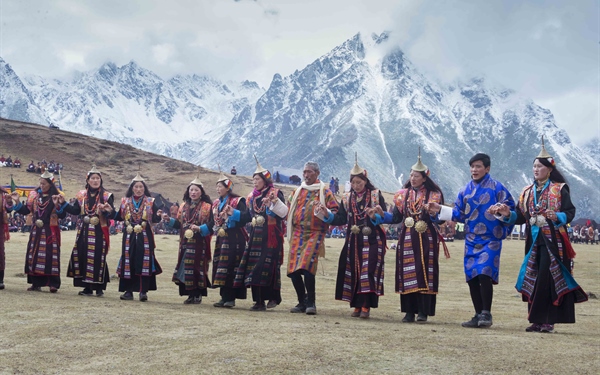 (Source: Druk Asia)
By Phurpa Lhamo | Kuensel
For decades, the warmer valleys of Punakha and Wangdue have been the winter homes for highlanders from the remote districts of Laya and Lunana in Bhutan.
Every winter, to escape the harsh cold and to stock up on rations, the Layaps and Lunaps move down to warmer places. There, they spend about two months living in tents pitched in open fields which belong to the rich landowners of Punakha.
Goods traded back then were yak meat, cheese, hardened cheese (chugo), home-made incense (sangzey) and a few yak hair made products.
These days, a lot has changed. Lunana is only about a 30 minutes helicopter ride from Thangzona, the makeshift landing ground of the Bhutan Helicopter service. However, not many Lunaps (people of Lunana) stay back throughout the year.
Establishing a second home in Punakha to escape the cold winter of the highlands
For about a dozen Lunaps, they have found a second home in Punakha, once their winter home.
About eight Lunaps have settled in Gum Kamo, a village located opposite the Khuruthang town. They have bought land, built houses or rebuilt houses that they had bought from the villagers. Another five are scattered around Chang, near the Punakha Dzong (Monastery).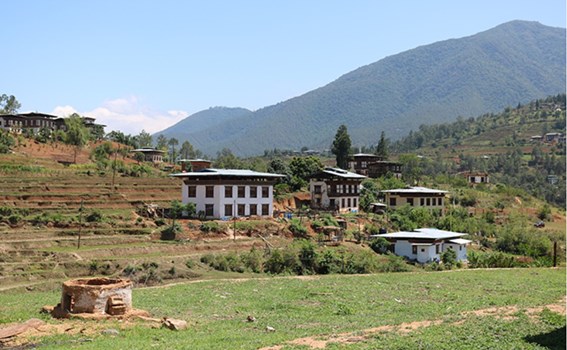 Photo: Kuensel
Gum Kamu tshogpa, Tenzin Wangchuk said that about 10 more own land but they have not built a house. "It was about seven years ago that the Lunaps bought the houses here," he said.
Today, there are about 35 households.
Until a few years ago, Gum Kamu faced acute drinking and irrigation water shortage issues and many had to resort to selling their land.
A resident of Gum Kamu, Kinley, 42 said that with the lack of drinking and irrigation water, vegetables or paddy cultivation was difficult.
"Even today, we have to take turns to fill our drinking water tanks. In the past, many sold their lands for their children's education and for cash income."
Cordyceps collection as a lucrative source of income for the highlanders
Most buyers were Lunaps whose newfound wealth generated from Cordyceps collection which has allowed them to save money and make investments. 
People in Gum Kamu are also choosing to invest in new homes. However, these homes are different from the existing traditional two-storied houses in Gum Kamu. Many are designed to accommodate more tenants.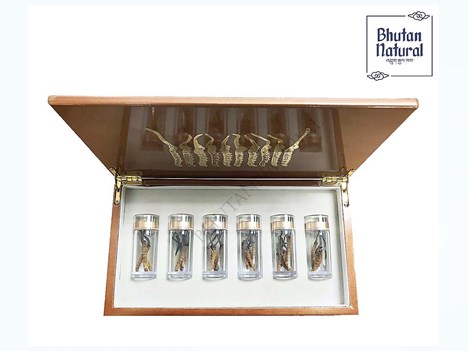 Photo: Bhutan Natural
Kinley said that the new houses provided better and larger spaces for the family and also helped generate income.
"Many of the employees from the nearby resort stay in these newly built houses."
Lunaps are changing the demographics of Gum Kamu
Lunana's Gup, Kaka said that of about 190 households in Lunana, only about 10 percent owned land and houses in the lower lands.
"We know that about 40 percent of the Lunaps want to own and build their houses in Punakha. But it is expensive and it isn't easy."
A decimal of land in Gum Kamu costs around Nu 70,000 today. When some early birds bought properties about five years ago, a two-storied traditional house cost about Nu 1.8 million.
Pema Gyelpo, 57, owns a small portion of wetlands and a traditional building in Gum Kamu. He said he bought the house because it is now a necessity to have a property in Punakha.  
"Otherwise, we would have to ask someone for a place to stay or otherwise rent a place for about two months," he said.
Today almost every Gum Kamu local has a Lunap neighbour. "We don't get to see our neighbours often because they aren't here for long and during their stay, they are busy shopping," Kinley said.
But more than just the convenience of having a house in Punakha, it is the huge amount of income Lunaps are making from Cordyceps collection. On average, a family earns about Nu100, 000 from Cordyceps every year. Some even make about Nu 1.2m in about five years.
Punakha is not the only place where the Lunaps have bought properties. Three Lunaps have also bought land and constructed houses in Olakha, in the Thimphu thromde while another eight bought land in Yulsuna, the district of Paro.
This article first appeared in Kuensel and has been edited for Daily Bhutan.
---