Critically Endangered Chinese Pangolin Spotted In Tsirang
It was brought to an interim wildlife rescue centre in Damphu and released to its natural habitat after 72 hours.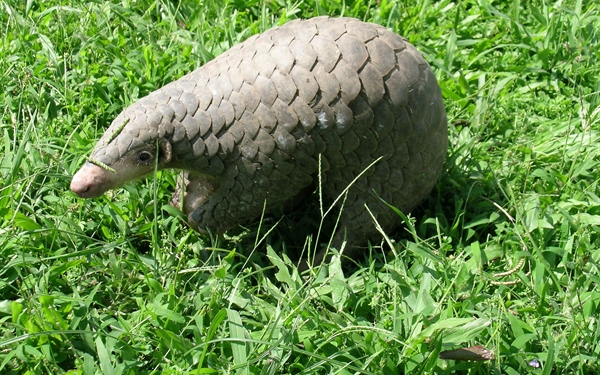 (Source: Ms. Sarita Jnawali of NTNC – Central Zoo)
By Nirmala Pokhrel | Kuensel
While walking along a farm road, a farmer from Rangthaling, Tsirang, spotted an animal he has never seen in the vicinity before.
He immediately reported the sighting to the forest officials, who identified the animal as a Chinese Pangolin – a critically endangered species.
The animal was then brought to the interim wildlife rescue centre in Damphu but after 72 hours, it was released to its natural habitat again.
According to a senior forest ranger, Kinley, the 6.1kg female Chinese Pangolin suffered a minor injury.
Conservation of pangolins to be initiated
"This is the first time we've spotted a Chinese Pangolin in Tsirang. To ensure the survival of this critically endangered species, we've plans to initiate conservation activities," he said.
He said that a 'habitat modelling' would be done immediately to confirm its habitat suitability range within the reserved forest in Tsirang. This will be done with the GIS.
The Chinese Pangolins spend the winter season in deep burrows with stable temperatures. They live near termite nests which is their main source of food.
Kinley said a distribution pattern study would be carried out.
"A detailed study to confirm its food habit and nesting pattern is important to initiate conservation activities."
Features of Chinese Pangolin
According to the IUCN SSC Pangolin Specialist Group, the Chinese Pangolin is distinguished from its other Asian counterparts by the following features: an almost helmeted appearance, a larger ear pinna, a post-anal skin depression and a narrowing near the distal end of its tail.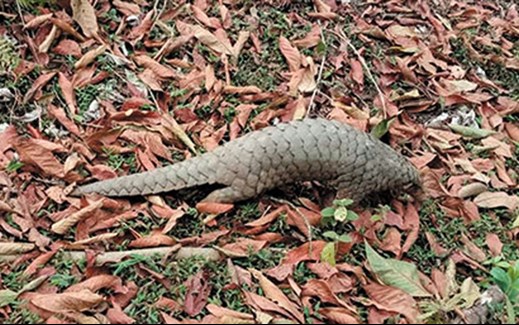 Image Source: Kuenselonline.com
While it displays many similarities with the Sunda Pangolin, the Chinese Pangolin has a shorter and blunter tail. It also has smaller scales that the Indian Pangolin.
Conservation awareness and strict patrolling 
He also said that conservation awareness and strict patrolling is being carried out as it has been done for other species found in Tsirang.
The ranger said that of the eight species of Pangolin found globally, four are found in Asia.
"Bhutan harbours a good habitat for Chinese and Indian Pangolin."
Where are the Chinese Pangolin found?
Chinese Pangolin is also found in China, Hong Kong, India, Lao People's Democratic Republic, Myanmar, Nepal, Taiwan, Thailand and Vietnam.
According to the International Union for the Conservation of Nature (IUCN), this species is listed as critically endangered due to the high levels of poaching for meat and scales.
Moreover, it usually produce just one offspring after a gestation period of between 318 and 372 days.
This article first appeared in Kuensel and has been edited for the Daily Bhutan.
---