Horses And Mules – Lifeline For Nomads Living In The Mountains Of Lingzhi
In the mountains of Soe and Lingzhi, each household owns at least five horses while some have more than 25 mules and horses.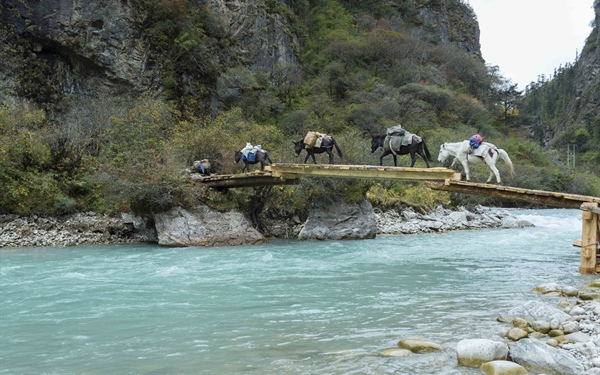 (Source: Druk Asia)
By Dechen Tshomo | Kuensel
Without proper roads connecting the drungkhag, the folks living in Lingzhi, located 4,000m above sea level, still depend on an old mode of transport – using horses and mules.
In the mountains of Soe and Lingzhi, each household owns at least five horses while some have more than 25 mules and horses.
In this remote region, motorable road ends at Shana in the district of Paro, where horses and mules replace Boleros and trucks. On any given day, long caravans of horses and mules is a common sight.
Why horses and mules are vital for the people living in Lingzhi
Tashi, 33 from Chebisa in Lingzhi said that without motorable roads, horses and mules are more of a lifeline for the nomads living in the two gewogs (villages) than just a status symbol.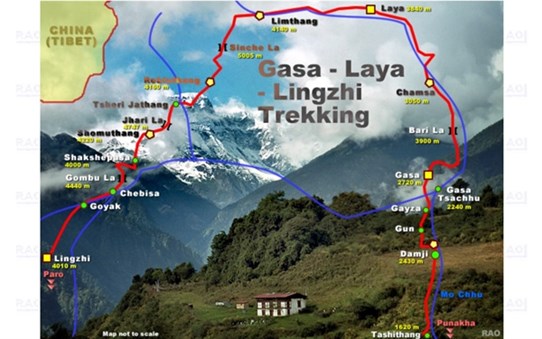 Map: Raonline
"Due to extreme weather, we don't grow many food crops, so we buy almost everything from Paro and Thimphu."
He said the horses and mules have made the transportation of goods much easier.
"Without them, we are cut off and will go hungry."
A 44-year-old herder, Passang, said he uses his 15 horses and mules for transporting ration.
"We provide pony services to visitors only when we don't have to transport our own goods."
For some locals, the pony service is an additional source of income, besides collecting cordyceps which has been the main sources of income for the highlanders since the collection of the fungi was legalised in 2004.
The porters and horses make at least a trip a week during the peak tourist season, which starts from April until November.
Each horse trip costs around Nu 300 to 450 a day, depending on the type of load they carry.
Karma Namgay, 32, from Chaphu in Lingzhi provides pony services to officials and tourists. He earns about Nu 1,200 per horse in a day.
"With my six horses, I make about Nu 22,000 per trip."
Currently, Karma Namgay owns 10 mules and horses. A few years ago, a snow leopard killed his five mules and a horse at once.
"I did not get any compensation and it was a big loss for me."
Tashi Wangchuck from Gangyul in Lingzhi said he earns about Nu 42,000 per trip with his 11 horses.
"This is just from Shana to Jangothang in Soe, Mount Jomolhari's basecamp. I earn more if I transport the load to Lingzhi, which is an additional day's walk."
Some residents of Lingzhi work as porters for the highlanders to transport goods of the local travellers and tourists.
Phub Gyeltshen, 35 from Tsaluna in Thimphu is one of them. He has been working as a porter transporting goods from Shana in Paro to Lingzhi for the past six years.
Pony services for tourists
"I have contacts with some tour operators and they call me when they require pony services. I have only one horse but I use my in-law's 18 horses during peak tourist season."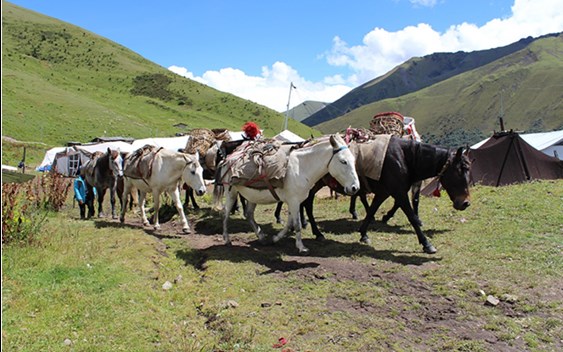 Photo: Kuensel
He is paid Nu 500 to 700 a day and he makes about five trips a month. On average, he makes about Nu 100,000 in a year.
"We make more trips during the tourist season and when we get contracts to transport goods like cement and metals for construction work in Lingzhi."
19-year-old Rinchen from Dopshari in Paro also works as a porter transporting goods for tourists.
"My father has 15 horses and for the uneducated like us, it is a good source of income."
During off-peak seasons, we take the horses to other places where there is no road connection.
"Last year, I was in Trashigang with my horses transporting mobile tower materials."
Meanwhile, the type of goods the highlanders are transporting are also changing. People in Lingzhi has transported rice, flour, chilies and other food from Paro and Thimphu for ages.
However, the load today consists of LPG cylinders, LED television sets and alcohol besides the basic necessities such as rice and cooking oil.
According to 84-year-old Aap Gochay in Chebisa who has 18 horses and 60 yaks, these animals have been an important part of the nomads' lives for a very long time.
"My children want to sell the yaks as rearing them entails more work, but I didn't allow them to do so. As long as I am alive, I will not let them sell my cattle."
This article first appeared in Kuensel and has been edited for Daily Bhutan.
---