In Land-Locked Bhutan, Five New Species Of Fish Have Been Discovered Recently
The five new species were discovered using morphometric and molecular studies.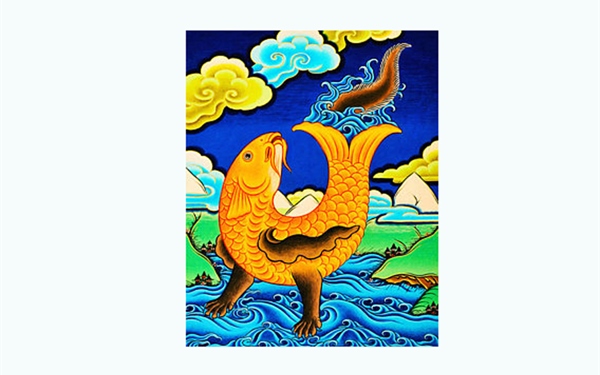 (Source: Jeelan Clark)
By Phurpa Lhamo | Kuensel
Five new fish species – parachiloglanis drukyulensis, parachiloglanis benjii, parachiloglanis dangmechhuensis, exostoma mangdechhuensis and creteuchiloglanis bumdelingensis which belong to the torrent catfish group, were discovered through a study conducted by Ryan J Thoni, a PhD candidate from Saint Louis University, USA and DB Gurung (PhD) Professor at the College of Natural Resources.
Although the new species are endemic to Bhutan today, since many northeast Indian states such as Sikkim and Arunachal Pradesh share similar geophysical characteristics, it is possible that some of the species may also be found in the neighbouring states of India as well, DB Gurung said.
Reasons behind the names of the five new fish species
He said that to celebrate Bhutan's commitment to nature conservation and sustainable development, the new species parachiloglanis drukyulensis  was named in honour of Bhutan also known as Drukyul.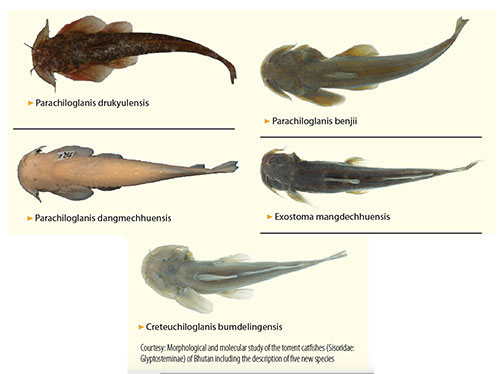 Source: Kuensel 
"This helps to remind us that Bhutan is a more recent and modern name being accepted by the world, but Drukyul—the original name of Bhutan, should not be buried in history."
The study stated that the new species parachiloglanis benjii was named to honour Dasho Paljor Jigme Dorji popularly known as Dasho Benji for his contribution to nature protection. This species is widely distributed in Bhutan.
While parachiloglanis dangmechhuensis was named after Dangmechhu as this species is mostly confined to Dangmechhu and its tributaries, exostoma mangdechhuensis was named after Mangdechhu where the species is distributed in its natural habitat.
DB Gurung said that the creteuchiloglanis bumdelingensis species of fish was named after Bumdeling Wildlife Sanctuary, another hub of biological diversity.
How the five new species of fish were discovered
The five new species were discovered using morphometric and molecular studies.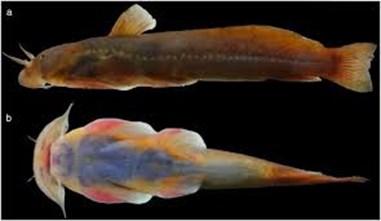 Source: Ministry of Agriculture and Forests/Bhutan
DB Gurung said that due to the long peer review process that required approval by scientists working in the same thematic area outside Bhutan, the study that began in 2013 could only be completed this year.
He added that because morphometric study alone was insufficient to name many biological species these days, therefore molecular study had to be incorporated.
"The latter facility was not available in Bhutan until recently so the study had to be done in collaboration with researchers from outside Bhutan."
The researchers were also challenged with the lack of fund for academic research. Currently, there are about 123 species of fishes recorded in Bhutan. The list however has to be revised based on scientific studies backed by molecular evidences.
This article first appeared in Kuensel and has been edited for the Daily Bhutan.
---