Kingdom Essences: An Essential Oil Brand Which Harnesses Natural Ingredients From Rural Bhutan
Kingdom Essences extracts their oils from local raw materials such as thinye (sichuan pepper), khempa (mugwort), juniper berries and leaves.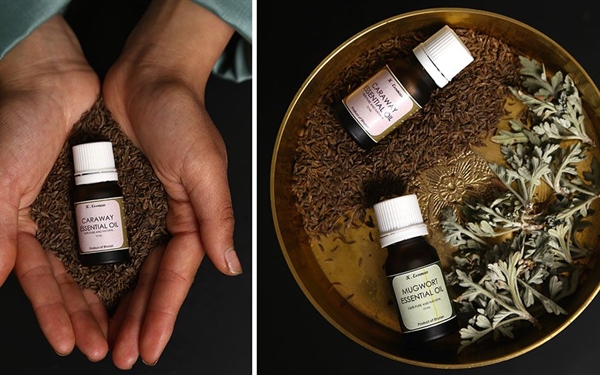 (Source: Yeewong Magazine)
By Tshering Dema | Yeewong Magazine
When people first saw the tiny bottles of natural, made-in-Bhutan essential oils from the brand Kingdom Essences (K.Essences) on social media, most were quite intrigued.
Articles online swear by how these organic miracles are efficacious for everyday ailments such as flu, headaches, body aches and so on.
"Kingdom Essences a.k.a K.Essences (Nature in a bottle) promotes natural or indigenous healing through the use of pure, essential oils extracted from medicinal and aromatic plants found in Bhutan.
Aims of starting the Kabab Organic Farm
"The Kabab Organic Farm in Trongsa was started with the vision to grow natural food products, create employment and improve rural livelihoods," says Pema who founded K. Essences with her partner, Kuenga.
"As KOF, we leased the Community Facility Centre (CFC) located at Bjeezam, Trongsa from the Nubi Menjong Nyamley Tshogpa (NMNT). We understand the need for assisting the community group by purchasing their medicinal herbs and other local produce while adding value to it."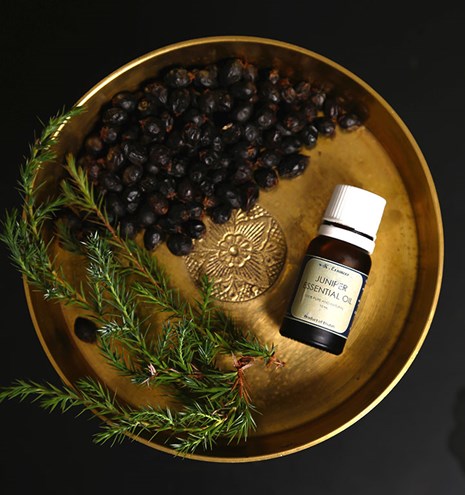 Source: Yeewong Magazine
Pema revealed that the most significant milestone that her company has achieved was when she received His Majesty the King's kind-hearted blessing.
Moreover, in August 2017, Pema's company was given the opportunity to receive training at the Mae Fah Luang University in Chiangrai where esteemed professors from the University's cosmetic school taught her team how to develop products using essential oils.
Ever since, team K.Essences has been researching on local medicinal herbs and conducting experiments on developing safe and effective products suitable for the Bhutanese market.
Natural ingredients used by Kingdom Essences
Kingdom Essences extracts their oils from local raw materials. From thinye (sichuan pepper), khempa (mugwort) to juniper berries and leaves, the oils are extracted through steam distillation of these natural ingredients, resulting in an extremely concentrated product packed with healing benefits.
Zanthoxylum Armatum (thingye or Sichuan pepper) and caraway are locally grown and purchased directly from a rural community group known as the Nubi Menjong Nyamley Tshogpa.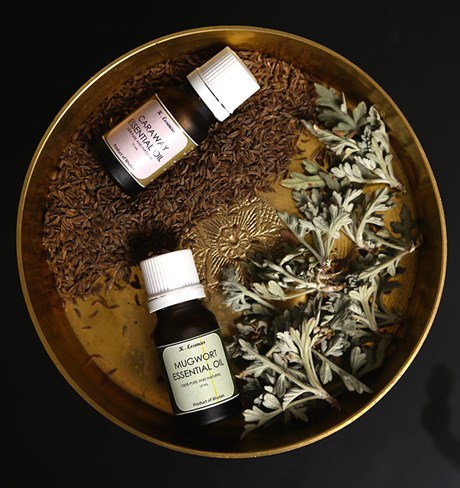 Source: Yeewong Magazine
The team personally collects some plants like Mugwort, Wintergreen and Pine needles while others like Juniper and Cypress leaves are sourced from Phuntshopelri Goenpa," says Pema.
By purchasing raw materials, K.Essences actually provides an income to many and contribute towards the improvement of rural livelihoods.
They also extract on a very small scale in order to avoid causing harm to the environment. Moreover, the company also provides health services to promote a more natural way of living.
The multiple functions of Kingdom Essences' oils
From aromatherapy, body massages to simple applications, there are many methods of using essential oils on a daily basis.
However, considering its concentrated formula, these tiny bottles do not come cheap. For now, the company is able to produce only a small number of products since it struggles with packaging pricey bottles that have to be imported from India and China.
"Producing these concentrated oils require knowledge, time and practice. The market in Bhutan is still very small for such products to take off on a big scale and we're not looking into exporting specifically."
Kingdom Essences maintains that their objective is to discourage the use of chemical products and medication imported from outside so that more locals can make use of Bhutan's rich organic resources.
Additionally, the company strives to help the rural community consistently by buying raw materials from them. Last but not least, Kingdom Essences is also learning every day and often conducting experiments in order to come up with "perfect" products for consumers.
This article first appeared in Yeewong Magazine and has been edited for the Daily Bhutan.
---