Locally-grown fruits struggle to find market
Organic finding ways to be in market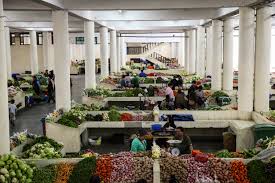 It's a rainy weekend in Thimphu. Dark clouds hover in the sky. Shoppers throng the Centenary Farmers Market (CFM).  It is a huge crowd. Sangay Dema, a 35 years old corporate employess, makes sure she visits very nook and corner of CFM. She starts buying organic vegetables and fruits from the top floor of CFM. She scans the length and breadth of the floor and makes her way to the right corner. There are fresh fruits in a bamboo basket. Customer preference is changing. Organic and locally- grown fruits are in high demand.
Sonam look at a basket where there are fresh peaches piled like miniature pagodas. Nu 60 a kilogram is way too expensive. She lets out a slow breath of disappointment.
 "Fruits are expensive, but I prefer local fruits," she said. She is now in deep dilemma.
Aum Tshering, 52, a vegetable vendor, said peaches and apples are grown on a wide scale in western parts of the country today. Her mouth is red with betel juice. "I brought about 35 kilograms of peaches to sell from Paro," Aum Tshering said. "One of my cousins there has a plot where he grows only peach and apple."
Like Aum Tshering's cousin, many farmers today are venturing into fruit business. And they do it in a large scale. Aum Tshering also sells organically-grown cucumbers. "I have a vegetable garden and I sell cucumbers from my garden." Cucumbers are Aum Tshering's favourite and it's a delicacy, especially at this time of the year. After buying some vegetables from the top floor, Sonam Dema goes downstairs towards the fruits section of CFM.
There, she buys watermelon and mangoes. They are her children's favourite fruits. She pays Nu 60 for a kilogram of watermelon, and the same for mangoes.There are litchis, grapes, pineapples, apples, oranges and sugarcanes here in this section of CFM.  They are, however, all imported, mostly from India and the US.
A fruit vendor from Punakha, Chuki is 39. She is carrying a child on her back. Chuki said that she doesn't know where these fruits come from."We are told that they are brought from India and some from the US," Chuki said. "We have good supply of imported fruits all the year round and it is mostly bought by people can afford it."
 Karma Choki, 47, from Hawadara in Tsirang, grows fruits such as papaya, sugarcane, mango and pineapple. She has a stall near her house and sells fruits from there to the travellers. "Growing fruits in a larger scale is not feasible in this weather because most of the fruits rot fast and end up as cow feeds," Karma Choki said.
But for Padam Lal Nepal from Rangthaling, who has been growing and selling oranges for 30 years, it is a different story. Padam Lal Nepal owns about 300 orange trees. Every fruiting season, he gives his orchard on hire to people who are interested to buy."Without a cold storage facility, it is difficult to harvest on my own," he said. "If the government could provide or facilitate us with a cold storage facility, we would prefer to sell in the local market instead of letting other people take fruits outside the country".
"Like vegetable cooperatives, forming fruits cooperatives with certain facilities would help meet demand for fruits in the country," he said. "Farmers are capable of doing large scale farming, but they do not want to take the risk due to lack of facilities." A vegetable vendor in Tsirang said that he would prefer to sell imported fruits for their color and durability. "But it's difficult to sell locally-grown fruits because they perish too soon."

The Officials from the Department of Agricultural Marketing and Cooperatives (DAMC) said that despite the time that takes to reach fruit self-sufficiency, there are a good number of fruits that are exported outside the country. "Fruits such as apple and oranges are exported to Bangladesh and India," officials said. Records with DMC show that last year, about 1,387.4 metric tonnes (MT) of apples worth USD 901,823 were exported to Bangladesh. About 5,385.6 MT of apples worth of USD 3.5 million were exported to India as well. About 26,728 MT of oranges were exported to Bangladesh, which amounts to USD 1.04 M last years. During the same time, about 10,101 MT of oranges were exported to India.
Last year, about 610 MT of cardamoms were exported to Bangladesh, which fetched about USD 1.03 million.
---