Meet Jojo Kinley – An Inspiring 81 Years Old Archer From Bhutan
"We feel so happy to see an 81-year-old playing among us. We feel privileged to play with him."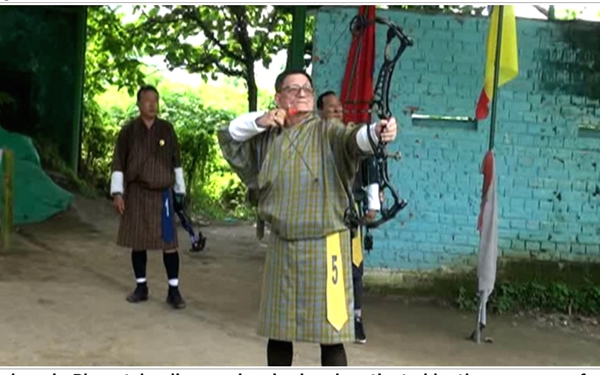 (Source: BBS)
By Sonam Penjor | BBS
Archers in the district of Phuentsholing in Bhutan are inspired and motivated by the presence of an 81-year-old archer, who is currently taking part in the Yangphel style tournament in the thromde (second-level administrative division in Bhutan).
81-year-old Kinley Tshering from Paro district is the oldest player in the tournament. Fondly known as Jojo Kinley, he has participated in every tournament in Phuentsholing.
About Archery or dha – the national sport of Bhutan
Archery or Dha was declared the national sport of Bhutan in 1971, when the tiny Himalayan nation became a member of the United Nations.
Archery tournaments and competitions are held throughout the country. This sport is also played during religious holidays, Losar (Bhutanese New Year) and at certain festivals.
Bhutanese from different social strata find archery one of the most enjoyable sports. In addition, archery builds concentration which in turn contributes to mental development.
Source: Youtube/World Archery
Archery in Bhutan is also a way of socialisation, communication and development of relationships between people.
Emotions can run high during competitions. The most notable archery competition in Bhutan are the Coronation National Archery tournament and the Yangphel tournament.
More about Jojo Kinley
Jojo, who is one of the first compound bow archers in the country, started playing this sport since 1975.
In his younger days, Jojo served in the Ministry of Education for 23 years and 17 years in the Food Corporation of Bhutan.
He resigned in 1999 as the joint managing director of the Food Corporation. His wife, Gaki Om is also Bhutan's first nurse. Today, they both reside in Phuentsholing.
To support their husbands, archers' wives usually prepare their best dishes and beverages such as butter tea and alcoholic beverages which are brought to the shooting range, accompanied by their children.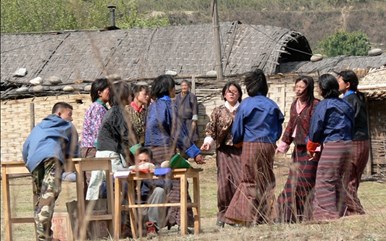 Women cheerleading during an archery game session in Bhutan.
Photo: Wikipedia
Even at his age, Jojo is still very active in the field and his presence brings renewed energy among his fellow archers.
Everyone who plays archery is inspired by him and is in awe of Jojo Kinley's energy.
"We feel so happy to see an 81-year-old playing among us. We feel privileged to play with him. For younger people like us, it is an inspiration," said Kinzang Dorji who is also from the same thromde.
Archery keeps Jojo healthy
"I love playing archery so much. It also helps me keep healthy. I come to practise every morning from 6 to 8 am here.  I feel that the secret behind my healthy life is archery," said Kinley Tshering.
Some fellow archers felt that people like Jojo Kinley deserves more credit for leading active lifestyles even at an advanced age.
"When an elderly person like him plays at this age, I feel that the Phuentsholing Sports Association or the Bhutan Archery Federation should recognise such an individual. It is really inspiring to see such people among us," said Karma Tshering Dorji, from Phuentsholing, Chhukha.
Determined even if his performance is not as sharp as before
However, Jojo Kinley revealed that he cannot hit the target as he used to but is still determined to play for a few more years.
"Due to the blessings of the triple gem, parents and family, I can play archery till this age. I am very happy. I wish to play a few more years. I think I can play even at 85 or 86. I don't know whether I can really play till that age or not, but deep inside I have the motivation to play till 85 or 86," he said.
This article first appeared in BBS and has been edited for Daily Bhutan.
---