Miniature Bhutan Creates Amazing Artworks Out Of Pencil Lead And Rice Grains
Miniature Bhutan carves on the lead of pencil tips to make traditional miniature sculptures such as the Buddha, traditional bridges, swords and butter lamps.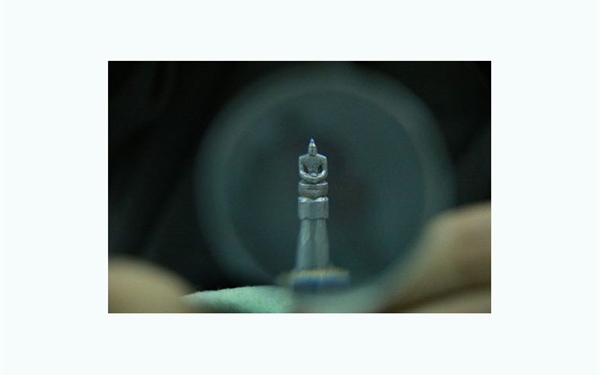 (Source: Kuensel Online)
By Dilisha Subba | Yeewong Magazine 
Sonam Tashi hunches over his work table crammed with his tools and peculiar tiny objects: a tiny bottle, a tiny dome and his miniature art pieces, some of which are too small for the naked eye to see.
Sonam Tashi at work
Meticulously, the artist starts making tiny carvings on the pencil lead that will soon turn into something you will not expect to see on the tip of a pencil. He holds his breadth every few seconds to ensure a stable motionless cut. 
Sonam does not use lenses or any fancy miniature art tools. He pushes his spectacles back up his nose ridge and in what looks like a painstakingly slow burn, he begins to carve the tip of the pencil's graphite.
Source: Facebook/Minibhutan & Pema Dorji and PemC
Never has a needle looked as colossal as it did at that instant as it was held next to the tiny butter lamp sculpture which he has carved on the pencil tip with such  absolute patience and attention to detail. It was almost as though time has decided to stop for Sonam Tashi to create his masterpiece.
More about Miniature Bhutan
Miniature Bhutan (MB) is a company that takes traditional Bhutanese items and literally makes a diminutive, microscopic version of them. It was founded in December of 2017 after having won an award at the annual TechStar competition at the Thimphu Tech Park.
The idea was derived from a simple observation that almost all traditional items sold in Bhutan were imported from neighbouring countries. The core value of MB IS that every single product must be handmade.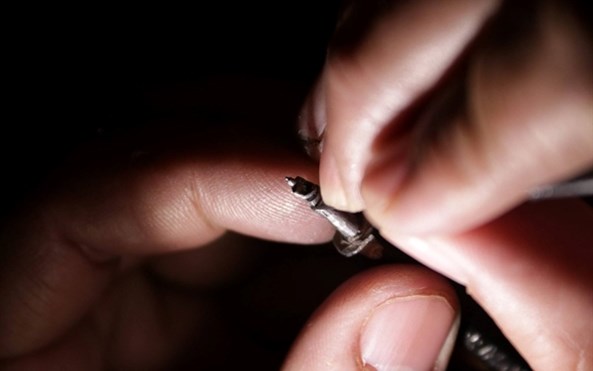 Source: Facebook/Minibhutan
They try to create the miniature version of many different Bhutanese traditional items in order to promote the concept of 'Made in Bhutan'.
"Miniature Bhutan is all about making products that are already here in Bhutan. We don't need other imported souvenirs to show us how Bhutan looks like. We actually want Bhutanese people to show how Bhutanese products look like. We Bhutanese can tell our own stories", says Sonam Tashi with much fervour.
Making great miniature art out of pencil lead and rice grains
MB carves the lead tips of pencils to make traditional artworks such as the Buddha, traditional bridges, swords, butter lamps and so on. The products are so intricate to the point that each has minute designs that can only be seen on close speculation.
They also work with art on rice grains which are designed into pendants as personal products. What is fascinating is that behind every product, there is a story attached.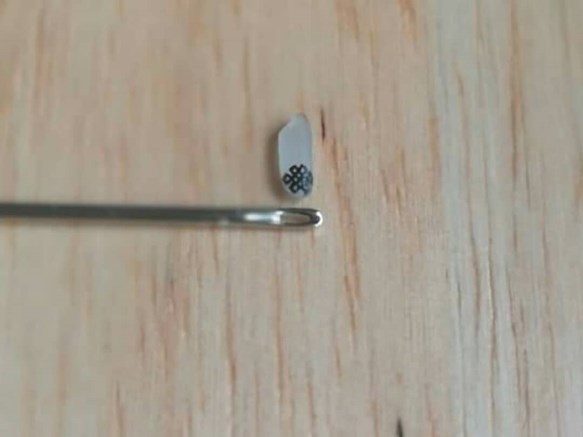 Source: Facebook/Minibhutan
Till date, Sonam Tashi has worked with enormous organisations such as the UNDP, Asian Development Bank and Kiloskar Oil India Ltd.
More support for Bhutanese artists
On talking about the market status in Bhutan, Sonam says, "Many organisations buy from handicrafts which is far cheaper but… the products we make are handmade with traditional art, it takes a lot of time and painstaking effort to do this. So if the government could buy that kind of products from the individual entrepreneurs, it will be easier to sustain also la."
Working with nanoscopic objects is as intricate as it is time-consuming. Sonam Tashi shares a story about once having worked on silver dust for three months only to have it blown away by the wind when a colleague accidentally opened the window. Such occupational hazards are a daily mission for him to tackle.
Looking forward, the future plans for MB include making a 2.5cm Thangka and making the smallest book in Bhutan which is completely authentic as the author will be Bhutanese as well. MB also plans to hold an exhibition on Miniature art in the near future.
This article first appeared in Yeewong Magazine and has been edited for the Daily Bhutan.
---