New Film Shows How These Elite Runners Finished World's Hardest Trek In Just 2 Weeks
It usually takes a month to complete the Snowman Trek, but this group of athletes have done it in just two weeks.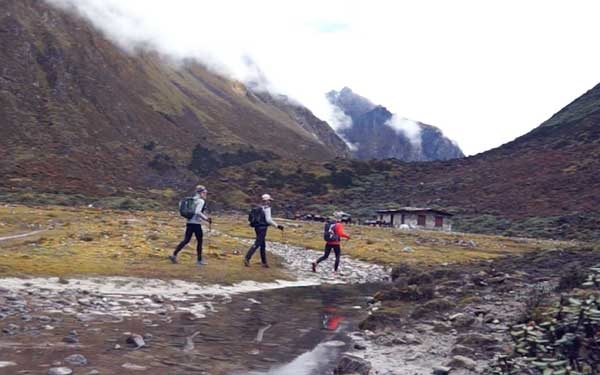 (Source: Blue Fox Entertainment)
By Kinley Yangden | Bhutan Times
It would normally take around a month to complete Bhutan's Snowman Trek, one of the world's hardest and most beautiful treks in the Himalayas. In fact, more people climb Mount Everest in Nepal than to attempt this gruelling quest.
But a group of ultramarathon runners from the United States managed to not just complete the trail, but did it in a record-breaking two weeks.
Their journey in 2016 has been documented into a new movie titled "The Snowman Trek", which will be released in 350 movie theatres across US from May 17.
Led by mountaineer Ben Clark, the four elite athletes - including Timothy Olson, Chris Ord and Anna Frost - covered a rough terrain of 11 mountain passes, traversing valleys and peaks, and camping at remote areas with altitudes above 5,000m.
To Clark, 38, finishing the Snowman Trek in half the time needed has been a dream he had been wanting to accomplish. The unforgiving trek is notorious for having only a 50 per cent success rate due to high altitude problems or snow-blocked passes.
According to a report in National Geographic, even the locals were sceptical about Clark's ambition to complete it in two weeks, but the intrepid trekkers completed the trek in just 15 days and nine hours.
"This documentary brings big mountains, a big story about mountain culture and exclusive shots all to the big screen," said Clark in a press release.
"That's why it should be seen in movie theatres. Audiences will experience the environments just as we did when they fly over the Himalayas, explore the landscapes and feel the team's truest emotions."
 Source: Blue Fox Entertainment
About the Snowman Trek
Dubbed as the world's most difficult mountain excursions, the Snowman Trek follows the border between Bhutan and Tibet, going through 11 passes that exceed 4,500m above sea level. The views during the trek are stunning, with mountain peaks reaching above 7,000m.
The trek, which covers remote areas, would normally take around a month to complete. Starting from the northern tip of Paro in Bhutan, the crescent-shaped trail extends up into the Laya highlands, goes across to the east and ends in Bumthang.
Tour operators offer the Snowman Trek in their itinerary, which includes daily meals, accommodation, qualified guides and entry fees, road permits and visas. They also include trekking equipment, camping assistance, horses, sleeping bags and mats, and tents.
More information on the Snowman Trek can be found here.
---