One of the fun things you can do in Bhutan is whitewater rafting
Whitewater rafting is one of the most popular outdoor activities for travellers to Bhutan as it's a family-friendly activity suitable for all ages.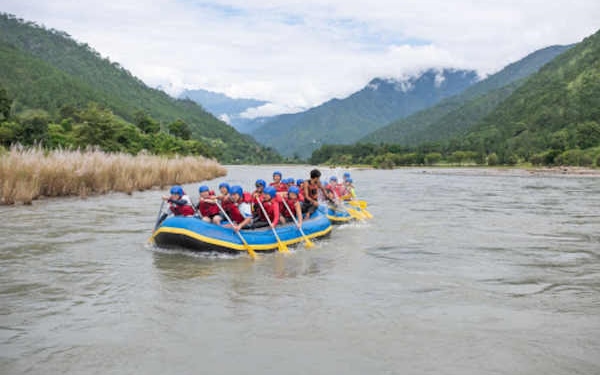 Bhutan has almost everything that wilderness enthusiasts would look for - snowcapped mountains, virgin forests, hair-raising gorges, stunning meadows, valleys, streams, and crystal clear rivers. Bhutan has diverse flora and fauna, and a natural landscape that has changed little for millions of years.
There are many activities in Bhutan for adventure seekers. Such as trekking through the extremely challenging terrains of the eastern Himalayas, a place where few people has set foot before. Aside from trekking, the Kingdom provides other adventurous activities including mountain biking, fly fishing and water sports like kayaking and whitewater rafting. 

There are plenty of rivers in Bhutan from those with slow, gentle flows in some places to powerful ragging torrents in others. The crystal clear rivers of Bhutan are one of the Kingdom's most precious natural resources. Fed by glacier melt of the Eastern Himalayas, six major rivers (Wangchhu, Sunkosh, Puna Tsang Chhu, Mangde Chhu, Kuri Chhu, and Dangme Chhu and their tributaries) have been scouted for kayaking and rafting. 
Whitewater rafting is one of the most popular outdoor activities for travellers to Bhutan as it's a family-friendly activity suitable for all ages. 
The pristine natural setting and the sheer variety of the rivers' courses provides a unique opportunity to explore Bhutan's beautiful wilderness. Adventurous travellers will not be disappointed by the rugged, untamed waterways of Bhutan. 
Although Bhutan opened its door to tourism in 1974, water adventure was only introduced in the mid-90s. The rivers of Bhutan were first surveyed for potential routes for water sports in 1997 by two experienced rafters and kayakers, Gerry Moffatt and Peter Knowles at the invitation of the Royal Government and Tourism Council of Bhutan. It was also one of the first kayak expeditions in Bhutan that consists of international kayakers. During the month-long expedition, Gerry and the team mapped the major river systems and kayaked down the unexplored and crystal-clear rivers of Bhutan. Gerry is a white water consultant in Bhutan and trains the local tour guides on kayaking and rafting skills. 
Initially, water sports started off as one of the activities for tourists in Bhutan but it's now gaining popularity amongst the locals. Along the riverbanks, locals can be seen on boats with their friends and families.
One of the most popular rafting spots is in the Punakha district along Mo Chhu (Female River) and Pho Chhu (Male River). Mo Chhu river is 10 km long with 10 rapids and relatively milder than Po Chhu river. 
Pho Chhu river is one of the most popular spots for rafting in Bhutan. The rafting along the Phho Chu river is approximately 16 kilometres with around 15 rapids. No prior experience is required for rafting. It's a fun and safe activity that can be enjoyed by all regardless of age. The rafting takes about 1.5 hours to complete. Life jackets, helmets, waterproof bags and rubber slippers will be provided. The rafting guides are highly trained and experienced in rafting and kayaking.
Rafting will meander along the upper Pho Chhu with a series of Class IV rapids immediately below the village of Wangthangkha. Further downstream, experienced rafters will enjoy the Class III rapids as the fast-flowing river eases and slows.
Since 2018, companies are not allowed to raft in front of the magnificent Punakha dzong.
Apart from Punakha, another popular place where people can do rafting is in Panbang on Drangme Chhu. A group of young Bhutanese formed a group called The River Guides to operating the rafting. It is Bhutan's first community-based rafting company and the guides have also undergone nature and eco-guide training under experts from the Ugyen Wangchuck Institute for Conservation and Environment (UWICE). They are also well versed in the rich cultural heritage of the lower Kheng area which falls under Zhemgang district.
Bhutan is currently also in the midst of expanding it's rafting services along the Jigme Chhu under the 'Destination Chhukha' project. Chhukha district will be a new tourist destination in Bhutan while development projects and plans are ongoing during this time of pandemic where borders are still closed for international tourists. 
The best time for rafting in Bhutan is from March to April and November to December though rafting in Bhutan can still be enjoyed throughout the year. If you are a tourist and want to have a rafting experience in Bhutan, you will need to inform your tour operator that you will like to add on a rafting adventure to your travel itinerary. 
It's a recommended activity for those who want to experience Bhutan in a fun, memorable and relaxing manner. 
---