Tales Of How The King Of Bhutan Drank Ara From The Hands Of Poison Givers To Dispel Superstitions
Read about the painful stories of two women in Lhuentse who had been ostracised by fellow villagers for being 'poison givers'.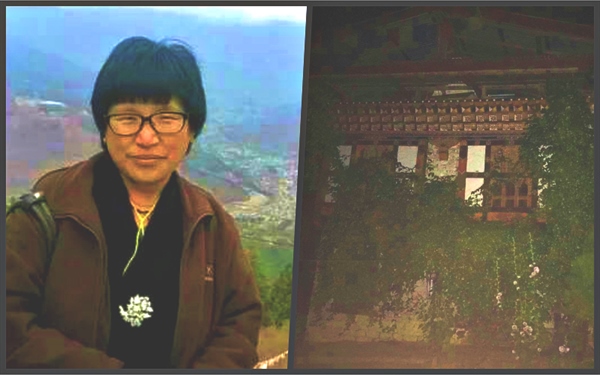 (Source: Chencho Dema)
By Chencho Dema | Business Bhutan
(This story has been written with support from the JAB rural reporting grant)
In the remote eastern village of Jalang under Minjay gewog in Lhuentse, a dark shroud of mystery surrounds 48-year-old Tsheringmo, a woman who has been labelled a 'poison giver', also known as dug-bekhan in the language of dzongkha.
A sickly mother of four children whose husband works as a farmer, she is ostracised by the villagers who believe that eating or drinking anything from her hands will result in sickness and even death.
Tsheringmo's late mother had been an outcast as well, tagged as a poison giver, and the daughter has now inherited the cursed tag. People hesitate to eat from her, they refuse to help her with farm work and they even talked behind her back.
How the King of Bhutan tried to help Tsheringmo
In fact, life became so unbearable that when His Majesty Jigme Khesar Namgyel Wangchuck, the king of Bhutan visited Takila in 2016, Tsheringmo boldly approached Him to air her grievances.
To dispel any superstition surrounding Tsheringmo, the King drank ara (local brew) from her hands and declared that she was not a poison giver. While her situation improved slightly after that, the village rumour mill continued to work against her and she remains marginalised by others.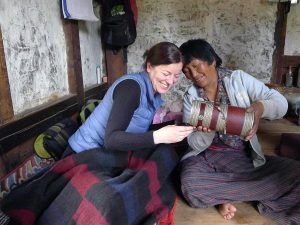 A tourist trying ara from a traditional canister at a homestay in Bhutan.
Source: bhutanhomestay
"Though I am not free of the tag, I am happy that The King himself took ara from my hands. Many witnessed this. My conscience is clear," she says.
How did Tsheringmo become known as the 'poison giver' of the village?
Tsheringmo explained that everything started with rumours. Villagers somehow started gossiping about her being a poison giver, and it all snowballed until fiction became 'fact'.
"The villagers ignore me as if I am invisible."
Tsheringmo said that she has done everything possible to eradicate the stigma, from visiting religious sites to performing holy rituals time and again but her efforts were all in vain.
When she finally could not take it anymore, she confronted the villagers but everyone responded by saying they had heard the rumour from another source.
"It was a blame game which made it impossible to trace the original source and I did not have any evidence to fight with. I feel so helpless and the trauma has often led me to contemplate ending my life but again, I have to think of my children," she says, her voice quavering.
The fears of Tsheringmo
Tsheringmo's greatest fear is the thought of her children being stigmatised like her as it is believed that her 'poison-giving' traits will be transferred to her children when she dies.
Vacillating between anger and sorrow, she said that nobody has ever died after eating from her hands. Interestingly, when villagers need help or borrow things, they would approach her.
No wonder, she is baffled and feels used. "Here, if a woman is beautiful or wealthy, people spread rumours to defame her character. I feel that I am neither yet the allegations persist."
The experience has devastated Tsheringmo so much that she wants to leave the village and settle somewhere else far from her present community.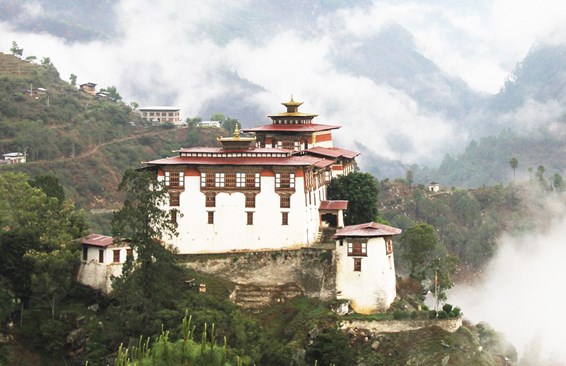 Lhuentse Dzong
Source: Tourism Council of Bhutan
"If His Majesty visits Lhuentse again, I want to request Him for resettlement and live a peaceful life with my family," she says.
Tsheringmo has never been to school but some of her children are studying. While the eldest daughter is married and settled in Paro, one of the younger daughters had to drop out of school after class X to look after her and keep her company considering her poor health. She has three daughters and a son.
She prays daily that her children will not be labelled like her. "It is too painful an experience," she said, adding that she firmly believes the gods will do her justice one day.
Minjay Gup, Tashi Norbu said that he was well aware of the issue but there is little the gewog authorities could do for Tsheringmo and her family.
"Tsheringmo herself has not lodged any complaints therefore we are helpless. But personally, I have been telling villagers not to spread rumours about her," said Tashi Norbu.
The Gup also said that if she approaches him with a complaint, he is willing to help but the catch is it will be difficult to find evidence against the villagers. However, he did brush off the rumours as baseless.
"I have eaten from her a couple of times and nothing has happened. If she had been a poison giver, by now I should be dead," he laughs, adding that there are no records of deaths or illness in the village due to poison givers.
The story of another 'poison giver', Tashi Wangmo
Meanwhile, Tashi Wangmo, in her mid-60s from Yongpaling Gonpa, in Metsho gewog, Lhuentse shared a similar story. Back in 2009, Tashi Wangmo had approached the King for help when she was branded as a poison giver and treated like a pariah by the villagers. She poured out her grief to His Majesty who drank ara served by her in the eyes of the public.
The outcome between the two so-called poison givers' tales differ. While Tsheringmo continues to battle stigma, Tashi Wangmo was lucky to be accepted by her family and former foes.
Metsho Gup Gembo said that after His Majesty drank ara from Tashi Wangmo, people started to mingle with her and eat from her without fear.
"Now she is not ignored and she attends public gatherings without hesitation," he said.
Gembo does not believe in poison givers. "It is a myth and it is about time that people should stop believing in such things."
The possible origins of the myth of poison givers 
The Founder and President of the Loden Foundation, Dr. Karma Phuntsho said that the origin of poison givers is ambiguous.
"I suspect the culture is pre-Buddhist and is rooted in the Himalayan concept of Wangthang and Lungta, and the extraction of these qualities by a person from another person who possesses it."
He said that in certain communities in the Himalayas, it is believed that if some people are given poison, the giver can extract the prosperity and power of the recipient.
"Whether one considers it as a superstition or myth is totally dependent on one's belief system. All our ideas and opinions are beliefs and they work for some but not for all."
According to Dr. Karma Phuntsho, there is no clue of surveys or research done on poison givers in Bhutan. However, an Italian researcher has studied poison givers in South-eastern Tibet and this probably explains why it is prevalent in the eastern parts of Bhutan.
"The inhabitants of the adjacent Tibetan regions of Kongpo and Dvagpo in South-eastern Tibet also believe in poison givers," he added.
Reactions from people who have consumed food given by poison givers
However, those who have consumed food given by poison givers testified that they had not fallen sick or was hurt in any way.
Tshewang Samdrup, a 30-year-old based in Trashigang, said that he ate and drank from two different poison givers despite being warned against doing so.
"I never believed in the myth and just to prove to my friends that it was all hogwash, I ate from a woman, a so-called poison giver, a shopkeeper in Sakteng. Nothing happened to me," he shared.
During a recent visit to Jalang village in Lhuentse, Tshewang drank three cups of suja (butter tea) from the famed poison giver but in his own words he declared, "I am alive and healthy. It is really sad that these women are victimised and their whole family suffers as well!"
A recent graduate from Sherubtse College in Kanglung, Trashigang, Pema Dechen also drank tea from a poison giver in a village in Lhuentse. Today she is very much alive and is even preparing for the civil service preliminary examinations.
A member of the National Council from Lhuentse Constituency, Tempa Dorji said that such vulnerable women should not be discriminated against.
"I have visited a couple of women known as poison givers and eaten from their hands but nothing happened."
In order to dispel such superstition, he believes that advocacy through mass media such as movies can make a difference in rural pockets where the myth still holds.
This article first appeared in Business Bhutan and has been edited for the Daily Bhutan.
---