The honey from Bhutan is of the highest quality
Bhutan's Honey is known for its natural benefits and high antioxidant. It balances the immune system and protects against atherosclerosis, diabetes, high blood pressure and high cholesterol.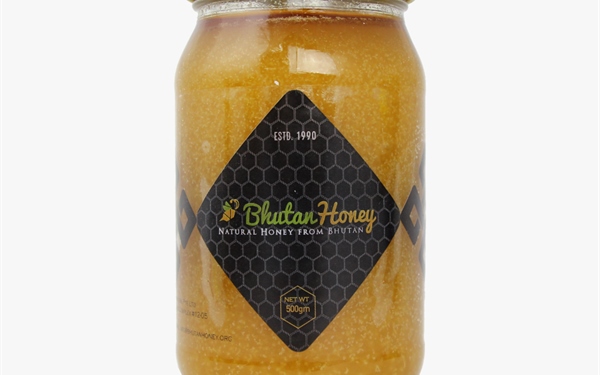 If you have been to Jalikhar, Bumthang in the month of August beehives hidden in colorful explosion of cosmos flower garden will be a beautiful sight to behold. 73 members registered with the Beekeepers Cooperative of Bhutan (BECoB) form a bee-keepers community. Each member has beehives ranging from five to hundreds producing the first known organic honey from Apis Mellifera (western honey bee).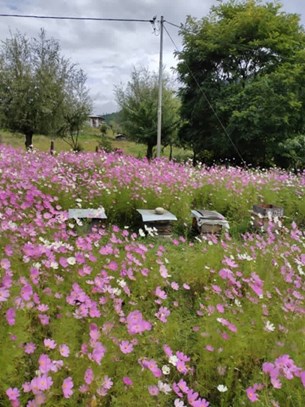 Bee hives in cosmo garden
The bee-keepers are either from Bumthang with their own land or from other places who have hired land for bee-keeping business. Given the little work but great return on investment, these beekeepers take up bee-keeping as a source of side income. However, for quality control of the products the interested individuals first register with BECoB. They are then trained in bee-keeping and allowed to practice with initial set up help in terms of loans and grants.
When they start first, the bee-keepers buy the bee-keeping equipment and bees from other bee-keepers or the Dzongkhag. They place beehives around their houses or farm for easy accessibility to tend. The employees of BECoB also help them with filling their hives and guide them for the first few months. Once the colony is grown, the bee-keepers harvest honey twice a year – in July and September.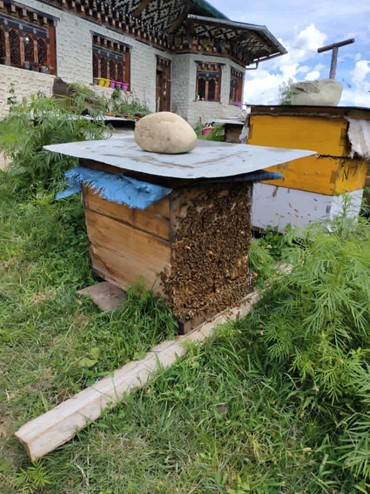 Bee hives of community members 
The bee-keepers take the collected honey to BECoB. To ensure that only high quality honey goes into the market. They are not permitted to sell on their own. The cooperative purchase honey from all members, process the honey, bottle and package it in their factory in Bumthang, markets, promotes and sells the honey on behalf of the members. On an average about 15000KG of honey is extracted by the community and sold by the cooperative.
Types of Organic Honey Produced by BECoB:
BECoB produces two types of honey called the clover honey and the buckwheat honey. Clover Honey is produced from the July honey harvest when Bumthang is filled with clover flowers and bees feed on nectar from these flowers.
Buckwheat honey is produced in September during the buckwheat season and flowering. Buckwheat honey is limited in quantity and it is also costlier than clover honey because of its demand and higher nutritional values.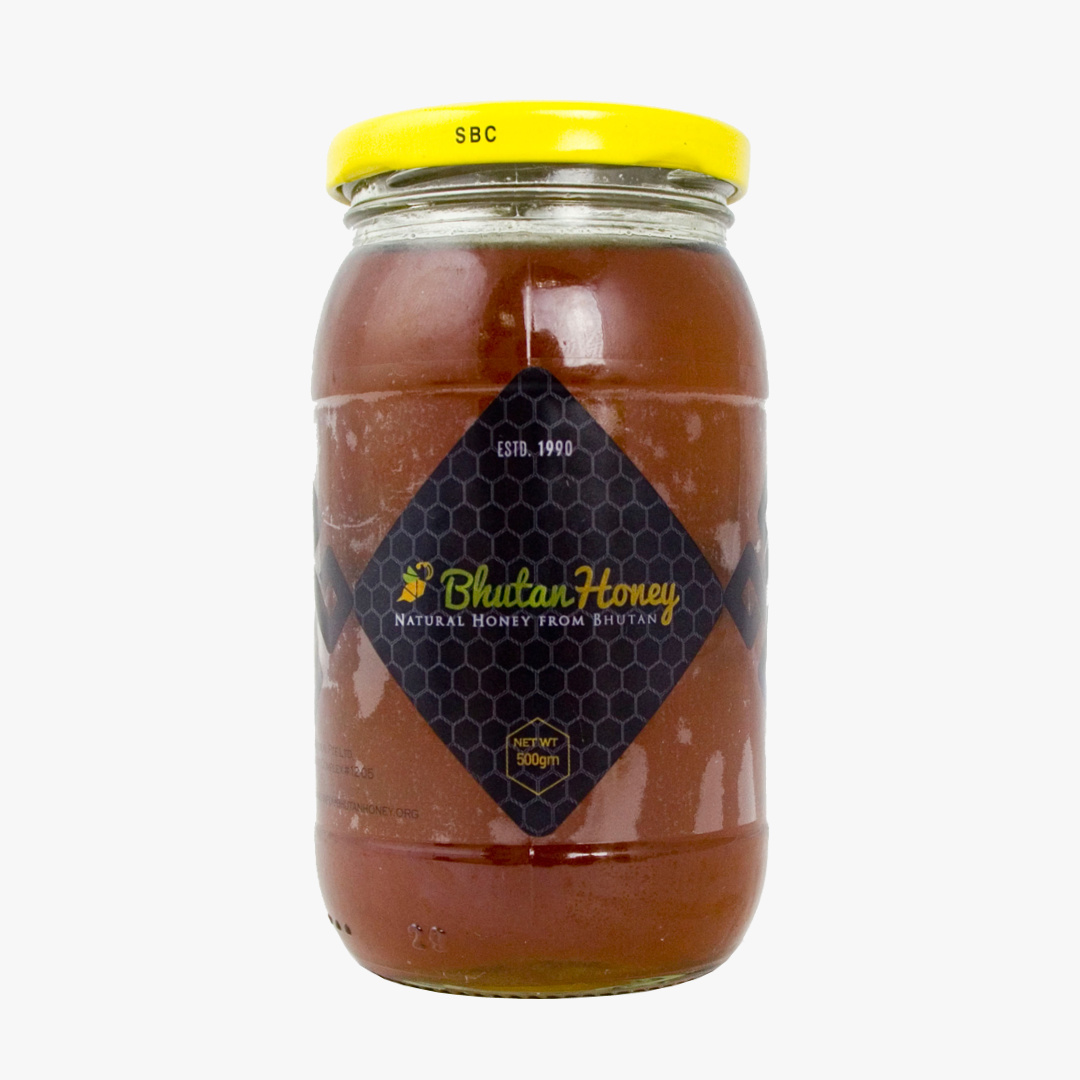 Buckwheat honey 
They have added a new honey to their product list recently called the Cream Honey for meeting the functionality of everyday requirement – easy smearing on bread!
The honey from the cooperative is known to be in its purest natural form (untreated and unadulterated) with a strong flavor and aroma. It's also from the honey bees that lives in a clean environment free from pollution and that forage on mountain flowers. 
"This year we have so much honey in stock. Our clients are mainly hotels and then the tourists. Because of the COVID-19 pandemic situation last year, the hotel and tourism industry is affected badly and we are also facing the ripple effect of it in terms of honey sale," said Mr Tul Bahadur Chettri, the President of BECoB.
Talking about honey product diversification, he said that it would be great to be able to produce wax, pollen and royal jelly in addition to honey. However, the cooperative now has no skills and it is an aspiration of a near future for the model sustainable cooperative.
Mr. Fritz Maurer introduced Apis millifera (the same bees in Bumthang) to Bhutan in 1986. Having realized the economic potential both in terms of honey production and pollination, the beekeeping project was established in 1995 by HELVETAS with initiative from Mr Fritz Maurer. The project was handed over to BECoB and now functions under it.
Bhutan's Honey is known for its natural benefits and high antioxidant. It balances the immune system and protects against atherosclerosis, diabetes, high blood pressure and high cholesterol.
To purchase honey from Bhutan, you may visit Bhutan Natural online store. 
---