What are the types of traditional dances and music in Bhutan?
In general, there are three classifications of Bhutanese classical and contemporary performance - Zhungdra, Boedra and Rigsar.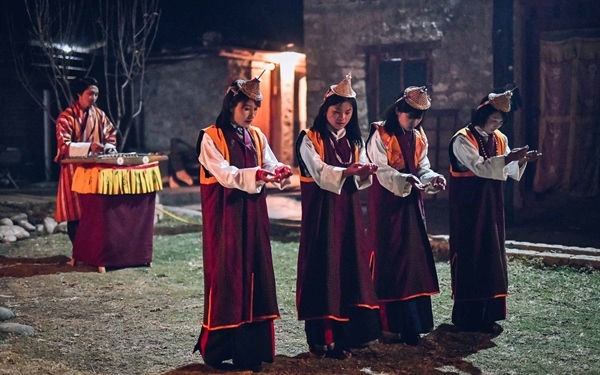 The cultural and traditional performances in Bhutan has existed since time immemorial.
In any ceremonial occasion or event, one of the elements that set the tone of the event is through the composition of cultural performances in Bhutan
.
In every region and even amongst the aboriginal tribes there are diverse traits of cultural performances
. In general, there are three classifications of Bhutanese classical and contemporary performance.
Zhugdra is one of the two dominant forms of Bhutanese folk music.
It
was developed
in the 17th century and is
mainly
associated with the folk music of the western region of the country
.
Although considered secular, the lyrics of Zhungdra songs often tell Buddhist allegories such as Yak Legbi Lhada in which the singer tells of his former life as a yak slaughtered in connection with non-Buddhist rituals in the Gasa District
.
Zhungdra
is characterized by
the use of extended vocal extended tones in complex patterns
. It
slowly
decorates a 
relatively
simple instrumental melody without a rhythm. Even those with natural singing ability will find it difficult to sing Zhungdra.
Boedra is the second of the dominant forms of Bhutanese folk music.
Instruments for boedra often includes the chiwang also known as pewang, or fiddle, and the drangyen, or Bhutanese lute, which
is considered
the oldest and most famous instrument in Bhutan
. In contrast to Zhungdra, Boedra evolved from Tibetan court music and has a rhythm.
Boedra
was spread by
the Boed Garps who travelled from village to village on official tours. The Boedra songs are usually sung in a circle and the tunes can
be danced
to. The Boedra music is
relatively
easier to sing than Zhungdra.
Rigsar is contemporary popular music in the country. The modern popular rigsar (new idea) genre emerged in the 1980s.
Rigsar can
be distinguished
from most of the traditional music due to updated electronic instrument, faster rhythm, and vernacular language especially Dzongkha and Tsangla
. Rigsar is a common feature of Bhutanese television and film.
A great number of Bhutanese artists have covered or produced a staggering volume of rigsar music in recent times
.
Whether in public places, on the streets, in taxis, or on buses, Rigsar music remains ubiquitous in Bhutan
.
Dance Institutions
Since 1954, The Royal Academy of Performing Arts (RAPA) has been working to document, preserve, and promote traditional Bhutanese music, songs, and dances. The Institute of Language and Cultural Studies (ILCS) established in 2003, now the College of Language and Culture Studies was the only university-level institute to offer elective courses on traditional and modern Bhutanese music, songs, and dance.
To preserve and promote the culture and traditions in schools, there are also cultural clubs for Bhutanese children
.
While many youths detest Zhungdra, they are more receptive to the contemporary dance Rigsar
. It is also continuing to evolve with creative reformation.
Private individuals
subsequently
started to form their own private groups to perform at various ceremonies and events
. Aa-Yang Ensemble
was started by
ethnomusicologist Jigme Drukpa in 2010.
The ensemble includes members from the north, east, and south of Bhutan making it one of the most
culturally
diverse music groups in Bhutan to perform during events
.
For tourists who
are interested
to watch the traditional Bhutanese performances,
tour operators can 
arrange the show on the guest's request
.
It is a pleasurable experience over dinner after all the touring and exploring of the Kingdom
.
---