Bhutan is set to carry out nationwide vaccination drive from 27 March
With the 550,000 doses of Covishield vaccines, Bhutan is set to roll out its nationwide vaccination drive on 27 March 2021 at 9am. The auspicious date is determined in consultation with the Zhung Dratshang (Central Monastic Body).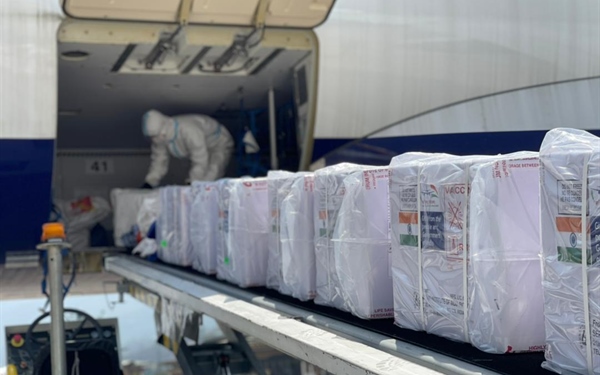 On 22 March 2021, Bhutan received the second consignment of 400,000 doses of Covishield vaccines from India
.
The vaccines 
were received by
Foreign Minister Dr Tandi Dorji and Health Minister Dasho Dechen Wangmo at Paro Airport
.
Two months earlier on 20 January 2021, Bhutan was the first country to receive the gift of COVID-19 vaccines from India
.
The first consignment comprises 150,000 doses of Covishield, Oxford-AstraZeneca-developed vaccines manufactured by the Serum Institute of India (SII)
.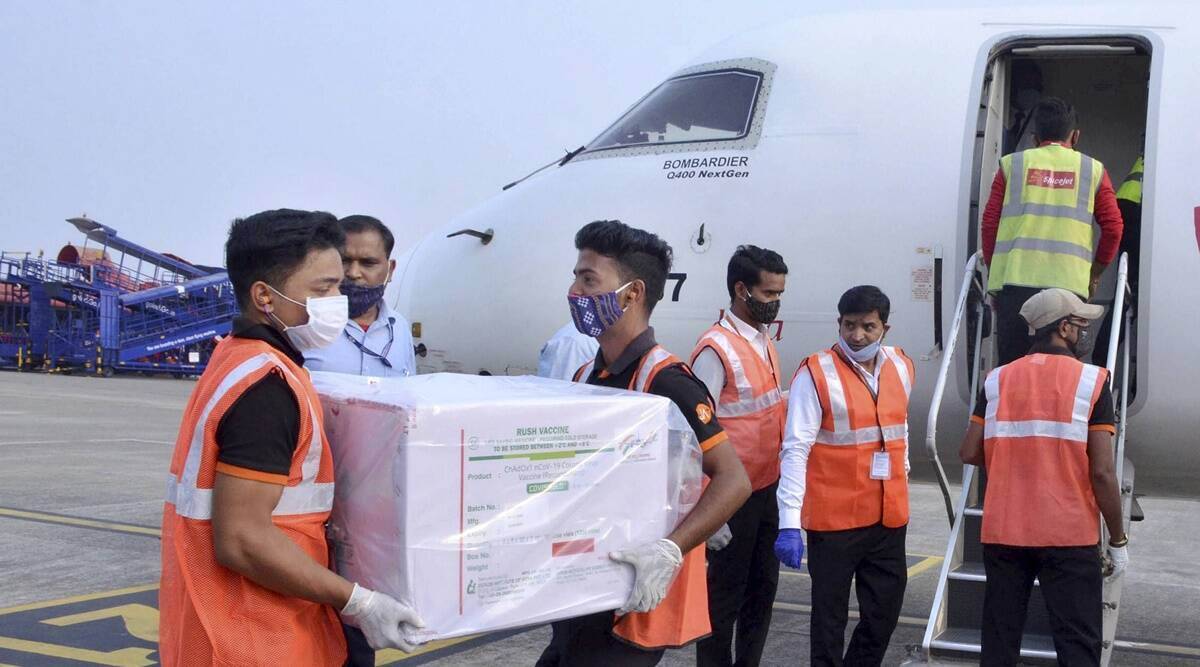 With the 550,000 doses of Covishield vaccines, Bhutan is set to roll out its nationwide vaccination drive on 27 March 2021 at 9am. The auspicious date is determined in consultation with the Zhung Dratshang (Central Monastic Body).

In preparation for the nationwide vaccination drive, the Zhung Dratshang conducted a 3-day Sangay Moenlha drupchen from 20th March to 22nd March.

As of today, 495,028 people have registered for the vaccination. All 18 years old and above residing in Bhutan is eligible for the vaccination. According to the Health Minister, 1001 sites have been identified for the vaccination drive. Vaccines will be distributed to the western districts today, central districts on Wednesday and airlifted for eastern districts on Wednesday.

On 27 March, a 30-year old woman born in the year of Monkey, will be administered the first jab, followed by the Prime Minister and his family. Most of the cabinet members will also receive the jab on that day to boost the confidence of the general public. The ministry will also administer the vaccine to pregnant or breastfeeding women who are willing to take the vaccine. However, all front-liners will receive the vaccine irrespective of whether they are pregnant or breastfeeding. Elderlies above 70 years of age will take the vaccination in the hospitals so that their health can be monitored after the vaccination.

The Health Minister shared that 41 doctors will be deployed across the country to oversee the vaccination drive. COVID-19 protocols are required to be adhered to during the vaccination and people who have adverse effect following the jab will have to contact the doctor whose details will be shared at the vaccination sites.

All eligible people are encouraged to get the vaccination to achieve herd immunity against COVID-19.

Bhutan Vaccination Distribution Plan :

I. Eastern region: Drukair Domestic Flight to Yonphula Airport (24th March, 2021) 2 Refrigerated Van from Eastern regional EPI cold store will pick up from the Yonphula Airport and distribute to Tashigang & T/Yangtse and Mongar & Lhuntse

Note: 1 Back up Refrigerated Van (New) will be stationed in Thimphu for eastern regional distribution in case there is any change on the domestic flight schedule or inconvenient weather conditions

II. Central Region (24th March, 2021) Refrigerated Van from Central EPI store at Gelephu will pick up and distribute to Tsirang, Dagana & Sarpang

A refrigerated Van at Thimphu will be deputed to distribute to Bumthang, Trongsa and Zhemgang.

III. Western region (23rd - 24th March 2021) Another Van will be deputed with Trans-shipment at Sorchen (P/Ling Van will take over) : Chukha, Phuentsholing & Samtse

A dedicated Van will distribute to Paro and Haa on the first day and then distribute to Punakha, Wangdue & Gasa the next day

Detail of Helicopter Services required for the COVID-19 Vaccine distribution (23rd - 24th March 2021)

- Samdrup Jongkhar- Town and Pemagatshel-Town -Lingzhi village (Lingzhi BHU) and Jangothang village (Soe BHU), Thimphu -Lhedhi village (Lunana BHU), Laya BHU, Isuna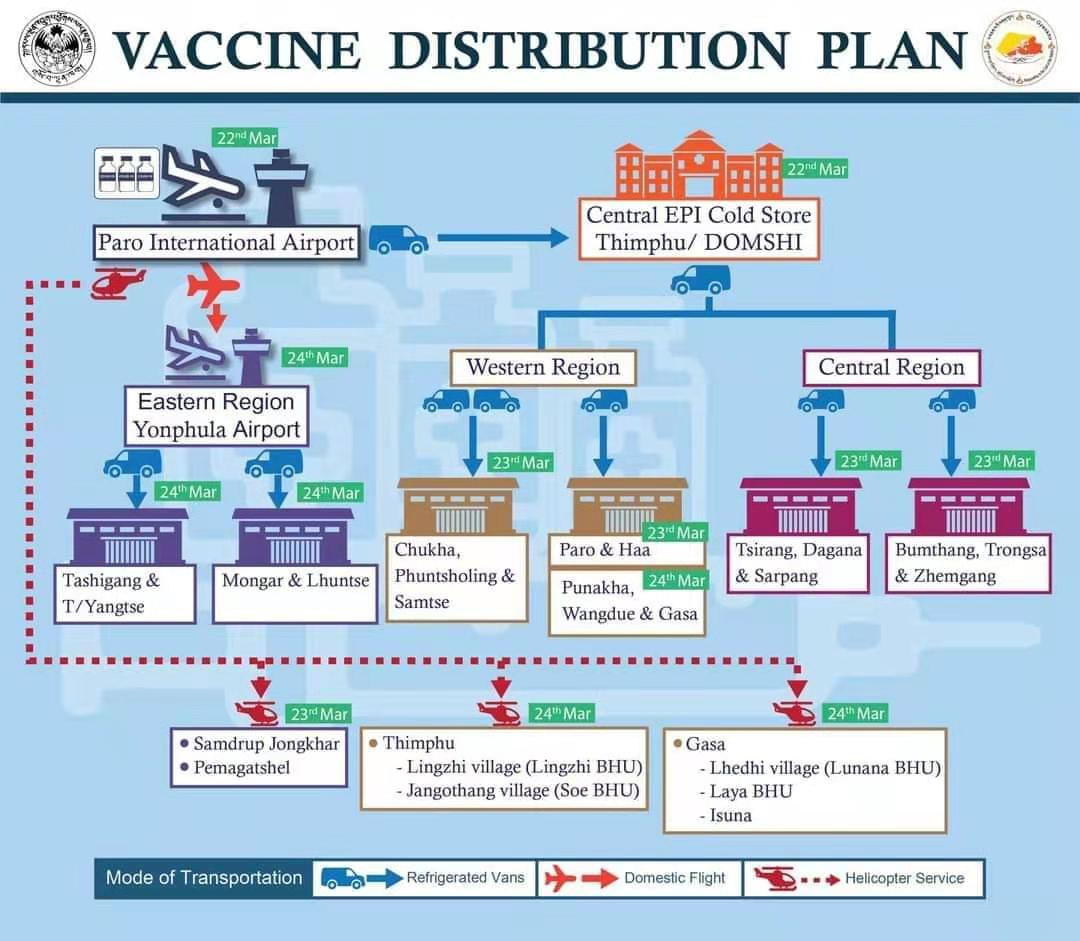 ---
---