Bhutan is tapping into solar energy with its first grid-tied solar power plant
Electricity in Bhutan is mostly generated from hydropower, a renewable energy source, unlike fossil-fuel driven power plants that are major contributors to carbon dioxide emissions worldwide.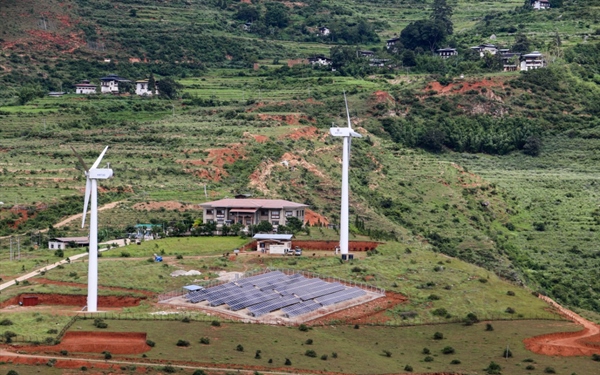 (Source: Department of Renewable Energy, Ministry of Economic Affairs)
Like hydropower, sun is a bountiful resource Bhutan can tap into for producing renewable energy in keeping with our carbon neutrality commitments and also for enhancing energy security through diversification of energy sources. The commissioning and inauguration of the 180kW grid-tied Solar Power Plant marks the start of Bhutan's investment in grid-tied solar energy as a viable alternative energy source in the face of soaring domestic demand and climate change.
On October 4, 2021, the Chairperson of the National Council of Bhutan, Lyonpo Tashi Dorji, inaugurated the 180kW grid-tied ground-mounted Solar Photo-Voltaic Power Plant at Rubesa, Wangdue Phodrang. The inauguration was attended by the Ambassador of Japan to Bhutan, Satoshi Suzuki (virtually), UNDP Resident Representative Azusa Kubota, representatives from the Gross National Happiness Commission (GNHC), Department of Renewable Energy (DRE), Bhutan Power Corporation (BPC), the Local Government and other power sector agencies.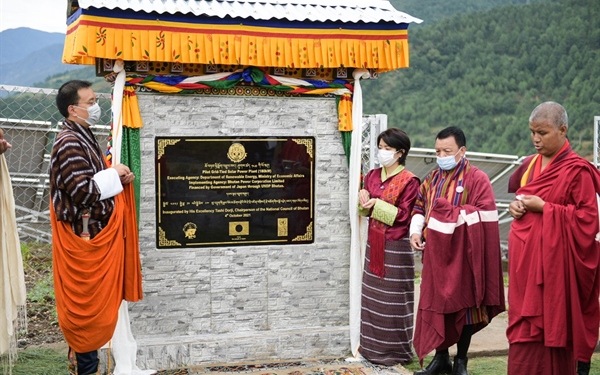 Photo: UNDP

The project, which was commissioned on 31 August 2021, is part of Bhutan's COVID-19 response and recovery project titled, "Towards Smarter, Greener and More Resilient Recovery through Innovation in Bhutan", funded by the Government of Japan and supported by UNDP. The USD 210,000 project was executed by DRE in collaboration with BPC as the implementing agency.
First-of-its-kind solar power plant in Bhutan
The 180kW solar power plant is a first of its kind in the country and since its commissioning has been generating and feeding electricity into the local grid for distribution. The solar plant, co-located with the existing 600 kW wind farm at Rubesa, is expected to generate 263,000 units of energy a year, which will be adequate for supplying electricity to around 80-90 households.
Globally, the COVID-19 pandemic has shown that the current trend of development is on an unsustainable path and corrective measures must be taken through smart and green recovery. Bhutan is undertaking various initiatives to broaden its energy mix by exploring other clean, renewable energy sources. The Solar Plant in Rubesa is one such initiative that takes Bhutan a step closer to achieving energy security through a diversified and sustainable energy supply mix. The project particularly demonstrates the viability of solar power plants on a utility-scale. 
This initiative is expected to create systems change and support the nation in building the resilience of Bhutan's energy sector to the adverse impact of climate change while also building the capacity of the national workforce on solar photovoltaic technology for green employment and entrepreneurship opportunities.
The project activities, including the design, construction, installation, grid integration was carried out by the local workforce. Experienced and trained personnel from this project will form a key group of professionals, who will take up upcoming renewable energy on utility level projects. Despite hindrances induced by the pandemic, the project was completed within seven months.
Bhutan is committed to its focus on sustainable development
In his keynote address, National Council Chairperson Lyonpo Tashi Dorji said, "Energy plays a very important role in our everyday life, and it is at the core of socio-economic development of any society. Harnessing and investing in renewable energy is key to sustainable development and clean energy future."
The most critical global issue of our time, climate change, he said threatened our glaciers. "Any significant impact on our glaciers would ultimately have an effect on the hydrological regime of the country which may affect hydropower generation. Therefore, it is timely that we accelerate harnessing solar energy and other renewables to have a healthy mix of energy supply from various renewable energy sources."
Lyonpo also stated that, "Today, we are not just inaugurating a power plant but also making history."
H.E. the Ambassador of Japan to Bhutan Satoshi Suzuki joined the inaugural ceremony virtually from New Delhi, India
The Ambassador of Japan to Bhutan Satoshi Suzuki who addressed the gathering virtually said he hoped that the solar project will help enhance Bhutan's energy security, which is indispensable for the socio-economic development of the country. "I hope that these Solar Photovoltaic Facilities will be effectively used for many years to come," he said. "I also hope that the support provided by the people and the Government of Japan to realize this project will further augment the friendship between our two countries."
Green recovery efforts
In her address during the inauguration, UNDP Resident Representative Azusa Kubota said UNDP sees renewable energy solutions as a lifeline to save our planet and humanity and that it must be an integral part of every nation's green recovery effort from the COVID-19 pandemic. She stated that "The recently held UN-led High-level dialogue on energy is a clear reflection of this growing realization that we must use the pandemic as an opportunity to build back better and greener," and further added that the energy sector accounts for 73 percent of human-caused greenhouse gas emission globally. "Through the implementation of this project, I hope we will demonstrate to people of Bhutan that solar is a viable energy source with costs comparable to the latest hydropower projects" she said.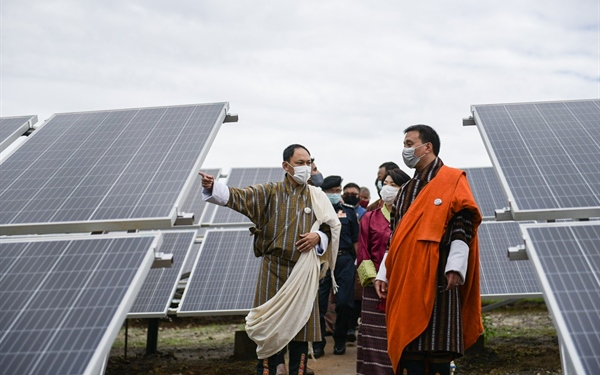 Photo: UNDP
The Director of Department of Renewable Energy Phuntsho Namgyal said, "This plant will not only demonstrate the viability of the solar power in Bhutan but also diversify several things," he said, adding that while solar power has been equated to subsistence level substitute for kerosene lamps in rural communities, it can, in reality, power household appliances and tools that can improve productivity and the overall economy.
The Director also said that Bhutan generates all our electricity from renewables, yet it hides a paradox. He said that almost 78 per cent of our energy consumption is fossil fuel because our transportation system is dependent on it, including cooking and heating needs.
"Solar plant such as this can augment hydropower supply to meet our rapidly increasing domestic electricity demand, especially in winter months," he said.
---
---