Celebrating Bhutan's Entrepreneurs: Namgyle Dorji & Nagendra Kafley Of Bundle.bt
This story is part of an exclusive feature by Yeewong Magazine in Dec 2018 on celebrating entrepreneurship in Bhutan.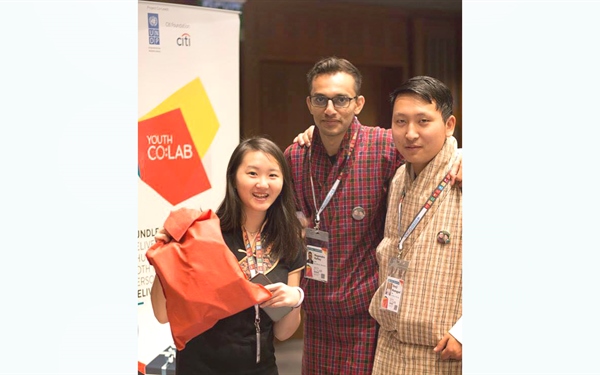 (Source: Facebook/bundle.bt)
By Staff Reporter | Yeewong Magazine
A few years ago, Namgyle was trying to order a book for his father on Amazon.in. To his disappointment, he found out that it could only be delivered to Jaigaon in India, and not to his residential address in Bhutan.
Rather than be discouraged by the shipping problem, Namgyle saw this as an opportunity to fill this gap in logistics in Bhutan and that was how 'Highway-bundle.bt' was conceived.
How does Bundle.bt work?
Founded by Namgyle Dorji and Nagendra Kalfey, Bundle.bt is a website for open source logistics where people can earn money by registering online to be part of the delivery system.
The company is designed to make delivery easy via daily travellers who can deliver the goods and they get paid accordingly.
Bundle not only hires and empowers people with cars, bikes or a taxi but also those who are just commuting by taxis or buses.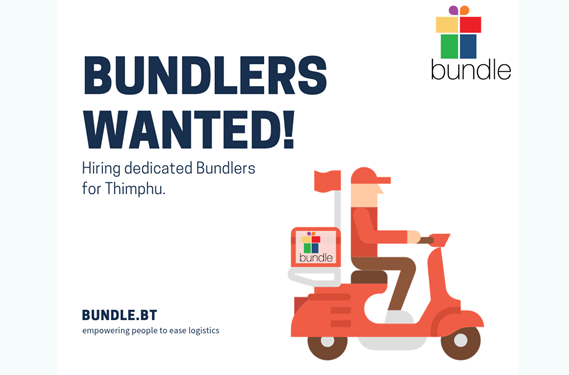 Photo: Facebook/bundle.bt
In short, Bundle.bt is a symbiotic delivery system which benefits both the sender and the deliverer and it helps commuters to become entrepreneurs. 
The young man attended a Basic Entrepreneurship course provided by the Ministry of Labour and Human Resources (MoLHR) at the Thimphu IT Park.
During the course, he learnt about the Startup Weekend, which was held in the district of Phuentsholing in October 2017. Namgyle and his friend, Nagendra decided to pitch their business idea at the event.
Armed with fundamental knowledge of entrepreneurship from the Basic Entrepreneurship course, coupled with the drive to make their business a reality, the duo won the first prize at the pitching session of the Startup weekend.
With further support provided by the IT Park and the Department of Information Technology & Telecom (DITT), as well as a communication platform with other entrepreneurs in the Asia-Pacific area organised by UNDP Bhutan, Bundle.bt has grown and is thriving steadily.
Challenges faced in establishing Bundle.bt in Bhutan
Bundle.bt has definitely challenged traditional ways of transporting packages in the land-locked country of Bhutan, while bringing something new and useful to the logistics sector.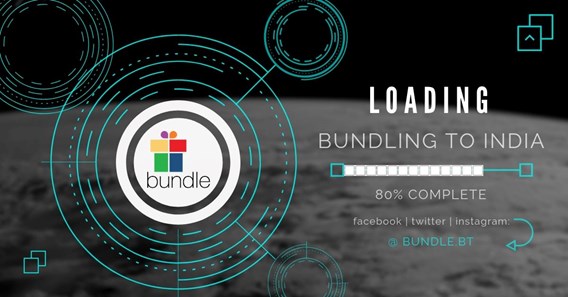 Photo: Facebook/bundle.bt
But pioneering a new idea had its own set of challenges. The duo struggled with getting a license as the business concept was something novel and unheard of in the Kingdom.
Although stepping into a new field may have its own set of difficulties, the duo believed firmly that they will succeed with enough research and market familiarisation.
The team is now working on a mobile app for Bundle.bt to make their delivery system work more effectively.
Business climate and support system for entrepreneurs in Bhutan
Namgyle thinks that currently, it is the best time for individuals to start their own businesses in Bhutan, especially with the government committed to fostering a vibrant and supportive entrepreneurial environment.
"There appears to be more opportunities for entrepreneurs to gain support, like the Startup Center managed by the Department of Cottage and Small Industries, and the Innovation Hub started by local entrepreneurs," said Namgyle.
His parting advice to aspiring entrepreneurs is: "You shouldn't ask anyone if your business is a good idea. It is your own responsibility to find out the answer."
This article first appeared in Yeewong Magazine and has been edited for Daily Bhutan.
---