Constructive Steps Taken To Mitigate Impact Of Glacial Lake Outburst Flood (GLOF) In Lunana, Bhutan
Lunana houses four major lakes-Thorthomi, Raphstreng, Luggye and Baytsho. So far, the Thorthomi and Raphstreng lakes are two of the 25 glacial lakes in Bhutan that poses serious GLOF risks.
(Source: Himalayangorilla)
By Sherub Dorji | BBS
Lunana, which lies in the northern-most regions of Bhutan is known for its exotic beauty and pristine environment. It has remained largely untouched by humans over the centuries.
However, amidst its hypnotic beauty lurks danger - the danger of glacial lake outburst flood (GLOF), and the threat is looming large.
More about the conditions of the lakes in Lunana
Lunana houses four major lakes-Thorthomi, Raphstreng, Luggye and Baytsho. So far, the Thorthomi and Raphstreng lakes are two of the 25 glacial lakes in Bhutan that poses serious GLOF risks. Bhutan has close to 3000 glacial lakes altogether.
Although Lake Thorthormi is not a full lake yet, it is still in its formation stage. Small ponds of melted glaciers are slowly converging into a large lake.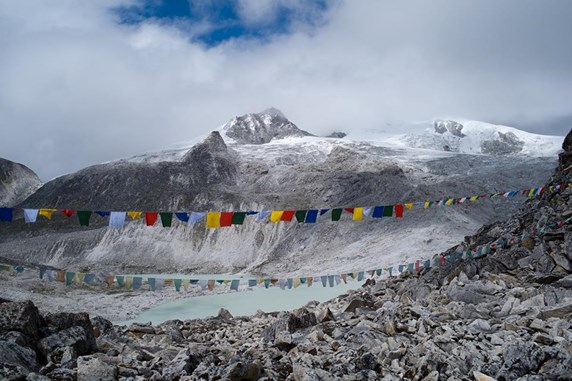 Source: happyul
Just below Thorthormi, divided by a large Moraine wall, lies the Raphstreng Lake.
Concerns raised by scientists over the Moraine dam
The moraine wall, which divides the two lakes - Thorthormi and Raphstreng, has a huge ice body at a depth of 80m. Scientists have raised concerns over the structural strength and stability of the Moraine dam.
The landmass is said to be shrinking by the year. Recent satellite images show that the unsteady Moraine dam is receding at an alarming rate of 30 to 35m every year.

Source: Downtoearth.org
Officials at the National Centre for Hydrology and Meteorology (NCHM) say the Moraine ridge will not hold forever and that Thorthormi will spill over into Raphstreng Lake one day. What the convergence of the two lakes means is that it could trigger a major GLOF.
"If worst case scenario happens, that is, Thorthormi Lake overtops into Raphstreng thus creating a GLOF, the flood volume is estimated to be around 53 million cubic meters," Karma, a Specialist with NCHM's Cryosphere Service Division said.
The last time Bhutan experienced a glacial lake outburst flood was in October 1994 when a partial burst of the Luggye Lake wreaked havoc downstream along the Punatsangchhu basin.
What will happen if Lake Thorthormi and Raphstreng converge?
Should the imminent convergence of Thorthormi and Raphstreng lakes happen, Punakha will experience a more severe flood, nearly three times more severe than the 1994 GLOF.
"The combination of Thorthomi and Raphstreng is the worst-case scenario from Lunana and the flood volume of about 53 million cubic metres that is likely to be caused is almost three times more in magnitude than the 1994 GLOF. And I am talking just about the pure water."
Steps taken to mitigate the impact of GLOF risks
Several efforts have been undertaken to mitigate GLOF risks from Lunana. A three-year project to lower the Raphstreng lake water level by four metres was completed in 1998.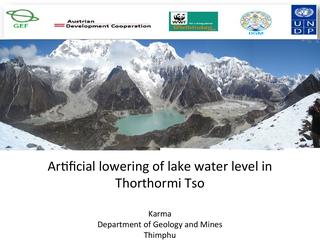 Source: Issuu Inc
A similar project was carried out from 2008 and 2011 at the Thorthormi lake which saw 17 million cubic meters of water being drained out from the lake.
Early warning sirens have been set up and safety evacuation zones identified along the Punatshangchu and Pho Chhu basin.
The responsibilities of Tshering Dorji in minimising the risks of GLOF
Tshering Dorji, a technician with the Flood Warning System in Lunana, plays a key role in the GLOF risk mitigation efforts.
Every day, he undertakes a three-hour journey to one of the four lakes in Lunana to inspect the water level. It is undoubtedly a tough job, but Tshering does not mind. It is part of his service to the country.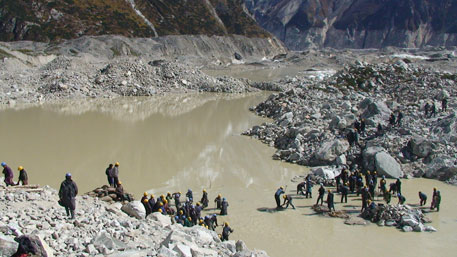 Source: Downtoearth.org
"It is difficult to work here. It's high up in the mountains. The route to the lakes itself poses risks to our life. But this is my job, my responsibility, so I have to do it," he said.
While GLOF mitigation and risk reduction works are ongoing, NCHM officials say that it is important to stay prepared for the worst.
"Especially the glacier lake outburst flood, you never know when it will happen and people tend to forget. They tend to neglect," Sangay Tenzin, the Chief of the NCHM's Hydrology & Water Resources Services Division said.
"So, what I wanted to say is that the GLOF is real, it's going to happen and nobody can say when but the only thing we know is that  it's going to happen. It's not like nothing has happened in the past five years and it won't happen again. It will happen and people have to keep that in mind."
The World Wildlife Fund (WWF) says that in the worst case scenario, half of the fertile land in Punakha and Wangdue valley will be submerged under water. Punakha Dzong and much of Khuruthang will also be washed away.
Moreover, the Punatsangchhu hydropower projects will be in grave danger and the biodiversity in the region will be affected.
This article first appeared in BBS and has been edited for the Daily Bhutan.
---