DrukAir To Fly Between Bhutan And Singapore Via Guwahati Starting Sept 1
The new flight will connect Paro to Singapore via Guwahati.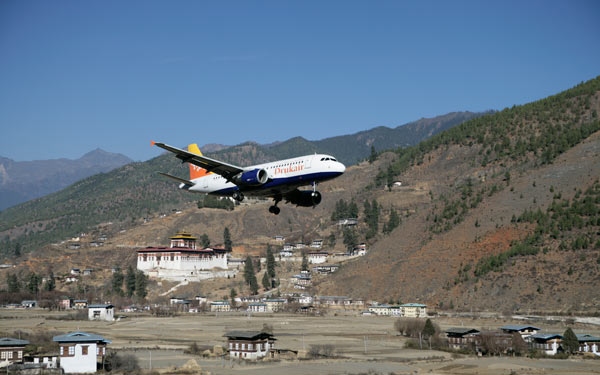 (Source: DrukAsia)
[Update, Aug 13]: The Paro-Guwahati-Singapore flight route will commence from Sept 29, 2018. More details have been included in the article.
By Kinley Yangden | Bhutan Times
Bhutan's flagship carrier DrukAir will be starting new flight operations from Paro in Bhutan to Singapore, via Guwahati in India. The flight will commence from Sept 1.
What this means is that passengers who are flying between Singapore and Bhutan will likely make a stopover in the Assam city of Guwahati.
From Sept 29, Drukair KB540 will operate on Wednesday and Saturday, departing Paro at 7.30am, arriving at Guwahati at 7.55am. It will then depart Guwahati at 8.35am, arriving in Singapore at 3.35pm on the same day. 
Drukair KB541 will depart Singapore every Thursday and Sunday at 6.30am, arriving at Guwahati at 8.30am. It will depart Guwahati at 9.10am and arrive in Paro at 10.30am on the same day. 
DrukAir currently flies between Paro-Guwahati-Bangkok and Paro-Kolkata-Singapore.
Consequence of bilateral talks between Bhutan and Assam
Assam Chief Minister Sarbananda Sonowal announced the news on Wednesday (Aug 8) at an event. He added that the flights are a "consequence of recent bilateral talks with Bhutan".
On Aug 2, Bhutan's Consulate General Phub Tshering met Assam Governor Jagdish Mukhi to discuss about flight operations issues, and other bilateral interests such as trade, commerce and tourism.
According to Financial Express, Mukhi had requested to increase the frequency of flights from Guwahati to Paro connecting Singapore.
News of Drukair service between Guwahati, Paro and Singapore was first announced in Feb this year by Bhutanese Foreign Minister Damcho Dorji.
The new connecting flights to Singapore will help to boost Assam as its position as the gateway to ASEAN.
---
---