Female Archer Dorji Dema Hopes To Inspire More Women To Take Up Archery In Bhutan
Dorji Dema, a mother of three is among the first women in Bhutan to play in an archery tournament.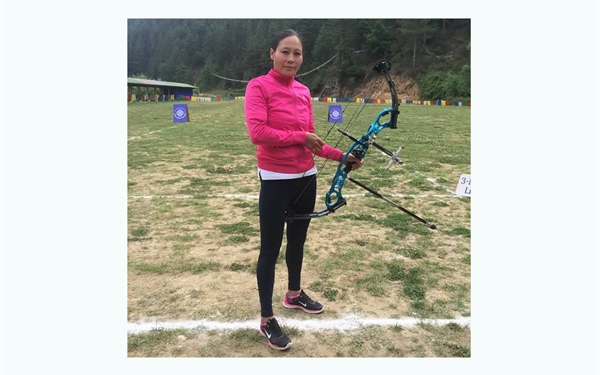 (Source: Facebook/Phub Tshering)
By Nim Dorji | Kuensel  
Being the lone woman archer among 179 men archers, many came to witness her play in the ongoing Paro open archery tournament.
Dorji Dema, a mother of three is among the first women in Bhutan to play in an archery tournament.
In the ongoing league round, each team will get to play three matches. In each match, every player will play 15 rounds. Dorji Dema is playing for team Tender and it consists of five players, all sibling and cousins.
Dorji Dema and her team has completed two matches so far.  She hit 14 kareys in 30 rounds by striking seven kareys in each match. She will play the remaining 15 rounds on November 13.
Dorji Dema, 35 has been playing archery since 1999 during her days at the Drukgyel High School. She was among the two women who have been selected for the Olympics archery team.
From 2001-2008, she has been playing in the Bhutan Olympics Team and has participated in the 2008 Olympics in Beijing.
Thoughts and feelings of Dorji Dema about playing in the Bhutan Olympics Team
The mother of three said that playing with men in a tournament is challenging and she was worried about how people would react.
Since Dorji Dema has been participating in the Olympics, she said that the method of playing in an archery tournament at home is different.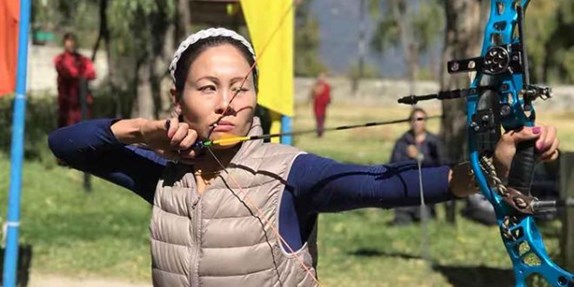 Source: Kuensel
In the Olympics, the archer gets 36 arrows to shoot twice and the points get counted accordingly.
"It's tough playing in the Olympics with a compound trigger and the archer needs more stamina," she said.
The target distance is 50 m for compound trigger whereas in the local archery tournament, the target distance is 145 m where they have to play with a pair of arrows.
Dorji Dema said that she was nervous at the beginning as she was playing for the first time with men in the tournament but later gained confidence and could perform well.
More women are encouraged to participate in archery
The tournament organiser, Ugyen Dorji said that he invited Dorji Dema to play in the tournament to inspire enthusiastic female archers and encourage more women participation in the national game.
The people who came to witness the match shared varying perspectives on women playing archery. Dorji from Chang said that after he heard about a women archer participating in the tournament, he came all the way to see her perform.
"She is playing well and also showcasing her talent proving women can play as well as men," he said. "I am proud of her."
Kado Tshering, who is a team-mate of Dorji Dema said that playing with a woman archer for the first time can get uncomfortable at first but she is now gaining confidence and performing well.
Some shared their concerns. A woman, who spoke on condition of anonymity said that women have started playing khuru (Bhutanese darts) in the past and have now taken up archery.
"The lawmakers should stop such practices as women are dominating games played by men."
These concerns do not deter Dorji Dema, who says that her parents are supportive of her sport.
"If they didn't support me, it will be difficult to procure such expensive bows. Most people are also very supportive, which makes me more confident," she said.
She will continue to participate in archery tournaments with male archers and wants to compete in the Yangphel Archery tournament in 2020 with a women team.
"To encourage more women archers to participate in the future, the public should think positively and support the players."
This article first appeared in Kuensel and has been edited for the Daily Bhutan.
---