Haven For Flora And Fauna, Bhutan Is Host To More Than 11,000 Species Of Biodiversity
The biodiversity statistics of Bhutan 2017 is the first publication presenting accurate and up to date status of the country's biodiversity.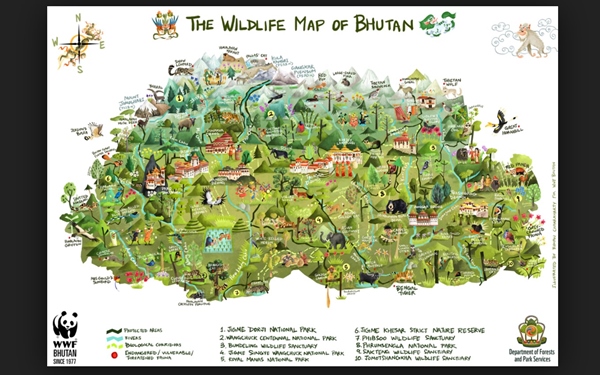 (Source: WWF Bhutan)
By Phub Gyem | BBS
Bhutan is a host to more than 11,000 species of biodiversity as per the Biodiversity statistics of Bhutan released on 23 May 2019.
The figure accounts for 4.89 per cent of the total biodiversity recorded in the world. To date, there are 1.4 million species of biodiversity listed in the world.
Bhutan recorded 5,114 species of animals and 5,369 species of plants. The plant and animal species account for more than 93 per cent of the 11,000 plus species.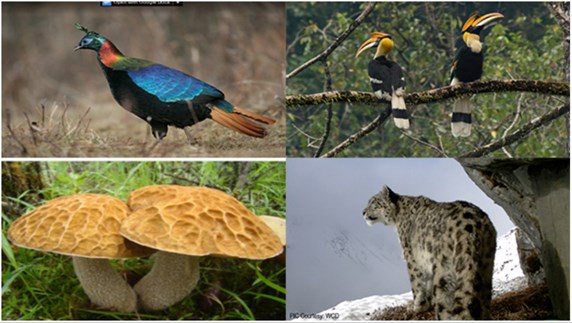 Photo: Facebook/National Biodiversity Centre, Bhutan
Although not so significant, there are also a number of species of fungi, bacteria, Chromista*  and Protista** found in the country.
*It is an Eukaryotic kingdom which includes all algae whose chloroplasts contain chlorophylls a and c, as well as various colourless forms that are closely related to them.
**It is a kingdom of simple Eukaryotic organisms, usually composed of a single cell or a colony of similar cells. Protists live in water, in moist terrestrial habitats, and as parasites and other symbionts in the bodies of multicellular eukaroytes 
Role of the National Biodiversity Centre
The National Biodiversity Centre published statistics to strengthen the biodiversity statistics information for policy guidance, informed decision-making and for the successful implementation of conservation plans for Bhutan's flora and fauna.
The biodiversity statistics of Bhutan 2017 is the first publication presenting accurate and up to date status of the country's biodiversity.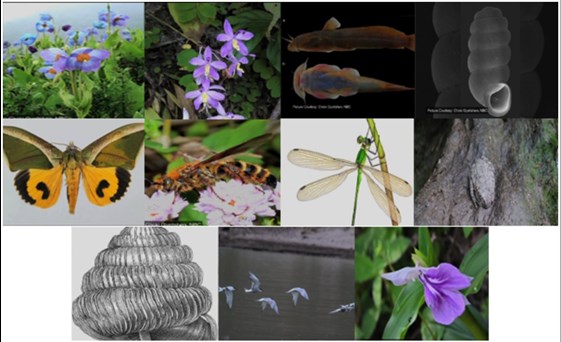 Bhutan recorded 31 species of flora and fauna new to science between 2009 to 2017. The records are inclusive of the species that were published in peer-reviewed publications. 
Photo: Facebook/National Biodiversity Centre, Bhutan
The centre will be publishing the statistics annually henceforth to keep records of the number of species as well as new records and discoveries made in Bhutan.
Statistical details on Bhutan's fascinating biodiversity
Bhutan's biodiversity also includes a number of plant and animal species listed as vulnerable, endangered or critically endangered in the International Union for Conservation of Nature Red List of threatened species.
This Himalayan kingdom is home to 15 vulnerable, 20 endangered and 13 critically endangered seed plants. It also plays host to 13 vulnerable, 11 endangered and two critically endangered mammal species.
Likewise, the country also has 22 vulnerable, four endangered and four critically endangered bird species. There are also eight vulnerable and three endangered fish species, 11 vulnerable, five endangered and two critically endangered amphibians, and one vulnerable butterfly.
A number of these species are protected by the country's Forest and Nature Conservation Act 1995 and the Forest and Nature Conservation Rules and Regulations 2017.
More species waiting to be discovered in Bhutan
Choki Gyeltshen, a biodiversity officer says there could be more than the recorded number considering the rich biodiversity the country boasts of. There are also a lot of areas that would host a wide range of new species- both to science and to Bhutan. But these areas are least explored as they remain inaccessible.
"We always expect more species. For example, we have around more than 60 species of snails and we expect more than 80 species of snails in Bhutan. It is similar for moth species. Currently, we have more than 1,000 moth species and what we expect is there should be more than 4,000 species of moths."
Bhutan might also see an increasing record if there is enough expertise in taxonomy and adequate laboratory facilities.
"We don't have adequate lab facilities. Nowadays people around the world have started to model molecular using DNA techniques. So right now Bhutan does not have any of those facilities so that is why it is very difficult for us to do research and especially taxonomy research," Choki Gyeltshen said.
This article first appeared in BBS and has been edited for Daily Bhutan.
---