Royal Baby Fever Grips Bhutan - Second Child Expected In Spring 2020
The royal baby fever is gripping Bhutan for the second time since the birth of the couple's first child in 2016.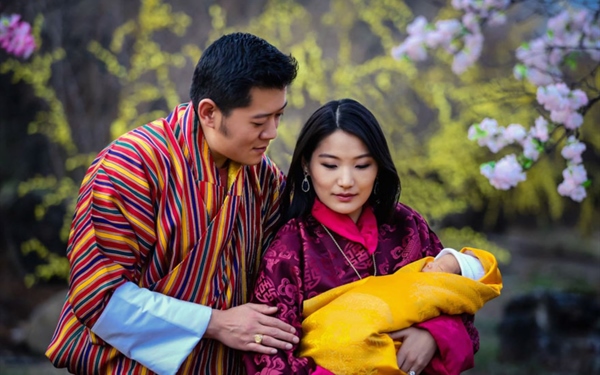 (Source: Facebook/QueenJetsun)
By Staff Reporter | Daily Bhutan
In celebration of Bhutan's 112th National Day, His Majesty the King Jigme Khesar Namgyel Wangchuck addressed the audience with his annual speech at the Changlimithang National Stadium in Thimphu.
While those present were treated to exciting performances, the highlight was perhaps the surprise announcement made by His Majesty that his wife, Her Majesty the Queen Jetsun Pema is expecting their second child.
Source: BBS 
The happy news sent waves of immense joy through the crowd as they broke into rapturous applause.
The royal couple tied the knot in 2011 in Punakha Dzong (Monastery), followed by a public celebration in Thimphu and Paro.
About the Royal couple
Her Majesty the Queen, who is the daughter of a pilot, attended Regent's University in London, where she studied international relations, psychology, and art history whereas His Majesty the King is a graduate from Oxford University.
Sharing a love of the arts, the royal couple was once dubbed the 'Will and Kate of The Himalayas'.
They welcomed their first child in February 2016. Upon the birth of their son, the couple released a statement expressing that their 'happiness knows no bounds'.
Source: Youtube/Royal Fashion Channel 
Now a lively three year old, The Gyalsey's (Prince) name was not announced until two months after his birth.
When the new royal baby is born, he or she will be second-in-line to Bhutan's royal throne, however if the child is a girl, she could be displaced by a future younger brother. 
Royal baby fever grips Bhutan once again
The awesome news were not just confined to the stadium. In fact, prayers, good wishes and congratulations poured in from all across the country for Their Majesties.
Now the royal baby fever is gripping Bhutan for the second time since the birth of the couple's first child in 2016.
"The first Royal child is a prince. Now our prayers and expectations are for a princess,"said Dorji Dema from the district of Zhemgang.
As 2019 is drawing to a close soon, His Majesty's announcement has certainly left the country in delight and given every fellow Bhutanese a renewed and exciting reason to look forward to the approaching Iron Male Rat Year.
---