Singapore to train Bhutanese youths under new pact
The first MoU to strengthen the Technical & Vocational Education & Training (TVET) between MoLHR and ITE-Education Services was signed on May 15, 2017, in Thimphu during Singapore's Foreign Minister, Dr. Vivian Balakrishnan's visit to Bhutan.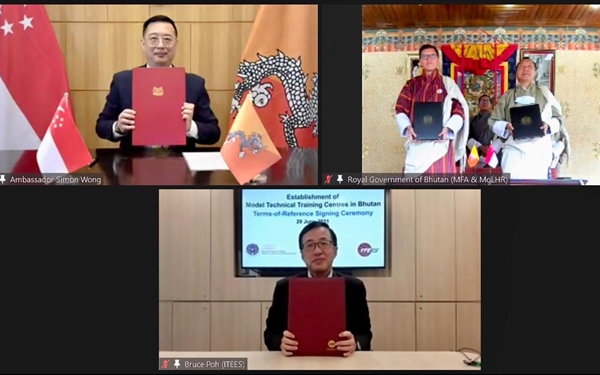 Singapore and the Royal Government of Bhutan on Tuesday (30 June) signed a Memorandum of Understanding on the establishment of Model Technical Training Centres (MTTC) in the Technical Training Institute (TTI) of Thimphu and TTI of Khuruthang.
The agreement was signed by Sonam Tobgay, Director of Bilateral Affairs, Ministry of Foreign Affairs of Bhutan, and Simon Wong, Ambassador of Singapore to Bhutan in Delhi. The pact was signed virtually and also aimed to support the post-Covid economic recovery.
Concurrently, Sonam Wangchuk, Secretary, Ministry of Labour and Human Resources (MoLHR) of Bhutan and Bruce Poh, Chief Executive Officer, Singapore's Institute of Technical Education Services (ITE-Education Services) signed the Terms of Reference (TOR) detailing the areas of support. The ITE-Education Services of Singapore will provide technical assistance to MoLHR in developing Modal Technical Training Centers.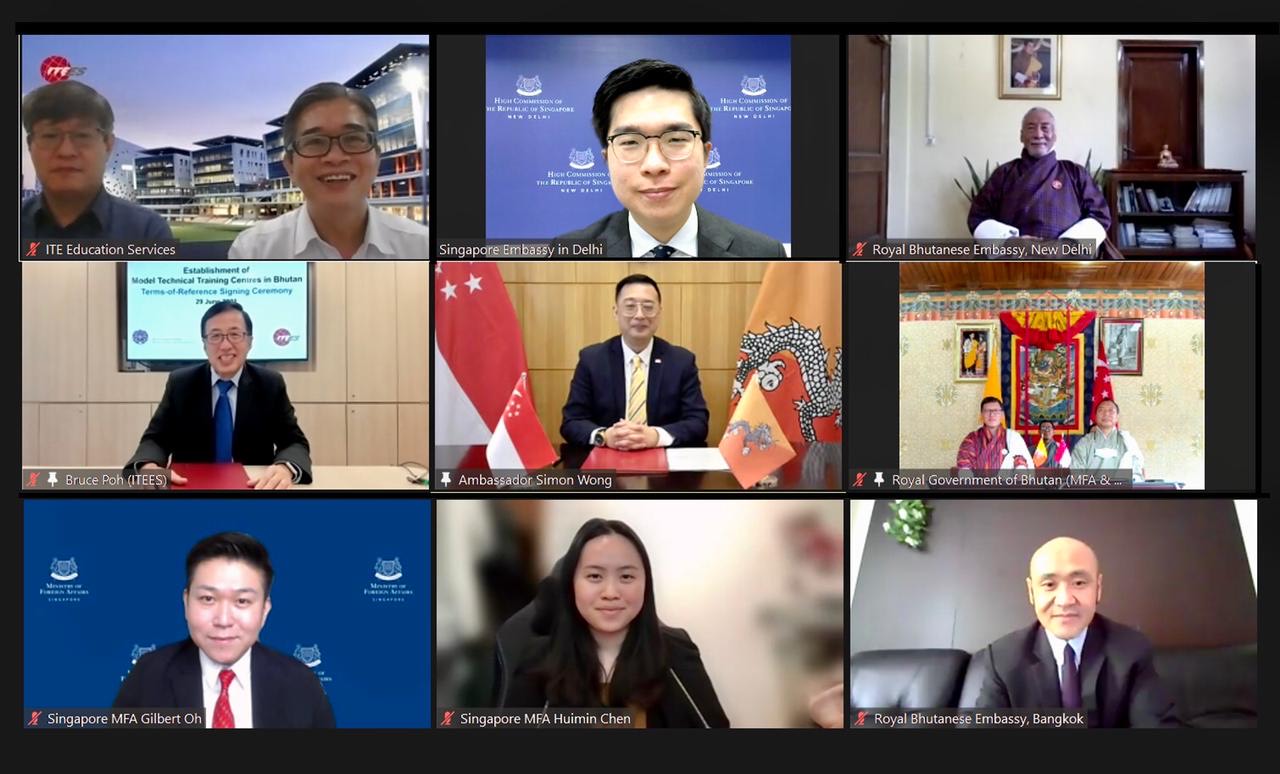 The agreement with Bhutan stipulates that Singapore will establish the two MTTCs which will offer high-quality practice-oriented skills training for Bhutanese youths to meet the growing demand for skilled manpower in Automotive Technology (AT) and Facility Technology - Mechanical and Electrical (FT-ME).
The Automotive Technology (AT) programme will be implemented at the MTTC that is to be set up in Thimphu and the  Facility Technology - Mechanical and Electrical (FT-ME) programme will be implemented at the second MTTC in Khuruthang. The two centres are expected to train up to 160 students every year.
"His Majesty the King's clear and forward-looking vision for Bhutan, and his support for the Singapore-Bhutan relationship, have made this initiative possible. The agreement we signed today on Technical and Vocational Education and Training, reflects our two countries' shared understanding that human capital is a key resource," Wong said.
"It is timely for us to launch this collaboration now, as we look to emerge from the global pandemic. It will complement Bhutan's broad efforts in enabling the youth of the nation to fulfill their potential," he emphasised.
It was King Jigme Khesar Namgyel Wangchuck's visit to Singapore's Institute of Technical Education (ITE) in 2015 which resulted in increased exchanges between Bhutan and Singapore on technical and vocational education and training. 
Bhutan and Singapore established diplomatic ties in 2002, and since then, the two countries have enjoyed very warm relations.
King Jigme Khesar and Queen Jetsun Pema were among the foreign dignitaries who attended Singapore's late founding father, Lee Kuan Yew's State Funeral in Singapore in March 2015.
Bhutan is also gaining popularity as a tourist destination among Singaporeans due to the availability of direct flights. On 29 Aug 2012, Bhutan's national carrier, Royal Bhutan Airlines (Drukair), flew its inaugural flight to Singapore from Paro Airport.
---