12 Things To Know About Bhutan's New Prime Minister Dr Lotay Tshering
Dr Lotay is the president of the Druk Nyamrup Tshogpa (DNT) party that won 30 of the 47 seats in Bhutan's third general election held on Oct 18.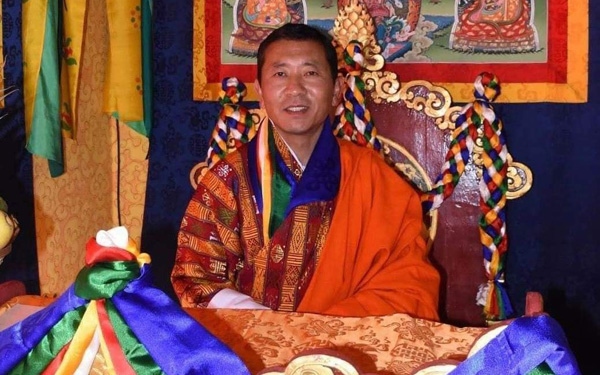 (Source: Facebook/PMO Bhutan)
[Update on Jan 14, 2019]: This article has been updated with an additional point, making it "12 Things To Know About Bhutan's New Prime Minister Dr Lotay Tshering".
By Kinley Yangden | Daily Bhutan
Bhutan's Dr Lotay Tshering was officially sworn in as the country's new prime minister last Wednesday (Nov 7) in a traditional ceremony held in the capital Thimphu.
His Majesty King Jigme Khesar Namgyel Wangchuck conferred Dr Lotay and his party members ceremonial scarves. Dr Lotay is the president of the Druk Nyamrup Tshogpa (DNT) party that won 30 of the 47 seats in Bhutan's third general election held on Oct 18.
Other political members who received ceremonial scarves last Wednesday included all 10 ministers of the newly-formed cabinet, leader of opposition party Druk Phuensum Tshogpa (DPT) Dr Pema Gyamtsho, and the speaker of National Assembly.
Here are 12 things to know about Dr Lotay, 50, Bhutan's third democratically elected prime minister:
1. He was the only practising trained urological surgeon in Bhutan
Dr Lotay received his medical degree in 2001 from Dhaka University in Bangladesh. In 2007, he pursued a fellowship in General Urology at the Medical College of Wisconsin in Milwaukee under the World Health Organisation Fellowship. Upon his return to Bhutan, he was the only practicing trained urologist in Bhutan. 
In 2010, Dr Lotay obtained a fellowship in Endourology, at the Singapore General Hospital in Singapore and Okayama University in Japan.
He served as a consultant surgeon at Jigme Dorji Wangchuck National Referral Hospital (JDWNRH) and Mongar referral hospitals, and was a Consultant Urologist in JDWNRH for about 11 years.
2. He spends 15-18 hours in the hospital and forgoes weekend breaks
Dr Lotay is a household name among many Bhutanese citizens. The surgeon is known to spend almost his entire day performing surgeries in the hospital.
One of Bhutan's notable bloggers, Chablop Passang Tshering, recounts his experience with Dr Lotay when he accompanied his wife to the hospital for a gallstone removal surgery.
According to a report in The Bhutanese, Dr Lotay is said to even spend his weekends in the hospital to serve people and even allowed people to stay in his house when he was based in Mongar. In addition, the surgeon said he does not receive money for his service from any agency. 
3. Appeared regularly on TV
Dr Lotay used to appear regularly on a medical program by Bhutan Broadcasting Service (BBS), advising people to take better care of their health. He also took on-air calls and gave advice in addition to a busy medical schedule. 
4. He also holds an MBA
On top of all his medical accolades and qualifications, Dr Lotay also holds a Masters in Business Administration from the University of Canberra in Australia. He obtained his masters in 2014.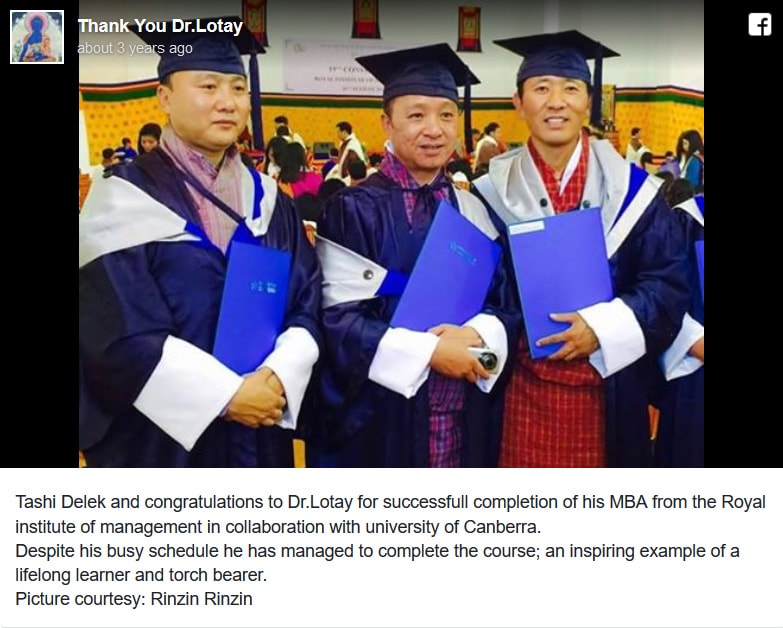 5. And was part of the King's mobile medical unit
Besides his regular work at the hospitals, Dr Lotay also followed His Majesty on all his royal tours, setting up camps in remote villages to provide medical check-ups, endoscopy, surgeries, dental and eye check-ups, and gyno operations.
He was head of the Kidu Medical Unit between 2014 and 2018.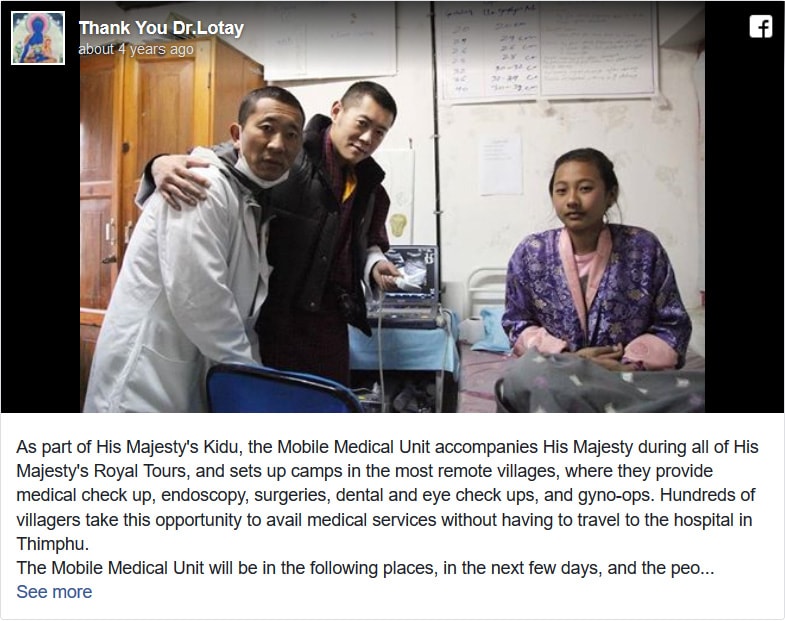 6. He also volunteered his services after the Nepal quake
When the devastating 7.8-magnitude earthquake hit Nepal in 2015, Dr Lotay was among a group of 37-member medical team who went there to offer medical assistance for the earthquake relief operations. He was the technical coordinator and chief surgeon for the mission.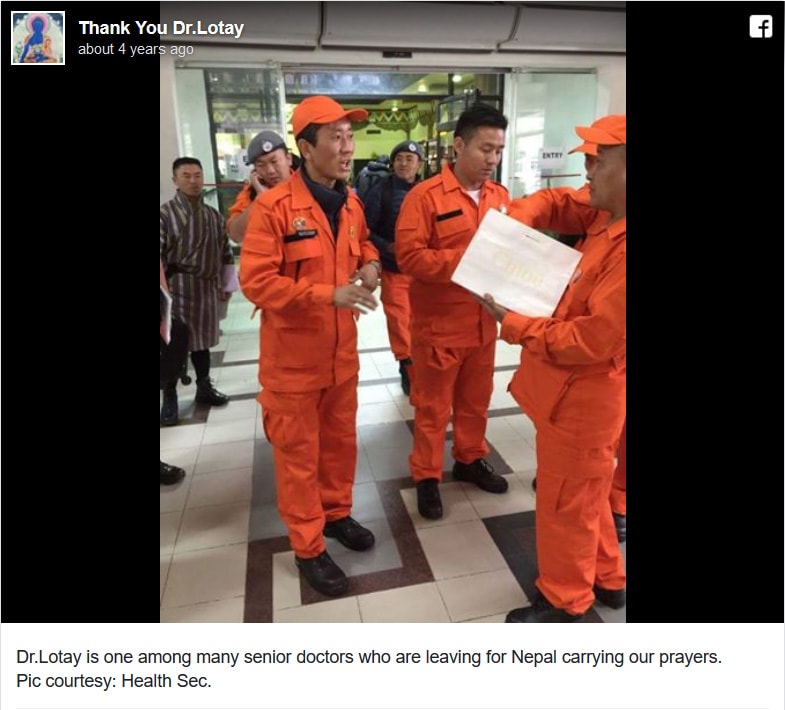 7. "Heart Son of Bhutan"
Dr Lotay was conferred the Druk Thuksey (Heart Son of Bhutan) by His Majesty last year for "selfless and dedicated service to the Tsawa-Sum (our King, our country and our people)."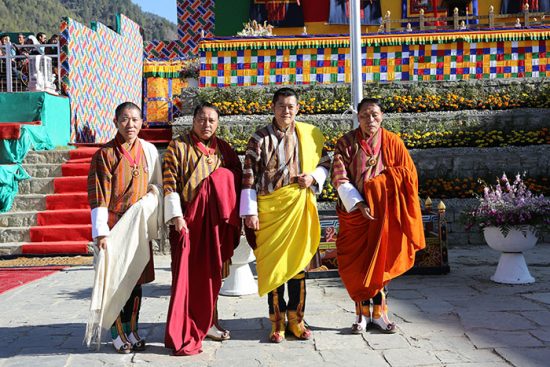 From left: Dr Lotay Tshering, Dasho Penjore, His Majesty The King, and Lyonpo Chenkyab Dorji at the award ceremony where they received the Druk Thuksey last year. (Photo: Kuensel)
He told Kuensel: "I've done nothing great to receive this prestigious award from the throne. This award also goes to my team who put their hard work and dedication in delivering services to the people," he said.
"The award will further inspire me to work harder in the service of the society."
8. Received an honorary award from His Holiness The Dalai Lama
For his services, Dr Lotay was awarded the Unsung Hero of Compassion Award from His Holiness The Dalai Lama in 2005.
This was just one of the many accolades he has received. 
9. Inspired by a poem by Mother Teresa
Many Bhutanese liken Dr Lotay to the Medicine Buddha and are inspired by his deeds and commitment. As for the surgeon himself, he found inspiration from Mother Teresa, a Roman Catholic nun who dedicated her life to serving the poor and destitute around the world.
He once told BBS that a poem title "Do It Anyway" by Mother Teresa inspired him into doing what he does.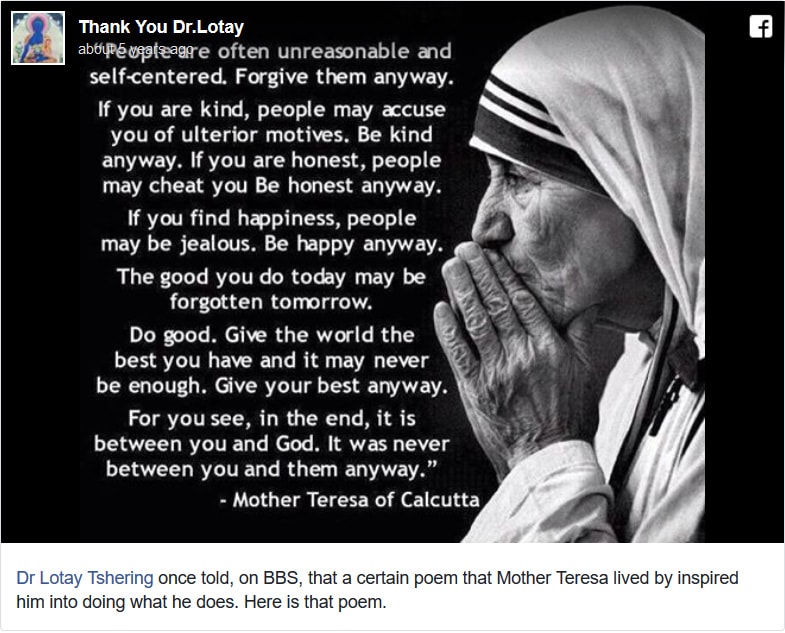 10. Paid millions to the government to resign from civil service
His interest to work at the policy level prompted him to leave his medical profession. In 2013, Dr Lotay voluntary repaid the government 6.2 million Nu in training obligation so that he could resign from civil service to join politics.
He told Kuensel: "If it was not for my passion and urge to serve the country at a different level, I would not have resigned by paying such a big amount." 
He also added that as a doctor, he could only address the problems of individual patients and that systematic problems can be fixed only at the policy level.
11. Became party president for DNT just five months before election
Dr Lotay was elected as the president of the DNT party just five months before the third general election in October. In May, a total of 1,155 supporters voted for him as the party president and candidate for South Thimphu when the former president Dr Tandin Dorji. 
After being elected as party president, Dr Lotay successfully led his party into the general election by winning 30 of 47 seats.
12. He still sees patients despite being prime minister of Bhutan
In a recent interview with BBS on Jan 9, PM Dr Lotay Tshering said he continues his medical practice and sees patients despite taking on his new role in Parliament. 
He said: "I was not born a doctor, but I will die as one.
"I won't leave my practice for anything. All that I am today is because of that, even becoming a Prime Minister. Therefore, even today I see patients and conduct surgeries every Thursday and Saturday morning."
---