Applying Buddhist Values in Life: Discover Happiness In Bhutan Through Meditation
His Eminence Khedrupchen Rinpoche speaks about a workshop that tourists can partake in to apply Buddhist concepts into work.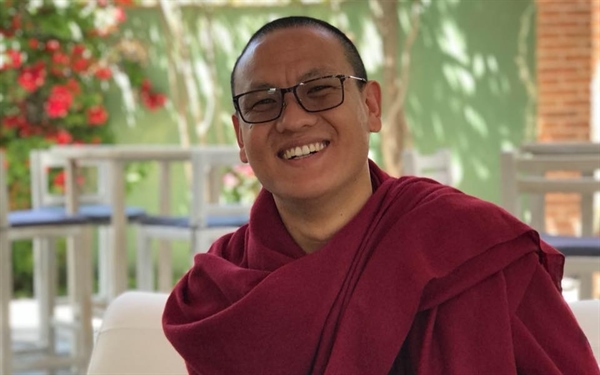 (Source: Facebook/Khedrup Rinpoche)
By Kinley Yangden | Daily Bhutan
Are we becoming too busy or distracted in our lives and forgetting to be mindful? How do we find peace amidst the chaos of a hectic life? And when it comes to our career or business, are we applying enough compassion to the people we deal with and to ourselves when situations are out of our control?
Together with Bhutanese tour operator Druk Asia, His Eminence Khedrupchen Rinpoche of Sangchen Ogyen Tsuklag Monastery in Trongsa is holding a programme for visitors who are interested in seeking deeper understanding of joy and happiness in the modern world, and to apply these practices into their busy daily lives. 
The Neykor Tour: A Journey of Spiritual Immersion in Bhutan is a seven-day trip to Bhutan where three days are spent with Khedrupchen Rinpoche himself, where he has personally designed mini workshops, dharma talks, small meditation sessions and awareness programmes. The retreat is open to everyone, including non-Buddhists who are keen to apply mindfulness and compassion in their work lives or businesses.
Druk Asia said they approached Khedrupchen Rinpoche to customise this programme after seeing the winter meditation camp that he held for youths, and believed that it could be expanded to travellers too.
The first tour will begin in August. Besides time spent with Khedrupchen Rinpoche in central Bhutan, visitors will also have free time to visit must-see landmarks in Bhutan, such as Punakha Dzong, Taktsang Monastery, Kyichu Lhakhang and so on.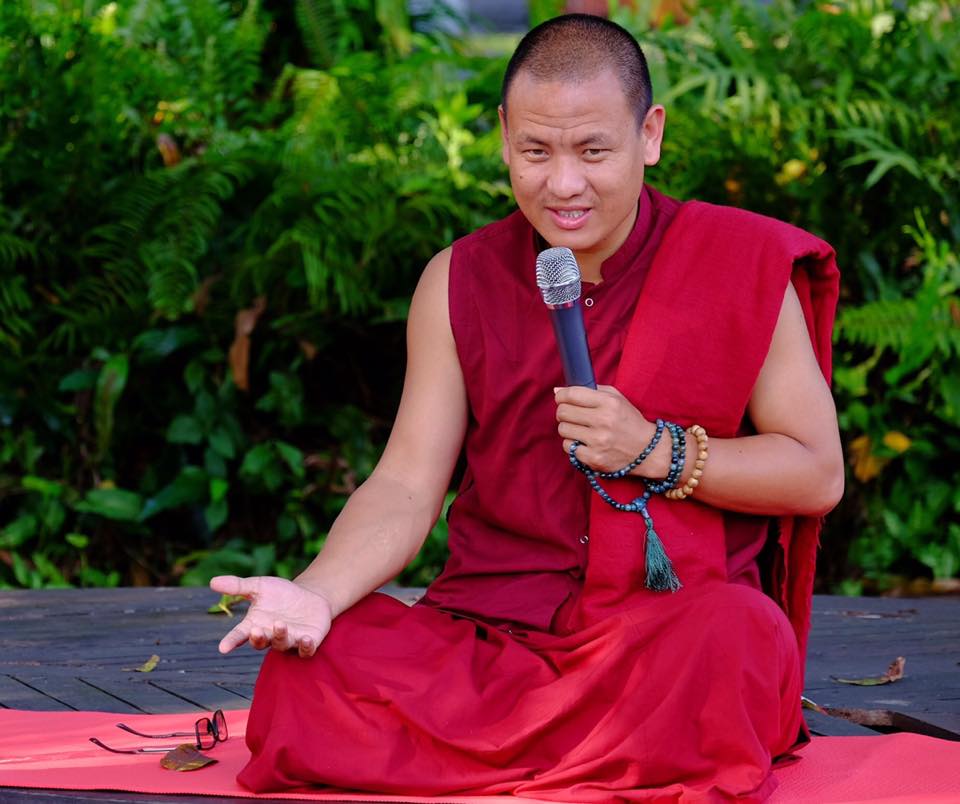 Khedrupchen Rinpoche has given talks on implementing Buddhism in the modern world. (Photo: Facebook/Khedrupchen Rinpoche)
Daily Bhutan speaks to Khedrup Rinpoche to find out more about the Neykor Tour and what he hopes to deliver:
What can visitors expect from their time with you during the Nekyor Tour?
There are five things that visitors can learn by attending the retreat in the Neykor Tour.
The first quality that they can learn from us is mindfulness and awareness, as well as a meditation system that they can implement to become better people and better entrepreneurs. Mindfulness is mandatory in our lives. Many people have a lot of plans and are very busy. Due to the success of their businesses, they usually have no time for other things and tend to lose focus. So when they don't have a focus, they lose all their credibility because their work becomes incomplete and incomplete things are never considered to be of great quality.
The second thing is for visitors to learn how to become a bodhisattva, a loving and compassionate person. We will be practising bodhicitta meditation – bodhi means "enlightened" and citta refers to "heart". Bodhicitta, the basis of Buddhist teachings, is about cultivating loving kindness within oneself and with that, people will tend to not be wrathful towards each other. For example, if you're a boss of the office and if your worker doesn't do his job properly, if you learn to be kind to him, what do you think will happen? So we are going to teach them how to practice bodhicitta every day in their lives.
The third value that visitors can take away is how to be patient. The biggest problem today is doing businesses impatiently, fear of being manipulated or taken over. Patience comes from confidence and the two are inseparable.
The fourth thing that we will cover is how to generate loving kindness, or metta meditation. Loving kindness is the basic foundation of human qualities. Who is the person we need to love? Who do we need to be kind to? How does this generate from yourself?
And the last thing that we will go through is emptiness, how to deconstruct and demolish problems in your every day life. The concept of emptiness can help us to refresh ourselves whenever we are faced with problems.
Why do you think we need to learn these things and does it matter?
The values that I plan to teach in the Neykor Tour are very worthwhile to have in our lives. They are important and circumstantial things that we need to have to lead a purposeful life. Such values are needed in order to lead a happy life.
Why the theme "Buddhism in business"?
The reason for "Buddhism in business" is because it is sustainable. In Theravada tradition, practitioners are supposed to be monks. In Mahayana tradition, bodhisattvas come in different forms: They can be a businessman, a fish, a dog, anything. If you are putting the seeds of a bodhisattva in each individual businessman, how many bodhisattvas will you get in the world? How many peacemakers will there be?
The purpose of the dharma is to make everyone peaceful. If each businessman turns out to be a peacemaker, they don't need to be a religious person or a monk, the world will change. The world today is running because of business and commerce. Everyone is a businessman or doing something for their company. This person will also inspire his team of workers, they will have a connection with one another, they will work not as an individual but as a community. The spirit and energy of the working space itself will change.
This is why I find it very meaningful to teach people how to implement these qualities in the business world. They have more advantages than being in a monastery.  
Why are you organising this programme?
Our focus is to help whoever attends the retreat to become a better person and better entrepreneur. The programme is part of my plans in starting Heruka House Centre, a centre that provides dharma talks, retreats and workshops for lay people to learn about the wisdoms of Buddhism. Instead of having a physical centre, I am looking to have Heruka House Centre as a community or conceptual centre that I hope to bring outside of Bhutan.
Our purpose is not to convert anyone to Buddhism. The values we teach is simply to provide people with the values that are within Buddhism and our target is really to make the world a better place, no matter what religion you believe in.
Who do you encourage to join the Neykor Tour?
This programme is not just for business owners. I encourage general people to join and anyone who is concerned about human qualities and human values can join this. This retreat is not particularly for businessmen, not particularly for parents or children. Anyone can join.
Everyone has different targets in life, but when you come to the ultimate point, we all want to be happy and lead a happy life. That is the ultimate purpose of every living being, whether you are religious or non-religious. Anybody, a businessman, a family person, can join this trip.
Will the visitors be staying in the monastery?
No, they will be put up in hotels as part of their tour package. My monastery is a vegetarian monastery, so meals there will be simple. But guests can choose to eat at their hotels if they wish to.
The 7 Days 6 Nights Neykor Tour: A Journey Of Spiritual Immersion with Druk Asia starts from US$2,999 per person and includes flights, taxes, visa, accommodation, meals, a licensed tour guide and transportation. More information on the tour can be found here or email [email protected] for queries. 
---
---