Empowering youths on social issues and mental health
Bhutan conducted a youth program to tackle pressing issues such as adolescent sexual reproductive health and rights (SRHR), gender-based violence (GBV), and mental health among young people.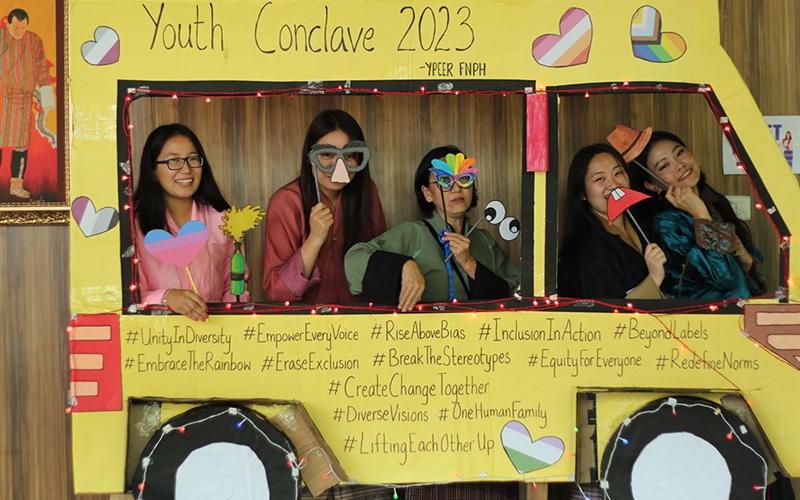 (Source: Kuensel)
To address urgent concerns related to adolescent sexual reproductive health and rights (SRHR), gender-based violence (GBV), and mental health among young individuals, while also advancing gender equity and societal transformation, the Gender Equity, Diversity and Inclusion event occurred at the Royal University of Bhutan from August 29 to August 31.
The central aim of this event was to foster cooperation between policymakers and young adolescents to confront challenges connected to SRHR. Furthermore, the event aimed to distribute advocacy materials across different platforms, including social media.
During the youth conclave program, students hailing from Arura Academy, the Faculty of Nursing and Public Health, the Faculty of Traditional Medicine, and Drukgyel Central School showcased advocacy materials.
Arura Academy students heightened awareness about escalating mental health issues encountered by adolescents, GBV, SRHR, and teenage pregnancy using impactful posters and captivating musical performances.
The event aimed to offer a platform for young individuals to express their viewpoints, build networks, forge solidarity for unified action, and, notably, perceive themselves as pivotal stakeholders in the decision-making process that addresses their own requirements, according to an official from RENEW.
Y-PEER members from the Faculty of Nursing and Public Health addressed concerns related to LGBTQ+ matters, encompassing diverse gender identities, through a Pride Parade and Pantomime. These presentations emphasized the challenges of navigating a world that reinforces strict gender roles. Additionally, they employed posters to increase awareness about how GBV affects mental health.
The Faculty of Traditional Medicine engaged in discussions about the mounting problem of depression among adolescents and proposed solutions grounded in local healing methods, guided by the Sowa-Rigpa approach.
Drukgyel Central School contributed to the awareness campaign by displaying a comic book tackling GBV, a brief film exploring mental health, and a musical drama centered around adolescent SRHR.
Various activities like pantomime, poster displays, theatrical performances, and impromptu performances were organized around distinct thematic spheres connected to SRHR, GBV, and mental health. Panel discussions and open debates further enriched the event.
The event's intention was to equip young individuals with decision-making abilities, establish enduring partnerships with schools, and create a supportive environment for youth advocacy.
The event attracted a diverse array of participants, including students aged 16 and above from multiple schools in Thimphu, Paro, and Wangdue. Additionally, Queer Voices, PRIDE Bhutan, Y-PEER, Traditional Medicine students, Arura Academy, Druk Adolescents Initiative on Sexual Awareness Network members, Humans of Thimphu, and representatives from the Faculty of Nursing and Public Health were in attendance.
This event, organized by RENEW, was made possible through collaborative endeavors involving Helvetas, Australian Aid, IPPF, Nyamdrel, the European Union, the Institute of Democracy and Electoral Assistance, Samuh, and MAVA (Men Against Violence and Abuse).
Article first published on Kuensel.
---
---