Southeast Asian Company Invests Over US$100,000 In Bhutanese Start-up Drukfood
The investment includes a mix of cash and investment-in-kind.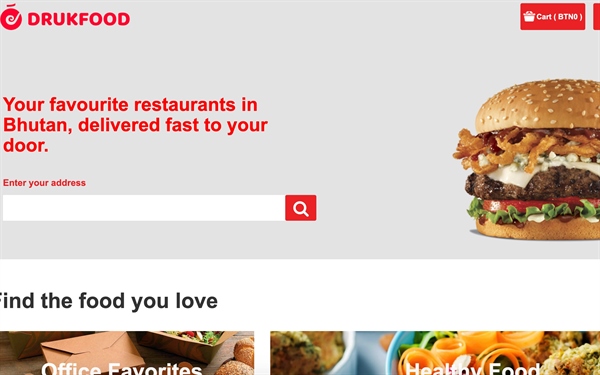 (Source: Drukfood.com)
By Kinley Yangden | Daily Bhutan
Southeast Asian start-up Meal Temple Group has agreed to work with Bhutanese start-up Drukfood in expanding their presence in Bhutan.
They have committed to invest and partner with local start-up DrukRide to offer food delivery in the Kingdom under the brand Drukfood.com.
Meal Temple, which originated in Cambodia and has expanded to Laos and Myanmar in the last year, will deploy its tech and operations locally through Drukfood.com, starting from Thimphu.
A spokesperson told Daily Bhutan that the agreement between DrukRide and Meal Temple amounts to more than US$100,000 and includes a mix of cash and investment-in-kind. The two start-ups were in discussion for the last six months before agreeing to move forward together.
Besides tech operations, Meal Temple will also be assisting DrukRide with marketing, go-to-market, branding and operations.
According to a press release, more than 80 restaurants are already working with the team in Bhutan to offer meals to customers throughout Thimphu. Deliveries will leverage on a network of thousands of drivers that DrukRide had collected through its ride hailing service My DrukRide.
Founder of DrukRide, Jigme Thinley Yoezer Rinzin, said the combination of local knowledge and Meal Temple's experience in other similar Asian markets will help to "address hundreds of daily orders within the next few weeks".
"We are also proud to participate in Meal Temple Group's vision to address more than 100 million customers in frontier Asian markets in the next 12 months," said Jigme Thinley Yoezer Rinzin.
The partnership may also offer a range of new services that Meal Temple is trying out in other markets. Meal Temple has also switched to a fleet of electric vehicles in Cambodia in an attempt to lead the way to cleaner cities.
The Drukfood mobile app is currently available for download on Android and iOS devices. The website is also currently up and running.
---
---