The Significance Of Offering Butter Lamps In Bhutan
The lighting of butter lamps is an act rich in symbolism in Buddhism.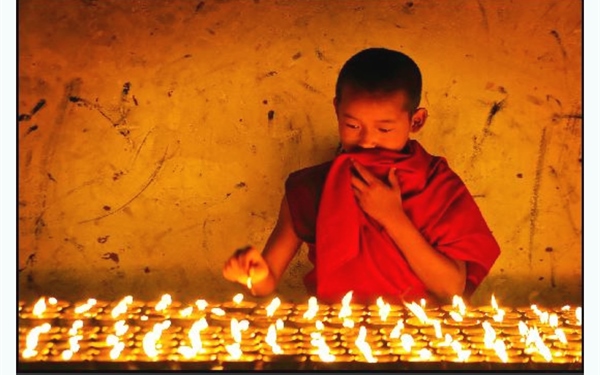 (Source: Tripadvisor)
By Zann Huizhen Huang
Butter lamps, found throughout many monasteries and temples in the Himalayan region is more than just a 'tool' to illuminate a place.
In fact, the lighting of butter lamps is an act rich in symbolism in Buddhism. Traditionally lit using yak butter, it is now sometimes substituted by Vanaspati ghee or vegetable oil.
Traditional way of lighting butter lamps
Regarded as a spiritual practice, the traditional way of lighting butter lamps starts with washing one's hands. A mask is worn to prevent one's breath from 'contaminating' the purity of the butter lamp. Next, old butter is removed from the chalice using a clean piece of cloth and a new wick of pure cotton is placed within.
The entire process is carried out in a very meditative manner, meant to draw one in both physically and spiritually.
Symbolism of lighting butter lamps:
1. Dispelling darkness and ignorance
First and foremost, teachings in Buddhism consider the lack of wisdom and ignorance as the source of many problems in the mundane world and this is metaphorically presented as darkness.
On the other hand, light stands for the liberation of all sentient beings from the darkness of ignorance. Therefore, the act of lighting butter lamps acts as a symbolic way of eliminating darkness and ignorance from this world.
Looking back into the past where there was no electricity, lighting butter lamps, as opposed to lighting firewood or coal which emit smoke and pollutants, was deemed a better way to illuminate any place.
Source: Youtube/Pawel Kowalczyk
This simple act is also much cherished by the Bhutanese as an offering to the Buddha. As they light a butter lamp, they recite and pray for all sentient beings as follows:
"As I lit this butter lamp I am lighting a wisdom for the world, I am dispelling the darkness of the world by dispelling the darkness in this room."
Thus, think of a single butter lamp as a microcosm of the universe, and that by lighting it, the entire universe is illuminated with positive energy.
2. Impermanence of all things
The flickering of a butter lamp flame holds great significance for it is an embodiment of the fluid nature of any situations in life and that all things, good or bad, will come to pass.
3. Inter-dependency of everything
The precept of inter-dependency in Buddhism is also exemplified by the lighting of butter lamps.
Without a chalice, there would be no place to hold the butter, and without butter, there would be no place to hold the wick, hence there will be no flame.
This series of steps reminds one of the theory of inter-dependence and by applying it to how we treat Mother Nature for instance, we know that we reap what we sow and therefore, we must respect and protect our environment.
And by extension, if we continue to light the second lamp using the first one, we can repeat our actions until the third, fourth, fifth and more butter lamps are illuminated. This is again representative of how all things in this world are inter-dependent.
Prayers for goodwill
Offerings of prayers after the lighting of butter lamps is an integral part of Buddhist tradition.
In Bhutan, the marmey moenlam is the most popular of all prayers in which one's merits are dedicated to all other sentient beings, for their liberation from darkness.
---