70-year-old sound healer promotes sound healing in Bhutan through gong therapy
The journey of a passionate sound healer infusing the kingdom with sound healing through the love for gongs.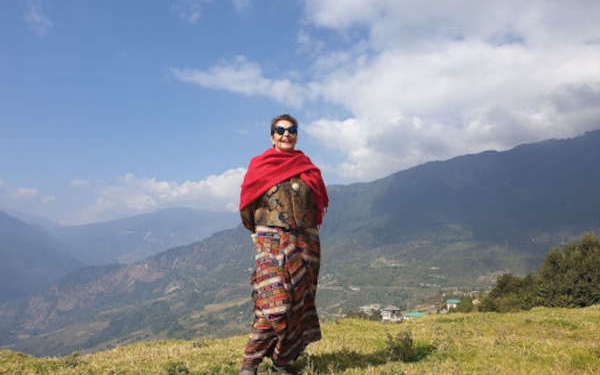 Frances Bak is the first tourist to set foot in the Land of the Thunder Dragon since Bhutan closed its border in March 2020. The 70-year-old American has completed her three-week quarantine and has begun touring the country. It is her second time visiting Bhutan with MyBhutan. But she is no ordinary tourist as her purpose in Bhutan is beyond mere sightseeing. 
Known as a sound healer, Frances aims to promote gong therapy to every corner of Bhutan. During her first trip to Bhutan in 2019, she visited 18 of the 20 districts in Bhutan, sharing her passion for sound healing. 
She first encountered the gong in Bali and has since toured numerous Asian countries with her gongs including Vietnam and Bhutan. 'To heal the planet, one vibration at a time' was her motto. On how did she ended up in Bhutan? Well, she literally just woke up one day and thought to herself, 'I'm taking my gong to Bhutan'. A country that she knows nothing about. 
But, it's also the country that transformed her life and helped her understand a very different way of living. 
Frances plans to stay in Bhutan for three months to continue promoting sound healing in the kingdom. She hopes that she'll be able to develop educational programmes in sound healing for the people.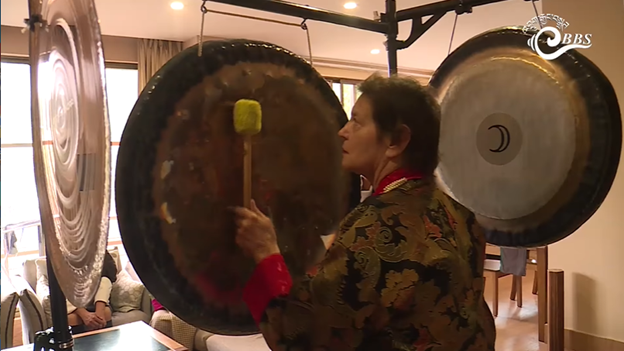 Screengrab from BBS
What is sound therapy?
Using sound as a form of healing dates back to ancient cultures as early as ancient Egyptian, Greek and Roman times. Sound healing is seen as a therapeutic application of sound frequencies to the body or mind of a person, with the intention of bringing them into a state of harmony. Some of the popular instruments used in sound meditation are singing bowls and gongs.
What is gong sound therapy?
Gong meditation is a unique type of sound therapy that involves using the therapeutic sounds and vibrations of the gong to bring healing. The practice is also sometimes known as "gong bath" as participants are "bathed" in the meditation gong sound waves.
Some of the benefits associated with gong meditation include relaxation, emotional release, reduce symptoms of depression, improve overall mood and stress release. Like all sound therapy, gong meditation allows the brain to relax and process thoughts and emotions. As a result, one will feel calmer, happier and less anxious after the sound healing session.
Singing bowls meditation is more common in Bhutan where sound frequencies created by the singing bowls restore the flow of energy. 
Sound is increasingly being used as a tool to promote health and wellness throughout hospitals in the UK and U.S. In fact, research has shown that sound is now used in a variety of medical procedures, including breaking up kidney stones and detecting cancer cells. 
Will gong therapy be a thing in the future for Bhutan? Well, it's anybody's guess. But therapy or not, gongs have always been a part of the deeply spiritual Bhutanese culture.
To visit Bhutan
If you are wondering how Frances made her way to Bhutan all the way from America, below are the current criteria to enter Bhutan:
1. You have to undergo two-week quarantine (if you are fully vaccinated), or three-week quarantine (for the unvaccinated).
2. You need to book your trip through a licensed Bhutanese tour operator.
3. Pay a Sustainable Development Fee of USD65 per person per night for the 14 or 21 days.
4. Entry is only for those travelling to Bhutan by air
5. Minimum Daily Package Rate will be applicable for the entire tour duration after your quarantine.
6. Bear the cost for all COVID-19 tests.
7. You need to follow the COVID-19 protocol and TCB guidelines when you're in Bhutan.
8. You need to purchase travel insurance with COVID-19 coverage.
9. Produce a COVID-19 negative RT-PCR test certificate by a certified laboratory no more than 72 hours before embarking from the country of origin.
---
---