Even the Bhutanese are riding the NFT wave
2021 is known to be the year of the NFT craze.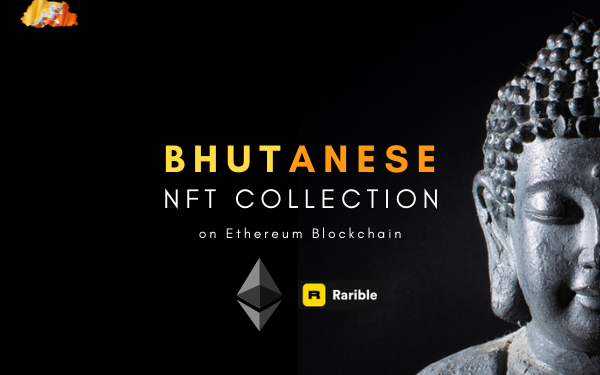 What is Non-Fungible Token (NFT)?
A non-fungible token is a unique and non-interchangeable unit of data stored on a blockchain, a form of digital ledger. It's currently popularly used to record ownership for things like art, collectibles and real estate. 
Though NFTs have been around since 2014, 2021 was the year that they boomed. Let's just say, the world has changed when Mike Winkelmann, aka Beeple, sold his NFT, Everydays: The First 5,000 Days (2021), for a whopping $69 million.
Ever since then, artists and investors from around the world have been riding the NFT wave. And even the Bhutanese are not missing out on the hype.
Promoting Bhutanese Arts and Crafts through NFTs
Kushap, a Bhutanese civil engineer currently residing in Australia started his interest in cryptocurrency in 2017. As someone who always has a flair for creativity, the 29-year-old experimented with minting his first NFT in 2019. He managed to sell his dzong photograph for approximately USD50. 
Subsequently, in 2021, he illustrated a thunder dragon and minted it on the Rarible platform. A former student from Stanford University got in touch with him through social media and requested for Kushap to sell him the NFT. He sold the thunder dragon NFT for 0.16 ETH (~USD480).
That was when he realised that there is potential in the NFT space to share about the Bhutanese arts and crafts. When Kushap was in Australia, he often receive calls from his Bhutanese artists' friends to help them promote their artworks. The COVID-19 pandemic has made it extremely difficult for Bhutanese artists to sell their artworks.
Recognising that it is challenging for Bhutanese artists to showcase their works and costly for them to hop onto the NFT train, Kushap and his friend Namgyel Dorji decided to create a centralised NFT collection using a smart contract to help Bhutanese artists sell their artworks. 75% of the proceeds from any NFT sold will go towards supporting the income of the original artist. The remaining 25% of the proceeds will go back to the project where the team aims to showcase these Bhutanese Arts and Crafts NFTs in a metaverse in the future. 
For a country as isolated as Bhutan, these NFT markets have definitely provided a platform for Bhutanese artists to share their creativity and artworks while earning an income. Even those who have not stepped foot into the enchanting kingdom can now own a piece of its precious arts and crafts.
About the Bhutanese artists
Penjor Dorjee
It is said that people who paint are the ones who dream the most. Since a very young age, Penjor Dorjee has been living that dream.
After 6 years of studying traditional painting at Trashiyangtse Institute of Zorig Chosum and 13 years of extensive painting experience, he noticed a very big problem.
He found that the chemically produced paints and colours used for paintings were very harmful to our environment in addition to being expensive. Penjor then realised that the solution was to revert back to something more eco-friendly and natural.
That led to the founding of Natural Pigment Colour Production (formerly Green Pigment Arts). Penjor produces not only authentic Bhutanese art but also unique paintings using only natural pigments. The paintings are created on traditional paper and canvas using natural dyes which are made from pigments extracted from different sources like trees, plants, flowers, and vegetables. Moreover, the durability of the painting is 10 times longer than the ones using synthetic paints. Through his research and practice since 2014 and with support from various organisations, he realised that this approach is more practical and sustainable.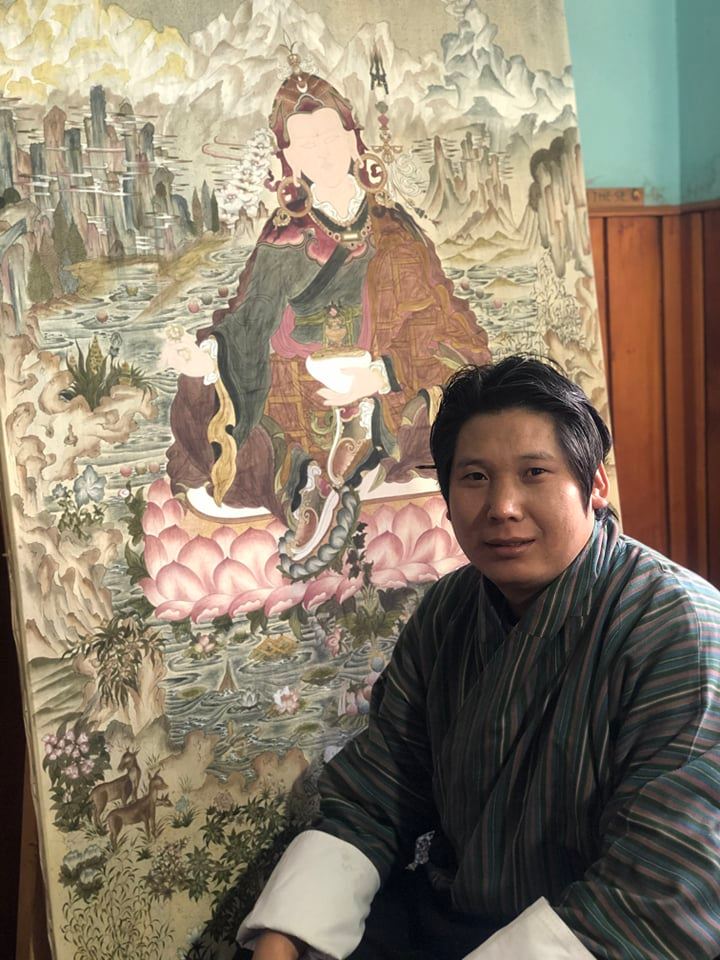 His artworks communicate larger than life issues while keeping his work authentic and beautiful. Penjor is truly a pioneer, being one of the first Bhutanese artists to promote traditional art using organic pigments. 
His artworks were selected to be part of the Bhutanese Arts and Crafts Collection. The first buyer of the NFTs will also own the physical original artworks.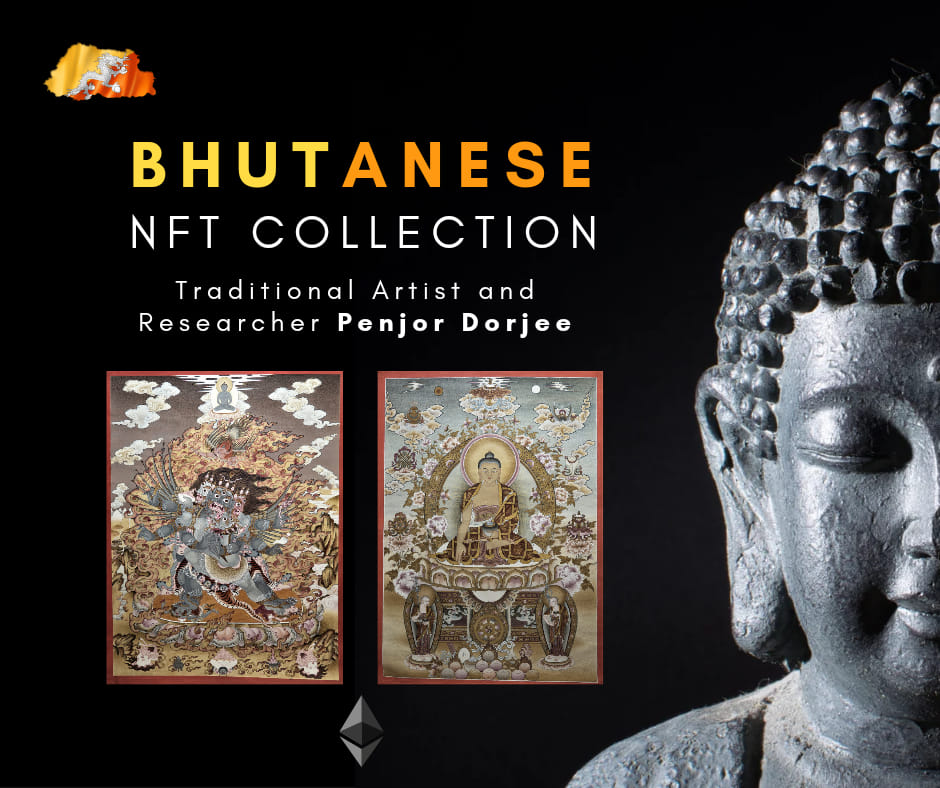 You can check out two of Penjor's NFTs on Opensea:
https://tinyurl.com/vajrakilanft
https://tinyurl.com/lordbuddhanft
Check out the Bhutanese Arts and Crafts NFT collection on Opensea
How to be a part of the Bhutanese Arts and Crafts NFT collection
The team will be gradually featuring different Bhutanese artists, one at a time. 

If you are a Bhutanese artist who is keen to get your artworks minted as NFTs on the collection, you may submit an application for consideration.
About Bhutan's 13 Traditional Arts and Crafts (Zorig Chusum)
Painting (Lhazo) is just one of the 13 traditional arts and crafts of Bhutan. These 13 ancient crafts are an integral part of the Bhutanese culture. The 13 different arts and crafts were categorised in the 17th century during the reign of the fourth desi (secular ruler), Tenzin Rabgye. 
You can find these beautiful traditional crafts in every nook and cranny of the kingdom from the moment you arrived at Paro International Airport.
---
---