Nightlife in Bhutan
The nightlife is delaying the day by engaging with fun and recreational activities at owl hours. Thimphu Nightlife could fascinate you.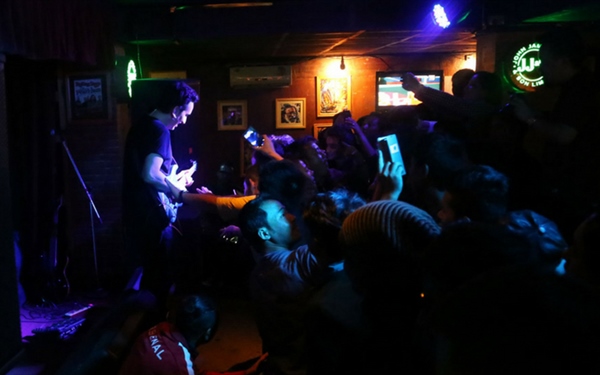 Bhutan is known as the last Buddhist kingdom in the world. Thus tourists perceive that Bhutanese would be least open to nightlife activities and facilities. The story in real life is different. Bhutanese people do have a sense of entertainment and recreation after dusk.
If tourists after a long day of sightseeing and hiking seek a place to relax and rejoice the nightlife of the capital city of Bhutan, there are numerous pubs, clubs, bars, karaoke and Drayangs. These places are open throughout the weekdays except on Tuesdays. Tuesday is considered as the dry day therefore if you wish to stroll or bar hop on Tuesdays, it will be a major turnoff for the midnight owls.
With the rising population in an urban center, in Thimphu alone, there are different avenues to go for night outing. Ironically Thimphu city has more bars than the public libraries. Some of the most popular spots to experience nightlife in Thimphu are ;
The favourite venue for Bhutan nightlife in Thimphu among locals, tourists and music lovers is the MOJO PARK. Live bands perform brilliant music from around 9:00 pm into the night, and to top it, delicious snacks are served along with local and imported beverages. Some of the top Bhutanese band stage electrifying performance. Every weekend and on weekdays the club features local bands and bands from the region that belt out the music of all genre. 
During winter, the bonfire is lit to smitten the night with warmth along with a dose of whisky and pint of beer. In between the traditional Bhutanese rice porridge is served on the house.
What makes Mojo the Must Visit Pub in capital city of Bhutan is because of the crowd and it's location. The pub is located right at the heart of the town. The pub is visited by people from all walks of life above the age of 18. It's a great place to meet and network.
 Night Clubs
Explore the limits of your Bhutanese experience with a night spent dancing with friends and family in some of the best nightclubs in this little corner of the Himalayas. If you're looking to spend a fun-filled night with Thimphu's young rebels, rockers and ravers, nightclubs are for you. The contagious energy of Vivacity, Space and other clubs are maintained throughout the weekend as hordes of youthful patrons spend the night dancing under neon lights to reggae, rap, rock, hip-hop and more.
If dancing is not your thing – don't worry, you can sit in the lounge with likeminded people and treat yourself to a live performance as you sip on your drink or visit Thimphu club and Drayangs. These places stages live cultural show to the night owls. the dancing girls do not wear outrageous and revealing clothes nor do they resort to titillating, vulgar moves. They are modestly dressed in their tame traditional dress Kira. But that doesn't mean they are boring. Once on stage, they are naughty, precocious, cheerful and energetic, some even interacting with the live audience.
Though Drayangs are often accused of being a hub for sexual networking, it is hugely misunderstood fact. There will be no pimps to approach you, neither will there be any doorman to hold your hand and snatch any leftover money from you like the tip. Thimphu is the safest town to stroll around at any hour of your 24 hours.
Note: The cost of entry into these nightclubs is quite low (approximately Nu 250 or USD 5). These places are usually safe for tourists but avoid tussles with the younger, raucous boys if you don't want to get into trouble.
 Writer Tshering Denkar