PM Narendra Modi conferred with Bhutan's highest civilian award
The award was conferred on PM Modi on Bhutan's 114th National Day held at Tashichho Dzong, Thimphu.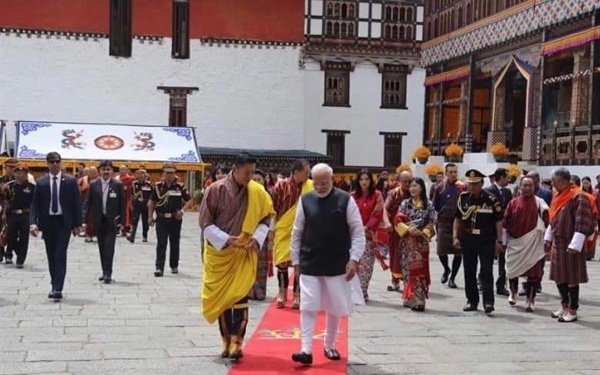 Prime Minister Narendra Modi is the first foreign head of government to receive Bhutan's highest civilian award.
King Jigme Khesar Namgyel Wangchuck, conferred honour on PM Modi for his outstanding contribution to bilateral relations and his services to the Bhutanese nation and people.
Prime Minister Narendra Modi on Friday expressed gratitude towards the King of Bhutan for conferring on him Bhutan's highest civilian honour, the Order of the Druk Gyalpo. He also thanked his Bhutanese counterpart Prime Minister Lotay Tshering for his words, saying he was "deeply touched" by the warm gesture on the occasion of the National Day of Bhutan.
Admiring Bhutan for its "unique model of sustainable development and the deeply spiritual way of life", Prime Minister Modi said India will always cherish the country as one of its closest friends and neighbours and continue to support its development journey in every possible way.
"I admire Bhutan for its unique model of sustainable development and the deeply spiritual way of life. Successive Druk Gyalpos - Their Majesties the Kings - have given a unique identity to the Kingdom, and nurtured the special bond of neighbourly friendship that our nations share," he tweeted.
Thank you, Lyonchhen @PMBhutan! I am deeply touched by this warm gesture, and express my grateful thanks to His Majesty the King of Bhutan. https://t.co/uVWC4FiZYT

— Narendra Modi (@narendramodi) December 17, 2021
Announcing the award, Bhutan PM Lotay Tshering said he was "overjoyed to hear His Majesty pronounce Your Excellency Modiji's name for the highest civilian decoration". According to PM Lotay Tshering, His Majesty highlighted all the unconditional friendship and support PM Modi extended over the years and "particularly during a pandemic."
What is the the 'Ngadag Pel gi Khorlo' or 'Order of the Druk Gyalpo'
The award, which was established on November 7, 2008 by King Jigme Khesar Namgyel Wangchuck to honour people, who have dedicated their lives to serving Bhutan's nation and people. This is the highest award given in this regard.  
Bhutan and India friendship
Diplomatic relations between India and Bhutan were established in 1968 with the establishment of a special office of India in Thimphu. The basic framework of India-Bhutan bilateral relations is the Treaty of Friendship and Cooperation signed in 1949 between the two countries and revised in February 2007. The Golden Jubilee of the establishment of formal diplomatic relations between India and Bhutan was celebrated in the year 2018.
India and Bhutan share a unique and time tested bilateral relationship, characterized by utmost trust, goodwill and mutual understanding. The special relationship has been sustained by a tradition of regular high-level visits and dialogues between the two countries.
On 20 January 2021, Bhutan was the first country to receive the gift of COVID-19 vaccines from India. The first consignment comprises 150,000 doses of Covishield, Oxford-AstraZeneca-developed vaccines manufactured by the Serum Institute of India (SII).
---
---