Advocating For A More Balanced Approach Towards Sustainable Forest Management In Bhutan: World Bank
According to the World Bank's latest report, forestry constitutes an important but under-utilised economic sector in Bhutan.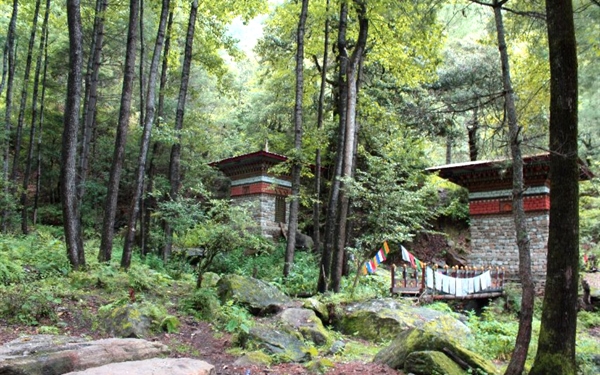 (Source: Wikimedia Commons)
By Phub Gyem | Kuensel
Despite having vast forest covers, only five percent of the total forest area in Bhutan is currently under commercial management. This makes the tiny Himalayan Kingdom a net importer of forest-based products.
According to the World Bank's latest report, forestry constitutes an important but under-utilised economic sector in Bhutan. 
Statistics on the forestry sector in Bhutan
As per Bhutan's national accounts, forestry contributed between 2.9 percent and 2.4 percent of its GDP between 2013 and 2017.
In Bhutan, the Natural Resources Development Corporation Limited (NRDCL) is the most important entity which supplies commercial logs and fuel wood, covering almost 80 percent of the total forestry activities.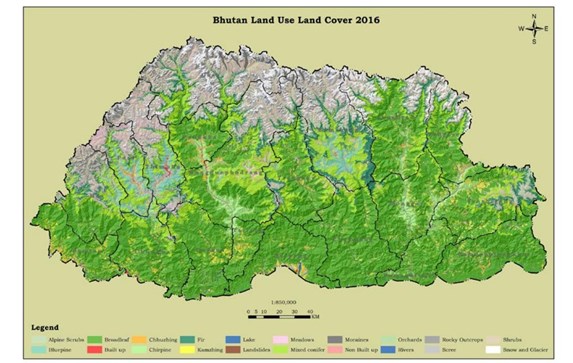 Map: World Bank
In addition, forest areas designated to community forestry groups account for three percent and forest area utilised by rural households for subsistence use accounts for another seven percent.
While environmental benefits are prioritised by Bhutan's forest policies, the World Bank states that there is a clear rationale for a more balanced approach towards sustainable forest management, that is - between environmental conservation and economic development objectives.
Suggestions on how to achieve sustainable forest management in Bhutan
A sustainable forest management, it suggests, will be able to provide the basis for a triple win: for Bhutan's economic growth, for securing peoples' livelihoods, and for the global environment agenda which includes combating climate change and conserving biodiversity.
Some suggestions on how to improving the productivity of Bhutan's forestry sector are:
building up forest-based small and medium enterprises, and
developing new job opportunities in the wood-based and construction industry.
The approach is expected to generate jobs, revenue, and new income sources especially for the rural population and urban youth of Bhutan.  
Source: WWF Bhutan
It will also focus on co-benefits linked to increased resilience, climate change mitigation, and biodiversity conservation.
The World Bank also recommends transforming the forestry sector by investing in forest-based enterprises such as trading timber and non-timber forest products (NTFPs) without disturbing Bhutan's mandated 60 percent forest cover.
Benefits which sustainable forest management will bring
More investments in wood-substitution technology will allow Bhutan to replace greenhouse gas emission-intense materials like steel and cement with wood. For instance, using cross-laminated timber technologies which will store carbon for a lifetime.
Accordingly, sustainable forest management will be able to provide opportunities to increase timber harvesting volume within sustainable harvesting levels.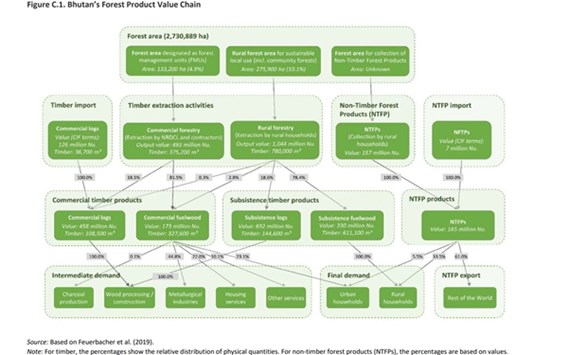 Graphic: World Bank
It will also aid in the development of forest-based industries; the use of wood-based construction materials; building expertise on wood engineering and architecture; and moving parts of the timber market from a fixed-price to a competitive system.
In addition, the long-term opportunity offered by sustainable forest management includes the production of domestic charcoal, high-value furniture industry, and online timber and NTFP auctioning system.
Some objections faced in developing Bhutan's forest industry
Even though there are many advantages which the above-mentioned developments may bring, sustainable forest management does face some potential challenges. Some of which are:
strong sense of favouring forest protection over forest utilisation;
shortages of capacity and technologies for sustainable forest management;
lack of skilled labour in forest-based industries; and
the shortfall of funds needed to invest in the development of the forestry sector and related industries.
According to the National Environment Commission, between 2008 and 2014, about 23,300 acres of government reserved forest land was lost to the construction of transmission lines, 13, 500 acres to farm roads, and 12,900 acres to long-term land lease.
In addition, between 2011 and 2012, 378 acres of government land was allocated from protected areas and 6,330 acres of land from other state lands for developmental purposes which led to habitat fragmentation.
The rate of conversion of Bhutan's forests into other land uses is increasing and this trend remains a concern for the government.
This article first appeared in Kuensel and has been edited for Daily Bhutan.
---