Bhutan set to raise SDF to 200 USD
Bhutan's Lower House submits and agree to raise Sustainable Development Fund to $200 USD per day to differentiate Bhutan and continue her High Value Low Volume tourism journey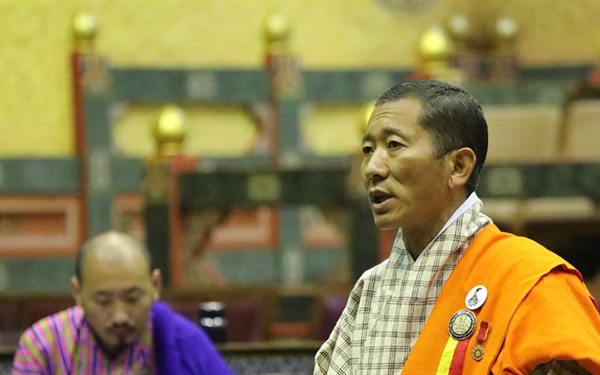 (Source: Kuensel)
On the 24th of June 2022, the National assembly passed the Tourism Levy Bill of 2022. With this new act, the sustainable development fee (SDF) of 65 USD per night has now been increased to 200 USD per night. Along with the increase in the SDF, the Minimum Daily Package Rate (MDPR) has been removed.
What was the tourism structure in Bhutan?
Previously visitors to Bhutan were subject to a MDPR of 200 USD - 290 USD per person per night, depending on the number of travellers and period of travel. 65 USD Sustainable Development Fee was paid to the government, and the remaining amount was used for lodging, guide, transportation and lodging. 
What is the new proposed tourism bill?
With the new bill being passed, all international tourists visiting Bhutan will have to pay 200 USD SDF per person per night, and they will also have to separately pay for accommodation, meals, transport, and guides. 
How about regional tourists visiting Bhutan?
This is the latest tourism bill that has been passed after the Tourism Levy Bill of 2020. As per the Tourism Levy Act of Bhutan 2020, regional tourists from Bangladesh, Maldives and India will be charged a concessional Sustainable Development Fee (SDF). The levy of SDF came into effect from 1st July 2020. The SDF for regional tourists is set at 1200 BTN (~15 USD) per night, and they will have to hire a guide and transportation.
What if I have already booked my tour to Bhutan?
For tourists who have confirmed the tour before 20th June 2022, even if they have not paid any advances, they are still able to travel under the previous structure. 
Why raise the SDF now?
Prime Minister Dr Lotay Tshering explained that one of the main reasons for the revision of the SDF pricing was to reinvest the SDF to improve the overall standard of the tourism industry from guides, hotels, meals, hygiene, etc. With the enhanced tourism infrastructure, Bhutan will become a truly "high value, low volume" high-end tourist destination. The focus on long-term sustainability will also mean a reduction in carbon footprint. 
On being asked why the MDPR was removed, Prime Minister responded that it is to encourage and ensure visitors have the luxury to choose which accommodation they want and to have more flexibility while exploring Bhutan. Previously, tourists had to take up packages offered by tours operators.
Under the new policy, a tourist can book for a guide and driver only if they require them. Otherwise, they will only need to pay for the SDF and accommodation. 
Industry concern about the new tourism act and its impact
The act was not entirely met with welcoming arms; netizens mostly directly or indirectly involved with the tourism industry took to questioning the decision of the government online. Some believe that the raising of the SDF comes at a very inopportune moment when the tourism industry is still reeling from the devastating effect that COVID-19. Bhutan has closed its borders since March 2020. 
There are some that believe that this act will only benefit the high-end luxury hotels who operate their own tour agencies and that it will completely cut out all 3 star hotels and smaller tour operators. This new SDF will discourage most middle-income travellers from most countries.
Tour cost to increase by 30%
With the passing of this new law, touring in Bhutan is expected to increase by at least 30%. Previously, for a 7-day tour in Bhutan, the average duration for most travellers, would minimally cost 1740 USD which includes prevailing SDF, lodging, all meals and the service of a trained guide and driver for transport. Operators expect this cost to be at least 2500 USD should they try to keep out-of-pocket expenses to the minimum. 
How much will tourists have to pay to visit Bhutan now?
A complete tour inclusive of SDF, standard hotel, tour guide, transportation and meals will cost approximately:
3 pax or more : 300 to 380 USD per person per day
2 pax: 350 - 400 USD per person per day
Solo: 400 - 480 USD per person per day
Above are just rough estimations as much of it will depend on which hotel the tourists decide to stay, what kind of activities they want to do and which district they want to visit.
If a tourist would like to visit only Thimphu and Paro for sightseeings without any tour guide and travel by local taxi, the price might be reduced slightly.
History of Bhutan Tourism
Bhutan first opened to tourism in 1974. The process was first initiated by the Third King of Bhutan and later implemented by the Fourth King. 
The budget discussed in the Third National Five-Year Plan (1971-1976) for the development of tourism was a modest sum of 170,000 BTN (~2500 USD), which was to be allocated to the construction of tourist cottages in Paro, Thimphu and Phuentsholing. The first year saw 287 tourists visiting Bhutan. There was no international airport at the time, visitors made their way to Bhutan overland through India. The inclusive tariff back then was set at 130 USD per person per night.
The MDPR has since been revised several times, the last revision before the Tourism Levy Act 2022 was in January 2012, the MDPR was increased from 200 USD to 250 USD. It has been a long way from 287 visitors in 1974 to 315,599 visitors (72,199 international and 243,400 regional) in 2019.
This new act comes as an effort by the government to revitalize the tourism policy of "High value, Low volume" which was adopted since Bhutan welcomed tourists in 1974. The new policy was drafted to promote sustainable tourism that caters to the guests and destinations while protecting and enhancing opportunities for the future.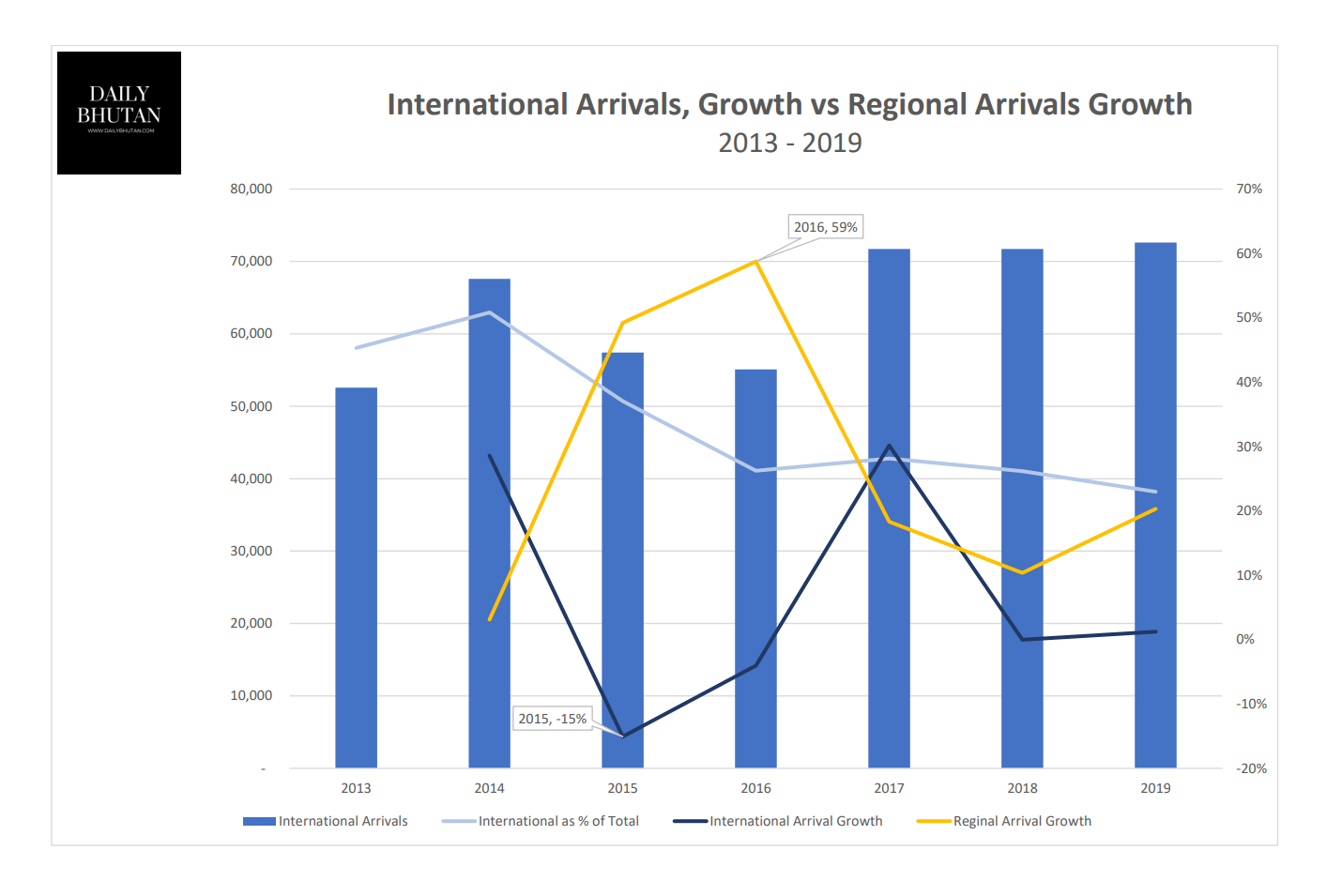 Regional Tourism, its growth and its impact
In 2009, the policy was changed to "High value, Low impact" with a target of attracting 100,000 tourists annually and to tap into the regional tourist market as well. The former Government decided to focus on marketing Bhutan to the Indian Market, it was a successful campaign with the regional tourists eventually overtaking the number of SDF paying international visitors. However with the sudden rise in regional tourist numbers, various problems began to arise. The infrastructure in Bhutan was never meant for hosting a mass number of tourists, water shortages, traffic jams and improper garbage disposal began to take hold. Bhutan was advertised as a budget holiday destination for regional tourists, a vast contrast to the SDF paying guests for whom Bhutan was advertised as premier travel destination.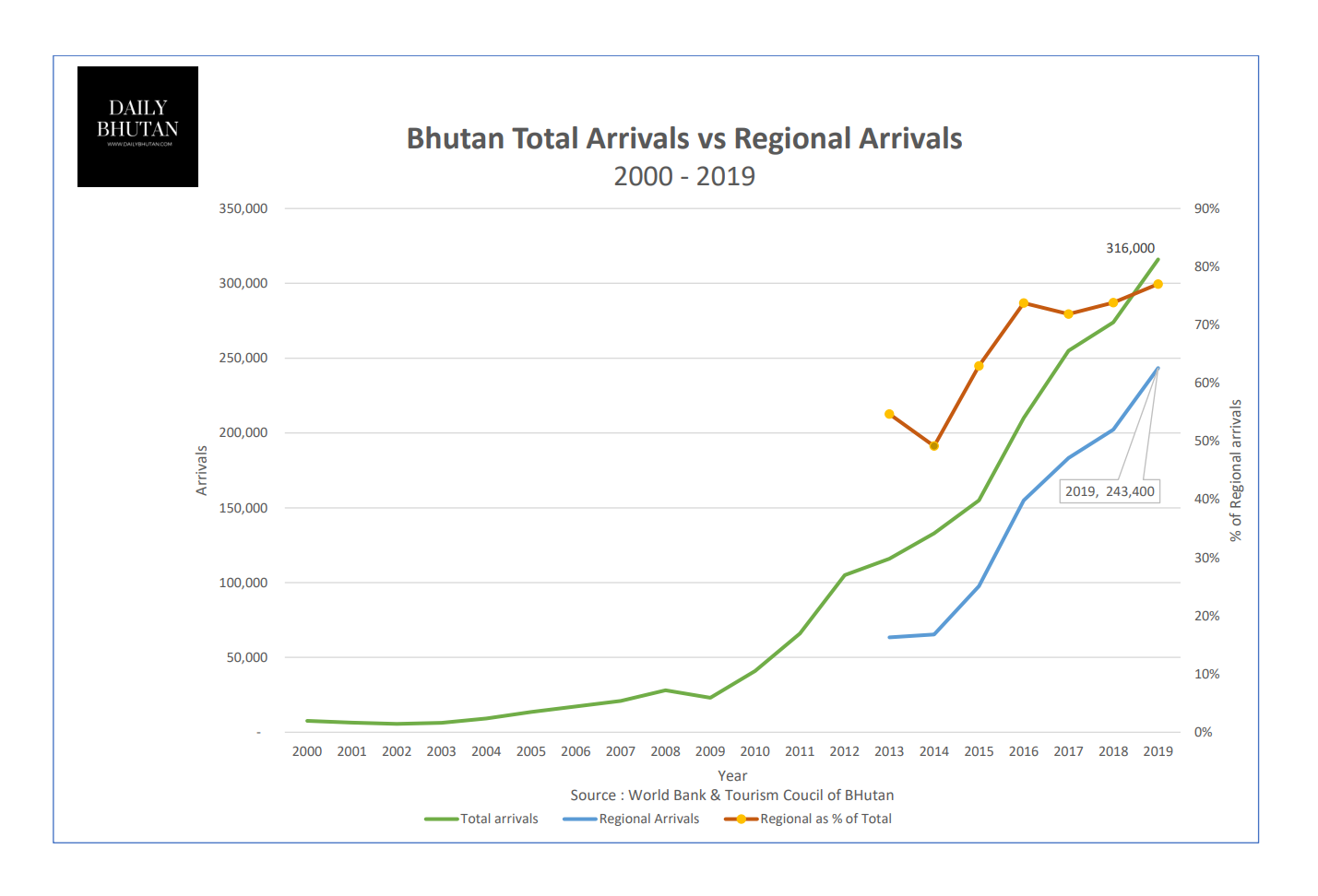 Venturing into Uncharted Tourism Territory
Bhutan will be entering uncharted territory with this decision. The objective is definitely to raise the income of her people. It was said that several countries were contemplating Bhutan's previous tourism model of minimum pricing to minimize the undesirable impact of mass tourism, while preserving their environment and culture. This day, Bhutan shows that she is still charting her own course when it comes to accepting tourism and visitors to her pristine landscape.
However, at 200 USD per night, this pricing will definitely be testing the post-pandemic market and setting new precedence.
---