Bhutan was the first South Asian country to vaccinate children against Covid-19
Bhutanese children aged 12 to 19 years old were vaccinated. Immunising the kids was necessary to achieve herd immunity.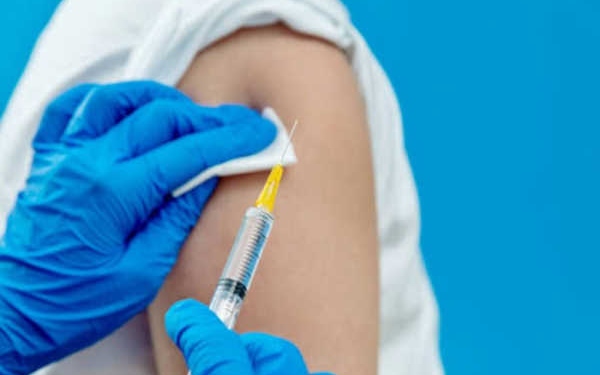 Bhutan's vaccination programme is something the rest of the world could learn from. 
They managed to vaccinate 93% of their population against Covid-19 with just 37 doctors, 1200 vaccination centres, and 3000 healthcare workers.
It wasn't all smooth-sailing. Bhutan received their first round of vaccines from India in March, who had sent them 450,000 AstraZeneca shots, enough to immunise all the adults in Bhutan.
But come time for the second dose, India was experiencing the second wave of the pandemic. Thus, they prioritised their locals and banned vaccine export. Fortunately, Bhutan received the required vaccine through a few sources including COVAX, a vaccine-sharing initiative.
But receiving the vaccine was only part of the equation. Bhutan's population is scattered around a landlocked area of varying altitudes. As such, a lot of planning had to go into vaccine distribution. For starters, officials had to map out the ideal vaccination sites. 
To top it all, the vaccines had to be kept at a certain temperature, which added to the challenge. Schools, monasteries, and public spaces were turned into vaccine centres. Detailed coordination was necessary to ensure the storage of the doses, especially at smaller, remote sites. The vaccines were moved around using domestic flights and helicopter shuttle services. 
To optimise the process and keep the vaccine centre operation as lean as possible, the Bhutanese were encouraged to pre-register their details via the Bhutan Vaccine System (BVS). The online portal was crucial in ensuring an efficient and safe rollout of the doses.
With only 376 doctors in the country, it was clear that there would be a shortage of manpower. Thus, 50 registered Bhutanese doctors who were undergoing postgraduate studies overseas were called back to help. To fill in the gaps, the De-suups (Guardians of Peace) were mobilised.
Bhutan's success with vaccination doesn't stop there. The country decided to vaccinate the children too.
Between September 14 and 17, Bhutan vaccinated children aged 12 to 19 years old. 
Initially, they immunised only the kids in Phuntsholing and Samtse, southern areas that share a border with India. The risk there was high as India was battling a high number of cases.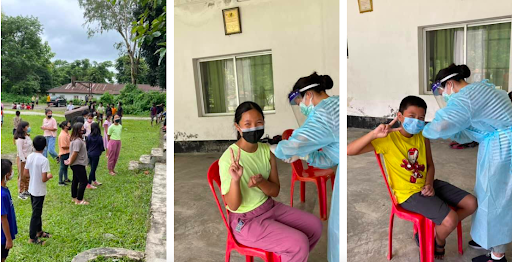 Picture credit: Ministry of Health, Bhutan
After that, Bhutan went on to vaccinate the children in lower risk areas. The children received Pfizer or Moderna vaccines, both of which were released under emergency use.
According to the National Housing and Population Survey 2017, around 30% of the 770,000 people in Bhutan are below 18 years old. 
Prime Minister Lotay Tshering, who is also a medical doctor, has stated that it is Bhutan's goal to achieve herd immunity. This requires them to vaccinate more than 70% of the total population. So that means that following the mass vaccination of the children, Bhutan has vaccinated more than 80% of their population, achieving herd immunity.
According to Dr Sonam Wangchuk from the National Immunisation Technical Advisory Group (NI-TAG), the vaccination campaign took place in school. Children who had received Moderna as the first dose got Pfizer as the second dose and those who received Pfizer as the first dose received the same vaccine. Since both vaccines were RNA vaccines, children and parents were told not to worry about mixing the jabs. 
Upon recommendation of the government, the Ministry of Health is exploring vaccination for children 5-11 years old with the Pfizer paediatric vaccines. There are currently approximately 83,227 children in Bhutan. The Pfizer vaccine (paediatric dose) has been recently approved for use in children 5-11 years by the USA, Food and Drug Administration (FDA). So far, only two countries, USA and Israel, have rolled out vaccination for children aged 5-11.
However, the Pfizer paediatric vaccine is still awaiting Emergency Use Authorization (EUA) from the World Health Organization (WHO).
Other countries that have vaccinated their children
According to the BBC, in May, the United States and Canada were the first to approve the use of the Pfizer vaccine in children aged 12 years old and above. The rollout started not long after that, fueled by the rise of the Delta variant. 
Other than North America, the European Medicines Agency (EMA) approved the use of the Pfizer vaccine for children between 12 and 15 years old. Following that, Denmark (12- to 15-year-olds) and Spain (12- to 19-year-olds) offered their children at least a single dose. France and Norway also vaccinated their teenagers. Germany and Sweden offered vaccines to children with certain health conditions. 
Meanwhile, China has vaccinated children aged three to 17 with the Sinovac vaccine. Vaccinating the younger age group was necessary if they wished to achieve the target of immunising 80% of their 1.4 billion population. 
Similarly, India, which has a large adolescent population at 253 million, vaccinated children between 12 and 17 years old who have serious health issues. Immunisation of the larger adolescent population would only take place after the adults have been vaccinated. 
Nonetheless, Bhutan is unique because it was the first South Asian country to vaccinate children against Covid-19. There are approximately 80,000 children between 12 and 19 years old in Bhutan. As of August 2021, around 58,000 children from 13 districts have received at least one dose of vaccine.
---
---